Brownish Black are an unique strain, a funky soul octet with elements of r&b floating though their lineage, and they are a distinct anomaly within the current Portland music scene. They've been together about five years, adding positions to the ensemble along the way, gradually expanding the scope of the group's musical purview to include a line of horns and occasional keyboard/organ fills. The songs presented here touch thirteen separate stylistic bases (referencing mostly '60s and '70s) and never land for long on any single reference. It's easy to generalize about the band, but hard to summarize.
And unique. Brownish Black are not descended from the funk/soul of the old days in the Portland music scene hierarchy, such as Pleasure, Cool'r, Nu Shooz, or the Cherry Poppin' Daddies and other seminal local acts. The Brownish material and delivery is harder, and more honest, closer to the Daddies in that respect. They exhibit a boldness and social consciousness worthy of Sly & the Family Stone, or War, or Gil Scott Heron.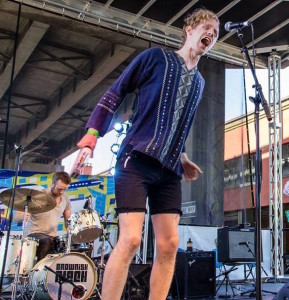 Lead singer, M.D. Sharbatz, a Detroit native, brings with him a bargeload of Detroit r&b/soul freight. He is availed of a slippery falsetto and a thin, but respectable Wilson Pickett/Otis Redding/Joe Tex/Mitch Ryder growl. Meanwhile, the music and arrangements cast a broad net, often closer to early '70s: Temps, Ojays, Spinners, and the like. But in truth they're all over the place.
They frequently exhibit an offhanded smartassedness. Like the children of Steely Dan, or the cousins of the Flock, they use similar settings to create the new soul paradigm for the 21st century. Music with a message. An amalgam. As an example, "Le System" resembles somewhat middle period Steely Dan, with a funk groove circa Earth Wind and Fire, and a brief Edwin Starr reference. The strange Mexicali middle that may or may not work.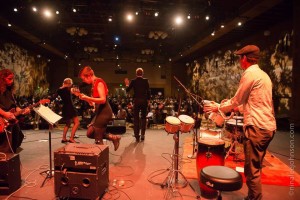 The melody to "Passing Time" waves at the Supreme's "Where Did Our Love Go" as it floats by. "Fight It" calls to mind the Temptations doing a "Get Ready"-like follow-up to The Family Stone's "I Wanna Take You Higher." It's a stew. But it cooks, without being imitative. This is in homage territory. No frills. Not ironic. A lot of irony in music today, tongue buried so far in cheek it's coming out of the ear. One thing nice about Portland. Some bands are not ironic. Brownish Black are not ironic.
The quality of the recording is sparse, clean, punchy, no frills and to the point— such that it is right in the pocket with 1965-1972 soul releases played on the radio back at that time. John Neff co-produced the album with the band, and his previous work with Curtis Mayfield, Donald Fagan and Walter Becker clearly demonstrate his bona fides. He reveals his chops unobtrusively, subscribing to the "less-is-more" school of engineering.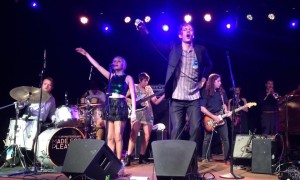 Not really soul at all, the ballad "Singing a Song" is closer to '60s R&B ala the Drifters—or even closer to a female ballad, like Barbara Lynn's "You Lose a Good Thing." "You Can Taste It," is Was Not Was-y and different from the rest of the material. "Louder" rides on Detroit Wheels.
While not sounding the same at all, Brownish Black have a lot in common with our very own Quick and Easy Boys—who also proficiently produce a brand of music that's just as hard to pin down (i.e. kind of Parliament-ish funk at times, other times ZZ Top). It's a hard road, as on the face of it, those odd choices would seem anathema to success in the current music market. But one thing about current music markets: they are subject to change. What's old is new and it generally sneaks up from behind you.
There are a few others like them out there in the world. Trust that Brownish Black honor their r&b/soul heritage, without being a knock-off band. They take the genres to the next level. This is cool stuff that grows on you very quickly.
June 2015