On March 6, 2012, Portland, Oregon-based Fluff & Gravy Records will release the debut, self-titled full-length from Austin, Texas-based folk-pop songwriter Jack Wilson.  His debut bridges the gap between the folk-rock of Seattle (where he began his career as a full-time musician) and the acoustic music prevalent in Austin.
"Somewhere, in the blending, is the sound of the record," says Wilson, a little ambiguous when he talks about his music, but focused on describing it as best he can.  "Whatever you might call it; my sound, well, it's that blend."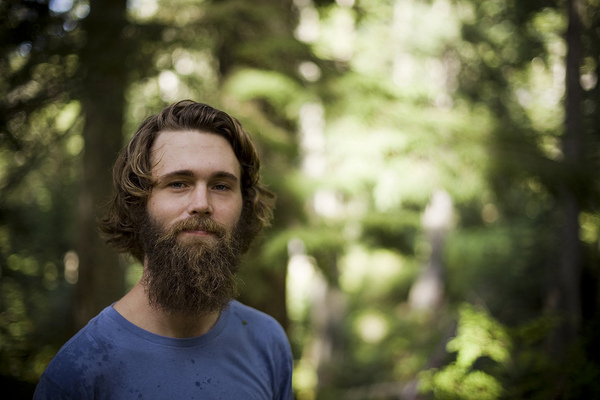 Wilson, a songsmith able to pull off his live performances solo, or with a full-on rock band, says that is what he set out to do with this release.
The result is the eleven tracks that comprise the album.  Jumping from the nineteen electric guitars found on "The Cure," a full-on rock number complete with a horn section, or the subdued, late-night folk of "The Truth," the album travels the spectrum without sounding out-of-place, sloppy, or without direction.
From album opener "Valhalla," a love song about dreaming and keeping watch over a sleeping loved one, through "I'll Do the Same," about meeting an old flame many years down the line, Wilson weavers tales and melodies into earnest indie-Americana.  There is the chilling indie-folk of "Red Feather," haunting you with a slow melody, about a winter night in Seattle, seeing the good-luck bringing Red-feathered Cardinals, and the country-rock of "Black Hills Fiction," a three part narrative about the huge humanitarian disaster that was the Black Hills Gold Rush, told by a native, a prospector, and a soldier.  Wilson is able to tell stories, sing about his love and life lessons, all while giving the listener a musical journey that is anything but predictable.
One of the album's strongest songs is the alt. country kicker "Paying for Misery (Thanks to You)", a song Wilson wrote as a homage to a train hopper and two folk singers that helped show him that working a menial job and squandering his musical career was never going to satisfy him.  Suffice it to say, Wilson quit his job, wrote this song, and hit the road; putting everything on the line.
Thankfully Wilson did this, putting his faith in his own music, and what would become the self-titled full-length.
"I decided to go with a self-titled record for my debut," Wilson admits.  "During the process of making the record, which consisted of months of pre-recording talks and planning, I opted to steer away from a concept record.  I didn't want to make a rock record, or a folk record, or a low-fi record, or what have you.  I just wanted to sit down and record the songs the way that they sounded best."
He continues, "I didn't want to be constrained to limits of alt. country, or rock, or folk.  It was the greatest hurdle facing the record; just that idea of, 'Do we make a rock record? Does every song need to have drums on it? How do we make an album that settles together and tells one story?'  Through multiple takes and versions, re-cuts and overdubs, some tracks kept all the complexity of the rock that they were recorded with, while some tracks, like the album's only cover, 'Clean,' were stripped of everything.  That's what the song needed to come out and be heard."
One of Wilson's favorite songs on the record is "Valhalla," a song he doesn't even remember writing.
"It's the song I play the most," he remarks.  "The funny thing is that I don't remember writing it, at all. I don't remember any point during the writing process. I do remember my ex, reading 'The Mists of Avalon,' and loving it and reading bits of it to me every night. I suppose that's why it's my favorite, it's like someone gave it to me to play. As a gift."
Proud of his debut full-length, Wilson doesn't take the sole credit.  He is quickly eager to thank, and show appreciation, for all the players that made the record a reality.
"So many friends helped this record come together," he says.  "The horn sections are something that I felt we used sparingly and with great impact. In the last chorus of 'Valhalla,' Alex Kostelnik and I spent hours finding ways to mix in the vocal lines, the pedal steel swells, the ecstatic drumming, and those four horns. Through that cacophony, came such a sweet feeling, like a tipsy stumble sidewalk, following a marching band through the streets of the French Quarter at 9 o'clock in the morning."
Now the only thing left for Wilson to do is continue touring in support of the album he put his heart and soul into.
1/27/12 – Cafe Medici – Austin, TX
1/28/12 – Skinny's Ballroom – Austin, TX
1/30/12 – Saxon Residency (after Bob Schneider) – Austin, TX
2/03/12 – Club Deville – Austin, TX
2/08/12 – Marathon Live Music – Los Angeles, CA
2/09/12 – Silverlake Lounge – Los Angeles, CA
2/18/12 – Hole in the Wall – Austin, TX
2/22/12 – Folk Alliance Int'l – Memphis, TN
3/08/12 – 35 Denton – Denton, TX
3/16/12 – Eastside Lounge (Ninkasi Brewing party) – Austin, TX
5/13/12 – Al's Den @ Crystal Hotel – Portland, OR
5/14/12 – Al's Den @ Crystal Hotel – Portland, OR
5/15/12 – Al's Den @ Crystal Hotel – Portland, OR
5/16/12 – Al's Den @ Crystal Hotel – Portland, OR
5/17/12 – Al's Den @ Crystal Hotel – Portland, OR
5/18/12 – Al's Den @ Crystal Hotel – Portland, OR
5/19/12 – Al's Den @ Crystal Hotel – Portland, OR
5/24/12 – The Old Church – Wilsonville, OR
5/25/12 – Sunset Tavern – Seattle, WA