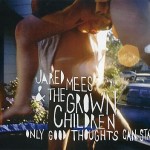 Only Good Thoughts Can Stay
Jared Mees & the Grown Children
Tender Loving Empire
Generally, when a label owner releases his own band's work on that label, suspicion might suggest "vanity project." But Jared Mees is no ordinary label owner and the Grown Children are no ordinary band.
Jared is the proprietor of Tender Loving Empire. TLE is a record label, but it is also the name of a curious retail store located at the upper end of the Pearl District. Nothing about either of these enterprises is typical.
Sort of like Chad Crouch of Hush Records, Jared has an ear for a quality up-and-coming band. Crouch was the first to put Esperanza Spaulding out on record with Noise For Pretend (soon to be re-issued). The Decemberists, Laura Gibson, Loch Lomond, Nick Jaina, Norfolk and Western, Kaitlyn Ni Donovan and Peter Broderick all got their starts with Hush.
Just in the past year, Tender Loving Empire has released an album and EP from Typhoon, an album by Y La Bamba (with another in the hopper) and Loch Lomond's new record. The Grown Children are natural successors to that lineage. Like the others, they do not fit neatly into a generic box. That fact is a great indicator of the label as well.
This is, technically, the Grown Children's third album, although the first, Swimming With the Sharks, from 2007 was pretty much a solo album. And 2008's Caffeine, Alcohol and Sunshine was created with the help of various session players, and longtime musical partner, Megan Spear, who contributes backing vocals, keys and percussion.
Though Jared has always maintained something of a revolving door regarding the support for his endeavors, for Only Good Thoughts Can Stay, Mees has created and actual band to perform the material- a band that is currently in the midst of an extensive tour throughout the western half of the United States.
Of the dozen songs presented here, fully half are memorable after the first audition. There is a rough-hewn quality to the material. Mees has a gravelly voice- that doesn't always hit a melody square on, but it's evocative enough to lend every number a sense of immediacy and depth.
The lead track, and the one the band touts as the "recommended track," is "Hungry Like a Tiger," which bears no resemblance whatsoever to Duran Duran's "Hungry Like a Wolf," although it does give rise to the question: How come bands aren't doing spiffy remakes of Duran Duran songs? The time is right people. I can hear new versions of "Is There Something I Should Know" and "The Reflex" swirling around in the contemporary music ether, even as we here commune.
But in this instance, "Hungry Like a Tiger" sounds as if it could be a song by Stephen Malkmus and Pavement or some other band that sounds like Pavement. Vocally, Jared skims over the jumpy beat that drives the song forward, with a homely vocal over homespun lyrics- "I'm breathing good air through good lungs with a good heart beating/And a problem ain't a problem 'less you keep on feeding it."
Then into the lively chorus. "Coz it's hungry like a tiger/We've got the tiger by the toe." Maybe not the best place by which to have a tiger, but one cannot be choosy in such situations. A certain precocious quality, reminiscent of the very earliest Talking Heads albums, informs this jaunty piece with a sunny buoyancy not often found in the murkey abyss of current musical expression.
For "Limber Hearts," Joe Bowden's sometimes insistent drums serve as fulcrum in the balance of Spear's jangly piano and Javier Madrigal's sparse lead guitar majesty; with Jared's unadorned vocals upfront and a string ensemble floating around in the background. Inexplicably, a hint of Thunderclap Newman's late 60s hit, "Something in the Air," wefts the warp within the melody. The likelihood that anyone in the Grown Children would have ever heard that song are vastly remote, at best. Still, these things do go around.
Adorned by Spear's pretty harmony vox, light-handed piano phrasings and dark organ textures, "W.W.J.B.D." is a fable about someone's troubled experiences- with references to being away somewhere and a possible longing to be back home. This is purely speculative. None of it seems to relate to Jack Bauer. So the initials are even more of a mystery. The strings come to the forefront on this song- contributing to the plaintive wist of the arrangement.
A heartbreaking recollection of the death of a childhood pet (among other events) sets the scene for "Billy Bird," a song easily sprung from the headwaters of the Kinks' Village Green… or Arthur albums. It's not a sad song, particularly. Ironic, one would suppose. Sprightly horns and Quilty Kim's fluid basslines add to the upbeat nature of the piece. Jared's lyrics provide a wonderful sequence about the transformation of a tree into a tree, that could pass for its own spiritual evocation. Nicely done.
"Even Little Mountains" bears almost all of the same attributes. Mees refuses to sink to the lowest common denominator. His poetry is brainy and astute without being ponderous or pretentious- a fine line, to be sure. "Metronomes couldn't compete/With the perfect placement of our heartbeats/Lying here before the curtain ascends/The silence fades and the day begins/And the paradox ensues- a Catch 22…" A bit beyond Duran Duran, to be sure.
It is firmly established with "Juicy Fruit" that someone listened to a lot of their parents' albums, or managed to absorb music from that era (late '60s/early /70s) anyway- as this song bears a distant, yet distinct, musical reference to the song "Sweet City Woman" by one-hit-wonders, the Stampeders, from God only knows when, but it was a long time ago. Jared's delightful falsetto chorus is the icing on the musical cake.
Heading in a completely different direction (bit of uptempo AltCountry twang) altogether, "Graverobbers" briefly repeats a C-A chord progression in the intro, that first showed up in "Even Little Mountains." But here the overall feel is decidedly jovial and good natured- until towards the end of the song, where things turn contemplative and resolve in a sort of loose anthem. Neat trick.
The line "only good thoughts can stay" appears in the final track "Shake," where it underscores the triumph of optimism in an uplifting paean to the vicissitudes of life in the 21st century.
It's impossible not to like Jared Mees and the Grown Children. Their sound is versatile and varied, while sticking to a thematic sense of wry acceptance, paired with a joyful positive outlook. The line in "Shake," the title of this album, underscore precisely what makes them so much fun. They really mean what they are saying. In this vain, cynical world, that is a major achievement indeed.