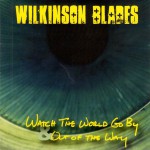 "Watch the World Go By"/"Out of the Way"
Shiftone Records
 We first heard from Steve Wilkinson and his new musical entity the Wilkinson Blades about nine months ago with the release of their debut album 4AM, which scored for them the Number Six slot in my Top 9 of 2012 list. And while that venture was more or less a solo album with benefits, many of the same side players who contributed to tracks on that album are now fully integrated members of the real band. Having played dozens of gigs together over the past year, no one in the band sounds like a guest.
Wilkinson and team have decided to plot a somewhat unorthodox course in releasing their music. Steve has chosen to issue the band's music incrementally—in a series of singles, in lieu of saving them up for a yearly posit. These songs may or may not appear on an album at some future date. But it's Steve's intention to release songs as they are written and recorded, while they are still fresh, rather than to sit on them until enough material has accrued to record a whole album. This is a similar tack to that we observed earlier this month with Y La Bamba and their new EP Oh February. Strike while the creative iron is hot and all that.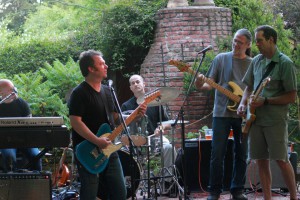 In the Wilkinson Blades we have windswept Americana at it's finest. I spent much of last year's review comparing Steve's voice to early Neil Diamond. Before he was the crooner of Longfellow Serenades turning on his Heartlight, Neil Diamond was a Solitary Man, the classic anguished outsider. You hear that brooding loner in Steve Wilkinson's voice. Weary desolation. Hardworn resolve.
But the two sides of this single reflect a less singular, more proletariat point of view—stylistically closer perhaps to the work of John Cougar Mellencamp and Bruce Springsteen. Part of this is attributable to the band: lead guitarist Grant Cumpston and Rich Landar on keys, bassist John Huckfeldt, and drummer Jon Beyer. They form a cohesive sound, supportive without being flashy. Stripped down, but not sparse. There are comfortable touches of down home country here—an essence rarely heard in the actual country music genre anymore. But you hear it in the classic Mellencamp/Springsteen songs. It's the sound of the people. The sound of the heartland.
Since we're dealing with a single here—two songs—it's not possible to draw a true discernment of the band's "sound," per se, or the direction in which they ultimately may be headed. They're a western band. Not in a country music context, but in the directional sense. Out here, in the wide, open spaces.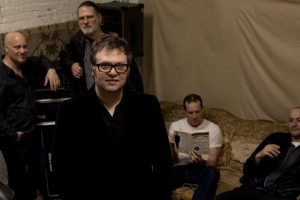 "Watch the World Go By" falls into an easy groove, nudged forward by Landar's thick electric piano and Cumpston's chiming guitar. Over that, Steve intones a raspy baritone, mulling a strategy for the forward progression of his life, and the obstacles that lie in his path to that advancement.
In the verse he ponders his private dilemma. "I can count on one hand the ways/All of the sins we wage/If I hold on to everything/It'll get me down." In the chorus he weighs his options. "I think I know what I need/I can feel everything." He can either participate in the emotional turmoil in his life. "Or I can sit back and smile/And watch the world go by." Or he can go with the flow and simply observe it all as it transpires before him.
But ultimately he sees that all around him is but illusion and façade. "Well I head up to the lake/Where people are just as fake/As a fur coat at a zoo party." Rich adds vocal harmonies in the verses that are Van Zandt to Steve's Boss, while Grant contributes a scrabbled solo—with a bit of chortling country twang on the edges. There is a certain distant melodic resemblance between the verses of this song and the Who's "Baba O'Riley" ("Teenage Wasteland"), and "Won't Get Fooled Again" too for that matter, but it's ineffable at best. Genetic memory, perhaps.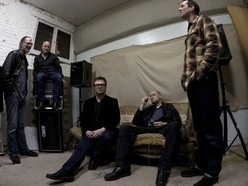 The "flip side" (a 20th century, analog, vinyl term), "Out of the Way," hits a little harder, calling to mind the gritty, cranky outpourings of Soul Asylum or our very own Dharma Bums, with a hint of a Springsteenian sense of sonic sweep and grandeur. Rich's chiming piano is comparable to that of Roy Bittan, with churning guitars and Huck's hard charging bass leading the spirited sprint.
The second is something of a resolution to the first song. Wherein his initial considerations concluded in a wait and see attitude with "Watch the World Go By," here exclaiming in a Stipe-like anthemic croon, Steve decides,  "I'm moving out of the way." This song and REM's "Driver 8" bear similarities: this being the major-key version, perhaps.
Signed to the Austin-based Shiftone label, the Wilkinson Blades played South By Southwest last year and will hopefully be there again this year as well. Austin seems like just the right place for these guys (not that we don't want them to stay here!) and their silver-buckle, worn boot-leather sound. They aren't re-inventing the wheel, but they have come up with a vehicle that rolls real smooth.