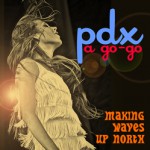 PDX a Go-Go
Acme Brothers Records           
You wouldn't think a little town this size could sustain more than a couple of surf bands. There's certainly nothing wrong with the genre, and Portland has always had a history of providing some pretty good ones over the years. Satan's Pilgrims and Surf Trio come readily to mind. But there have been many others lurking in the margins of the local music scene. Since the '80s anyway, there have always been a few surf bands playing around.
Which is sort of weird. Think about it. This is Portland not Malibu, man. There are probably more surf bands here than in all of Orange County today and there ain't nobody ridin' the wild surf of the Willamette. Doubtless this is a contributing factor in what makes our dear Portlandia the eccentric outpost it is so widely known to be.
So, I don't know, should it come as any surprise that this compilation features five really great local instrumental surf bands? I guess not. Because this quintet of combos are each slick and tight and unique in their performances. A heapin' helpin' of spaghetti (western) is served, to be sure. And, yes, it's true that surf music isn't particle physics, but it's a musical form, like the blues. It has its place in the rock vernacular. It's valid, or whatever.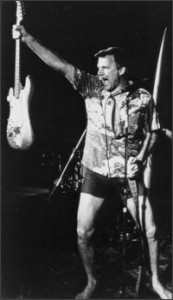 Surf rock has a concisely definitive history in the annals of popular music. Purists point to the Rendezvous Ballroom on Balboa Peninsula in sunny Newport Beach, Orange County, California, as the surf band seminal loci of the early '60s. In the summer of 1961 legendary left-handed guitarist (he played his left-handed Strat—called "the Beast"—strung upside down as if a right-handed guitar—you figure it out) Dick Dale launched his career at the Rendezvouz. Employing distinctive staccato notes in the lowest register and utilizing Arabic pentatonic scales from his Lebanese heritage, Dick Dale altered slightly (but noticeably) what was the prevailing guitar instrumental sound of the day. His "Miserlou," released in 1962 and a hit, and later revived in the 1994 film Pulp Fiction, continues to be widely imitated to this day.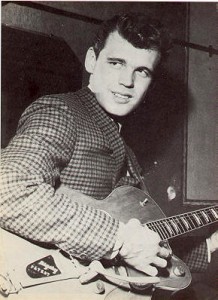 Dick Dale did have a few antecedents—Duane Eddy and Link Wray probably the earliest. Duane Eddy had a more country feel to his playing, derived, to an extent from Chet Atkins' approach. But, in very early 1958 he put out a tune called "Moovin' 'n' Groovin'" (produced by Lee Hazelwood) that featured the bass-note twang sound that became his signature. Hazelwood fashioned an echo-chamber out of a two thousand gallon water tank, which added a familiar reverb effect for which Eddy was also to become renown. The follow-up, "Rebel Rouser," a rebuild of "When the Saints Go Marching In," was his biggest hit of all.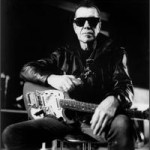 At nearly the same time as Duane Eddy released his single, another guitar player bestowed upon the world one of the most revered and influential pieces of rock of all time. The instrumental had originally been called "Oddball" and was the result of a jam from a live show a few months earlier. When Link Wray issued "Rumble" (name suggested by Phil Everly) in April of 1958 all of popular music became forever transformed.
With overdriven amp, vibrato via whammy bar, tremolo set to stun, holes poked in the amp speakers (a trick used by Ike Turner's guitarist Willie Kizart on "Rocket 88" in 1951, and later exploited by the Kinks' Dave Davies on "You Really Got Me" in 1964 ) for distortion, Link Wray strummed the first power-chords—creating a sound that has been imitated in one way or another by every rock band to come along since.
Then there was "Apache" by Jorgen Ingmann, a soulful instrumental that appeared in June of 1960. Supported by galloping tom-toms, Ingmann explored the gamut of available popular effects, with the addition of echo, to effectively lay the groundwork for all rock guitar to follow. The elements of the firmament were fixed: reverb, distortion, vibrato/tremelo, echo. Thus rock God rested.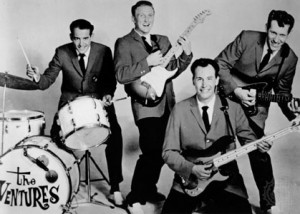 Well, not quite. Rock may have been created in the musical cosmos, but surf was not yet formed. It took a little combo from Tacoma, Washington to suss out that final foaming crest. In the fall of 1960 the Ventures turned out a number Chet Atkins had recorded in 1957, called "Walk, Don't Run." And that tune had something that its predecessors did not. It had a beat. Not just any beat. A surf beat. A little syncopated skip on the snare. Voila! Dick Dale, you may proceed.
The Ventures had such a big hit with "Walk Don't Run" in 1960 that they released an updated version in 1964. By that time, bassist Nokie Edwards and lead-guitarist Bob Bogle had exchanged instruments (Bogle soloed on the original version). Nokie Edwards was one of the first to make use of a fuzz distortion pedal, as well as the electric twelve-string guitar. After late 1961 (especially with the addition of drummer Mel Taylor in early 1963), the Ventures rocked, standing out as the premier instrumental surf band, even though they never contended to be anything more than an instrumental guitar act. The Ventures' influence became bigger than the band.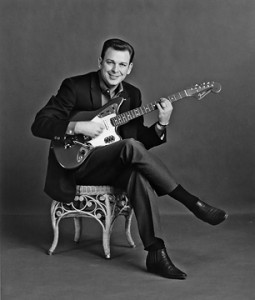 The next generation of surf rockers started to appear. While the vocal surf bands, in particular the Beach Boys, grabbed the national spotlight, instrumental bands such as the Marketts ("Out of Limits"), the Chantays ("Pipeline") and the Safaris ("Wipe Out") were able to maintain interest in the genre, though, by the mid 60s the unique guitar stylings had been appropriated for the mainstream—as witnessed by every spaghetti western film ever distributed, and (member of the Wrecking Crew) Billy Strange's reworking of Peter Gunn into a version of the James Bond theme, as well his generating the Batman and Munster television series themes.
At that point national musical interest moved on to more lyrical and more intricately executed fare: Jimi Hendrix, Cream, Led Zeppelin, Jethro Tull and the like—though it was clear that the old masters were plainly owed a debt of gratitude for pioneering the craft and the sound that the metal guys later furthered into the stratosphere.
Surf music underwent revivals from time to time over the years, owing to a movie or a television commercial advertisement or just to the American propensity for recycling its artistic successes (in lieu of generating something original: sincerest form of flattery and all that). A resurgence of the surf beat appeared in the new wave movement of the 1980s and led to a new generation of admirers.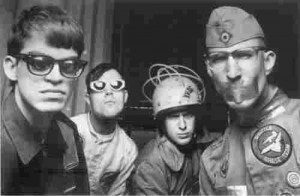 In the 90s, surf saw yet another renaissance, with a host of bands—many space age oriented—pumping out a new, nitro-laced version of the stuff, all feuled up for the new millennium. Bands, such as Man or Astro-Man? The Space Cossacks, Laika & the Cosmonauts, The Mermen, and Los Straitjackets were prominent in the resurrection. So surf rock has never fully disappeared from American pop music consciousness. It's merely been fully assimilated.
The references on PDX a GoGo are both obvious and subtle. There is a lot of variety among the five bands in approach and presentation, with roots spreading across a wide swath of surf space and time. But each band displays its own individual variation on the style.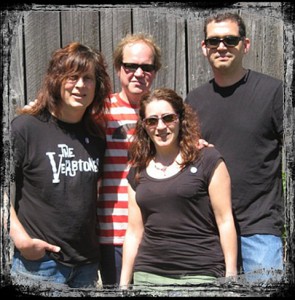 We profiled WaveSauce earlier in the year here. Guitarist Pete Vercellotti displays versatility in his guitar playing, capturing a mostly '60s sensibility. Drummer Doug Powers and bassist Joel Boutwell provide solid support for Pete as they explore a sound they describe as "spyfi-pulp," which covers a lot of sonic turf, to be sure.
What separates WaveSauce from the others are Michele "Cookie" Heile's abilities on the theremin (there is a fairly detailed description of the device in that same article). The exotic sound of the instrument mirrors a couple of oddities sprung from the early '60s: "Telestar" by the Tornados from the UK, who made use of a clavioline, and "More" the theme from Mondo Cane, by Kai Winding, which offered the airs from an ondioline. As with synthesizers, which eventually followed, the theremin was essentially father to all those pieces of electronic gadgetry.
The two tracks WaveSauce present in this compilation give full reign to the theremin. Pete's heavily tremeloed guitar opens "Phantom Strut" with a touch of menace, which Cookie intensifies with her entry into the mix at the turnaround. Powers provides "Die Laughing" with a big rock beat, over which Pete power chords, while Cookie supplies an eerie electronic wail that sounds like a woman screaming. Now that's rock'n'roll!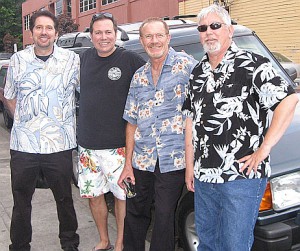 Members of the Surf Weasels have been playing around town for decades. Drummer Paul Barrall (Pauli Weasel) has backed scores of bands, including the Die-Jobs, and many others. Tri-Met hero, Ageless Arthur Beardsley (El Bajo) has been the bass fulcrum for a ton of local bands as well, including Walkie Talkie, New Creatures and Pink TV. Kyle Alaniz (El Monstro Surfer) from the Verbtones, Planet Crashers and the Del-Rods, serves as rhythm guitarist.  Weasel guitarist and chief songwriter James Davis (Jaime Redondo) learned to play surf music watching Steve Bradley and Jim Mesi performing in the clubs when he arrived in Portland in 1981. He and Paul Barrall formed the Surf Weasels about around the year 2000 and they have been riding that wave ever since.
Owing to an absolutely disastrous chain of events this year the two tracks submitted here were recorded under duress (although you wouldn't know by listening).  First, Jaime Redondo, who wrote both the tracks, sustained a brain injury in May and was unable to attend the recording session (he is now on the mend).  So, in an emergency, Mister Micky Tiki Tavi Weasel (aka Mike Dion) sat in on lead guitar for these tunes. Pauli Weasel fought through a severe spinal cord injury and Alaniz was forced to play bass when El Bajo was unable to make the recording gig. Jeesh!
The Weasels' brand of surf tends toward the Duane Eddy end of things, with a ladle full of spaghetti sauce on the side. "El Nino" evokes Billy Strange's '65 take on "Secret Agent Man." Over Barrall's intense, classic surf beat, Dion launches the sauce, slathering on the reverb as if it were extra mozzarella cheese. Think of Mel Taylor from the Ventures bashing behind Alessandro Alessandroni's memorable "The Good, the Bad and the Ugly" guitar lick and you get a feel for what's going on. "Ponderosa," of course calls to mind, "Bonanza" and guitarist Al Caiola who made that tune memorable, but also a couple of Duane Eddy numbers as well.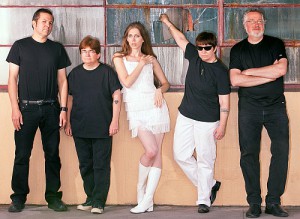 Susan Yasinski (Susan SurfTone) has been rockin' it for about as long as the Weasels, going back to the '80s. Her guitar tone and style are not always so much surf as a crystallization of Chuck Berry and other early rock groundbreakers poured over '60s punk backing (think "Talk,Talk" by the Music Machine). She has her own approach. For the two tracks submitted for this venture, Wave Saucer Doug Powers serves as the drummer, while SurfTone sidekicks—bassist Dan Ferguson and Avory Gray on Farfisa—contribute well-oiled backing.
Cookie Heile from WaveSauce joins the band for "Rock Candy." A brief Dick Dale meets the B-52s' lobster intro gives way to tough power chording and whiny keyboard, creating an atmosphere similar to that of "Liar, Liar" the hit from '65 by the Castaways. Cookie enters, delivering the theremin suprano love call, as Susan breaks into an "Out of Limits" segment that eventually circles around to a Berry-ish two-string guitar solo.
"Salt Water" weaves Ferguson's sprinting bassline with a rock-y guitar solo rooted mostly around chords (ala Berry). Susan has an original and easily-indentifiable sound, that bespeaks the many years she has spent plying her craft.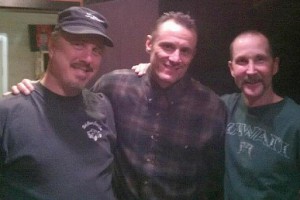 Shade 13, who hale from Bend, play their surf with a bent toward Man or Astro-man?'s penchant for using audio samples from obscure films. Bassist Bob Warrenburg and drummer John Sterling lend sturdy support to guitarist Mitch Johnson's energetic surf excursions. Johnson and his mates demonstrate a firm grasp of the genre.
"Tucu's Law" samples a fragment from The Good, the Bad and the Ugly before sliding into the faithful requisite of Dick Dale-isms—generated with impressive gusto. A nicely executed Link Wray-on-Four Red Bulls twang bar wang at the end of several phrases is well placed. In the middle section, Johnson sort of launches off into a metal realm unknown to the early pioneers, but that would seem in keeping with influences perhaps acquired from second generation '90s surf revival bands.
The autobiographical instrumental "Shade 13" begins with a hammer-on low-string salvo worthy of Jimmy Page, then resolves into a fast-paced romp built around the old one-four-five in a minor key. The tempo here is more along the lines of Los Straitjackets or Shadowy Men on a Shadowy Planet: vigorous.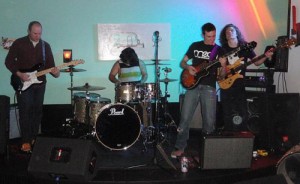 The most exotic of the five bands contributing to this project, Outer Space Heaters, cite Pink Floyd and Explosions in the Sky as influences and you can hear that in what they do. But they at times implement their own, far more complex interplay with admirable skill. Their sound is familiar, but quite original. Guitarists Chad Van Dyke and Andy McMillan interact very precisely with drummer Will Veale and bassist Auston Jubb.
Most of the credit to the band's characteristic sound goes to Van Dyke, whose dexterity on the guitar is really quite amazing, in an uncommonly eccentric way. Les Paul's early work in his experimental multitrack studio comes instantly to mind on "Aphelion." It would appear that Van Dyke is either inordinately nimble-fingered ala Fripp/Belew King Crimson, or his guitar intro is doubled in speed via Paul's technique—probably the former. More familiar ground is covered following that interlude: a spectacular Dale-ian overture with a hunk of pulpy Ventures lopped on for good measure. This is some cool shit.
"Space Cowboy" starts off sounding like Interpol's "The Lighthouse" from Our Love to Admire, capturing a supremely Italian sensibility with a very heavy accent. Van Dyke's lonesome low-slung theme shakes palsied over McMillan's wobbly tremolo-washed backing guitar. Then all hell breaks loose with Van Dyke screaming through a shadowy thicket of hyper For a Few Dollars More thematic brambles at a sustained gallop. Then, out of nowhere, the dust settles and the end of the song resolves sort of like Clapton and Allman winding down "Layla," with country-flavored suspended-chords and slide guitar sighing. Ah.
For what it is—a compilation of music by local instrumental surf rock bands—PDX a Go-Go is really great fun. All five bands demonstrate originality in their presentations, while adhering to the intensely devoted surf ethic. The musicians are all quite adept and play well together. Tight. This is the perfect album for a summertime get-together or impromptu beach party—nothing more to ponder than the next gnarly wave. Cowabunga, dude.
Duffs Garage is featuring a PDX a GO-Go CD release party on Friday, August 17th starting at 9PM. WaveSauce, SusanSurftone, Outer Space Heaters and others are scheduled to perform.