I See Thee Still
Vinyl Fetish Records
I first saw Monica Nelson perform at the Long Goodbye in the fall of 1986, they were opening for somebody. I don't remember who. I was playing keyboards in Ed and the Boats and we were headlining the upstairs stage that night. Down in the basement, the Obituaries were scheduled to open for some long-forgotten outfit. I had heard of the Obituaries via a positive review Dianne Hollen had written about them for Two Louies a few weeks earlier. I wanted to see them for myself.
I will never forget the spectacle I saw that night. It was the early days of the band. Laura O'Donnell was still the bassist. I don't remember who the drummer was. The band sounded like the Grand Canyon caving in, with guitarist Rob Landoll riding cowboy over the chaos, driving the band over and through all obstacles. In the middle of that was Monica at the microphone stand.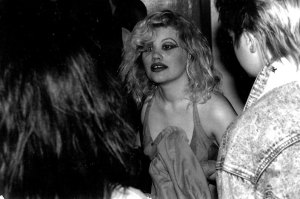 Holding on for dear life. She was young. I don't know how young she was but she may or may not have been around twenty. Maybe twenty. Maybe fifteen. She was drop dead gorgeous in a Eurotrash sort of way that doesn't translate all that well thirty years later, you had to have been there. She had a distinct Marilyn Monroe quality about her. I seem to recall her attired in something vintage, like a full-length, wellworn ivory-colored evening gown with some sort of a scarf or sash accessory.
She had both hands on the mic, wobbling precariously, screaming at somebody in the audience who had gotten on her wrong side somewhere along the line. I don't know if she was drunk, or high, or what, but she seemed to be melting. Literally, physically melting down to the floor. As she continued to scream at the unfortunate soul, Rob rodeoed the troupe into a deafening stampede and she just kept screaming like it was the first line of the song.
As things progressed, Monica slowly slid down the mic stand, despite clinging to it desperately, as if it were an oar extended from a life raft. She was still shrieking at the top of her lungs and you could still hear her, even though she had left the mic back at the top of the stand. By the end of the song, she lay pooled in a sweaty clump at the base of the stand, wailing and crying. Spent.
I don't know if it was performance art or catharsis, or what. In the realm of my existence, I'd never before seen that sort of compacted expenditure of energy from a single human being. Critical density. It was like watching a star being born. Literally and figuratively. It was part encounter session, part punk rite of passage and part Portland rock music history.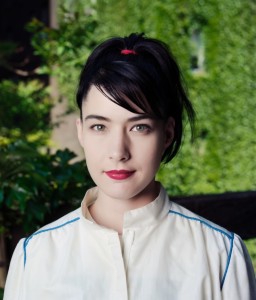 Monica Nelson is one of the most influential vocalists in that Portland rock music history. Kathleen Hanna (Bikini Kill, Le Tigre, etc) has freely admitted to being inspired, as have many others within the former "riot grrrl" movement of the '90s. It would appear that Courtney Love probably saw Monica in action a time or two somewhere along the way. That is pure conjecture, of course. But, voila!
Anyway, I met Monica and Rob that night. I don't remember anything about that encounter. But I did end up going over to some house in inner southeast around Cleveland High one afternoon shortly after that to hear the band rehearse. It was a single story bungalow. There were ten or fifteen people passed out, hanging out, or milling about the living room, as Monica led me through the crowd down to the basement where the band was rehearsing. It's my recollection that it was an unfinished basement: unfinished in that it appeared to have a dirt floor and dirt walls. I may be wrong.
The band sounded good the way good punk bands sounded back then. What they lacked in skill and finesse they more than made up for in passion and determination. Rob was the obvious ringleader. He was the brooding type, clearly street savvy in a very unassuming way—extremely protective of Monica—himself a true force with which to be reckoned.
Monica seemed completely different from the young woman I'd encountered at the Long Goodbye. She demurely sat on a stool, shy and quiet. Studious. And when the band cranked into a song, she would simply sit up straight, clasp her hands together and scream bloody murder. From the sound of it, her lyrics were fashioned directly from her life—the topics ranging from one form of abuse to another, a litany of anger and pain. Raw and unfiltered. Unflinchingly honest. I'd never heard anything like it. Thirty years later, I still haven't.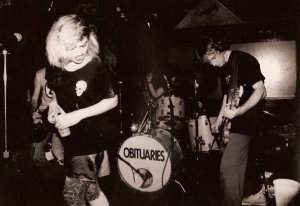 At the height of their popularity, throughout the late '80s, the Obituaries commanded stages all over the Northwest (it was a show in Olympia where Kathleen Hanna first saw the band and determined to form Bikini Kill). They shared the stage with acts such as Sonic Youth, Nick Cave, and Alex Chilton, and many others; as well as with a host of better and lesser known Seattle bands, including Green River, Mother Love Bone, and the Gits (Mia Zapata and Monica shared mutual admiration). In early formations, Soundgarden and Nirvana opened for the Obituaries.
By 1990, the Obits were disbanded. Rob went on to form M-99 and Monica split for New York City. There she produced several records (including Candymeat) during her hiatus, all showcasing a poppier side to her voice—where, among other things, she perfected a vocal quality comparable to that of her idol, Ronnie Spector (of the Ronettes: "Be My Baby").
Monica was away from Portland for over fifteen years, though she made frequent trips back to Portland. She occasionally reunited with Rob on some of those return visits. That activity culminated in a reunion of the Obituaries in 2007, along with the release of The Obituaries, an epic compilation CD with tracks culled from nearly every one of the many different incarnations of the band to take the stage over the five chaotic years of their existence.
Monica finally returned to Portland to stay shortly after that. It was my great good fortune to serve as her accompanist on keyboards on a couple of occasions in the fall of 2007. She experimented with a number of musical configurations and combinations in the intervening years after that. All of them showcased the eclectically wide nature of her vocal prowess. But none of them stuck.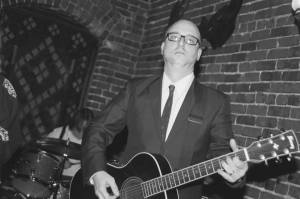 A couple of years ago Monica was contacted by the members of a local trio called Sick Broads. They weren't strangers by any means. Sick Broad guitarist Johnny Naylor was bassist for the Obituaries during their "middle-period." Johnny and bandmates, bassist Jeff Larson and drummer Joe Sanderson go back even further than that, however—clear back to the mid '80s and a band called the Terminally Hip, who were in the mix in the Portland alternative scene. Larson went on to play with Nervous Christians and for many years with Mark Sten and the Oblivion Seekers.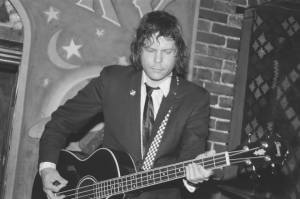 Larson and Naylor played with Steve Wilkinson in Crash Landing, in the early '90s. Naylor and Sanderson played in Plunger about that time, releasing a few sides on the prominent Tim/Kerr label. The three Broads hung together over the years, officially reconvening about four years ago.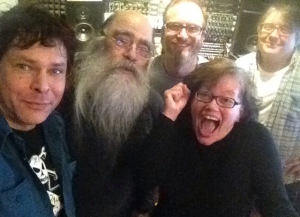 Larson happened to bump into Monica sometime after her return to Portland and eventually the musicians founded the Highgates. That was about a year or so ago. While there have been some demos floating around, this wonderful six song EP was "recorded, engineered, mixed & mastered" by the legendary Mike Lastra at Smegma Studios. Lastra, a longtime bastion in local DIY underground music, provides the Highgates the perfect sonic environment—quiet, open, airy, without affect. Honest and true.
And the music here deserves that sort of attention to detail. Monica's poetry has always been direct, naked, with no protective artifice. Even stalwart female poets of a similarly barren expository nature, say Marianne Faithfull, Patti Smith, or PJ Harvey—for example—have erected some defensive barriers within their work, affording themselves a bit of emotional distance from their listeners.
Not so with Monica. Her lyrics cut and tear at the tender underbelly of life with serrated precision. She doesn't mince words. She doesn't hold back. She speaks the unvarnished truth about relationships and life. Her point of view may have changed somewhat, maturing in the past thirty years. But the ferocious intensity of her performance remains intact. In that time she has learned to control her magnificent voice, every nuance and unique peculiarity. Her voice is now a fine instrument and she wields it like a true virtuoso.
And she's found just the band to give her the support she needs. These guys know punk like the back of a tattooed hand. You hear it in the riffs, the style. It's punk all right. But this is punk supperclub music (I mean this as a compliment). Peggy Lee with a black leather jacket. Billie Holliday riding a Harley. Janis Joplin wailing an operatic aria. Patti Smith standing next to the piano in an evening dress, holding a glass of wine, bawling her guts out. Etc. Instead of a typical sloppy punk sonic onslaught, we get sensational interplay between Monica and the other musicians, and deft execution, though no less punk in spirit.
To put this all in perspective one need venture no farther than the first track, the overheard conversation of the dirgey "Two Drunks." Over Naylor's turbulently bluesy guitar phrasings, the band creates a mood of taut, frayed tension. With spited constraint Monica intones a Bukowskian tale of cold cruelty. "Didn't have the decency to break it to her/The fact that I didn't want her anymore." Suddenly for the next line Monica's choked voice sounds like a ripping sheet. "Not that I ever really did."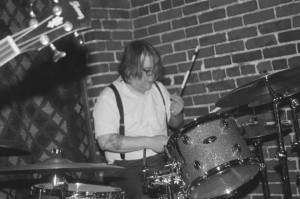 The final observation in the dreary account is probably the harshest of all. "Such a sweet girl but no one seemed to teach her about people like me." Larson, Naylor and especially Sanderson's steadfastly controlled drumming, display a great sense of dynamics with tight, ensemble work throughout. The final minute of the song is an impressive pastiche, with four bars of backwards guitar that segues into a fierce chord exchange reminiscent of the Guess Who's "American Woman," prefacing Monica's return for a wrathful final verse. Pretty damn remarkable!
"Revival" smolders beneath a thick volcanic crust of crunchy guitars, molten bass and pyroclastic drums. Monica belts out the vocal with unbridled fury, though always within the parameters of the broad range of her nuanced abilities. Always within herself and her incredibly expansive skill set. It's a marvel to behold. Truly.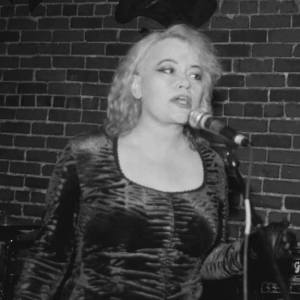 For a showcase of Monica's formidable talents, check out the amazing performance she renders on "Nowhere But Up." Over the years she has defined her own style and all of those various elements—from punk, to blues, to pop and Ronnie Spector—come to the fore here. Monica has developed a timeless voice of her own that rivals those of any of her influences.
With strategically-placed, memorable licks that never crowd the aural space, the band is understated but powerfully muscular. Concrete Blonde and Spirit of Eden/Laughing Stock era Talk Talk come to mind for the sparse subtleness of the execution. Lastra's impeccably clean recording techniques lend the entire project an aura of intimacy and immediacy that I have rarely heard in a local production.
Naylor employs a ballsy chord progression on "Hypocrites," the tone and texture of which recalls Neil Young's "Cinnamon Girl"—as if played on three shots of espresso and a nose-full by Kurt Cobain, circa Nevermind. A big, thick sound bolsters Monica hoarse exhortations: "Oh shit, I'm in trouble again/Nobody here understands my process/You'd think acceptance would be a virtue/It seems that I have exhausted all avenues/My so called family disowning me/You snobby little hypocrites/With all your dirty little secrets"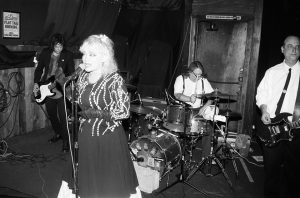 It's a tale of familial vengeance, played out against a storm of focused collaborative mayhem. Sturdy, compact and precise, the band sludges relentlessly through the arrangement, though with crisp attention to detail, such as pregnant fermata and timely rests. Naylor nails a brief soaring solo, while Larson and Sanderson do the heavy lifting. Vital stuff.
Anyone familiar with the six stories in Hubert Selby's harrowing novel, Last Exit to Brooklyn, will understand the torturous contextual terrain navigated in the downright short (1:30) "Topless." The song begins with a prancing, jaunty riff, before the chord progression turns dark beneath the verse. Over that, Monica fiercely chronicles several curt tales of hapless people living at the edges of society.
The quiet ballad "My Need" allows Monica to explore the tenderer aspects of her spectacular delivery, those Ronnie Spector features she has so eloquently mastered. Willowy acoustic guitar joins the compliment of muted electric guitars in auxiliary to a wispy filigree above which Monica compellingly courts a plaintive melody, while lyrically confronting duplicitous social barriers that restrict the human spirit from reaching its full potential.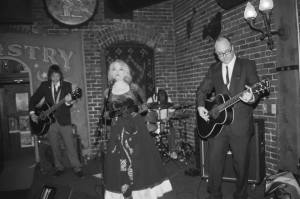 Between them the six songs found on this EP barely add up to sixteen minutes in duration. But those sixteen minutes are pure gold—more valuable, more real than eighty minutes of the typical recorded schlock to be found on the market today. Monica Nelson and the Highgates are a formidable band. They play together especially well, their individual parts intricately interwoven with great care and precision: in a musical genre rife with the subtlety of a car wreck, emotional gradations ranging from black to darker black.
There are colors here… and shades. Tones and textures. Mike Lastra deserves reverential praise for the tremendous contribution he has made toward the creation of this production. After listening repeatedly to this recording over the past week, I recently happened to put on Sleater Kinney's new album. What a jarring juxtaposition!
Sleater Kinney used to be raw back in the day. Raw, raw. Maybe not Obituaries raw, but damn raw. Their new album [a full review is in the works] is anything but. It's slick and tame compared to the expertly performed, gentle punk ferocity presented here by the Highgates. Listening to the two recordings side by side is a real eye opening experience that I recommend to anyone. It'll blow you away!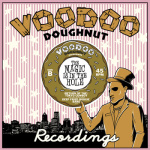 Love is Hell/Voodoo Saved My Life
Voodoo Doughnut Recordings
Just last December, Monica Nelson and the Highgates were afforded the opportunity to contribute the twelfth in a series of limited edition singles released on the vaunted Voodoo Doughnut Recordings label. Their contributions to that project are the songs "Love is Hell" and "Voodoo Saved My Life."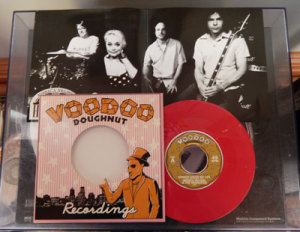 While these cuts, recorded in drummer Joe Sanderson's basement studio, may lack a bit of Mike Lastra's sonic majesty, they are no less fearsome in attitude and artistic acuity, nor exacting in their implementation. It's not the recordings, after all, it's the band who produces them.
Perhaps the most accessible number among those reviewed here "Love is Hell" is a laidback 21st century blues, full of empty space, and dashes and splashes of tasty fills, perfectly crafted musical support for Monica's incredible vocal. Finessing the full range of expression at her command, she dials in the sweet Ronnie at the head of verses and the explosive, Janis Joplin banshee qualities in her voice at the tailend, traversing with a restless spirit the barren emotional landscape of an icily austere lyric.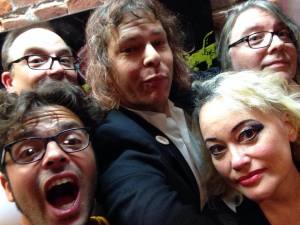 "Voodoo Saved My Life" rocks hard, classic Monica raining jagged gusts from the cumulus roil of the bass and guitars, closer to Bon Scott than Brian Johnson within the vaguely AC/DC-like themes and schemata—though the classic punk metal droog is very deep as well. There is some bad, bad donut voogum going down here. The final minute of this track is a wonder to behold. The ensemble displays hard-driven discipline, a balloon about to pop—which eventually bursts in the jagged crags of Monica's unbridled finale. Wow!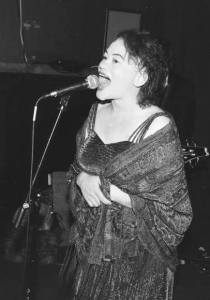 Because she was absent from the local scene for fifteen years, Monica Nelson has not received the deep and abiding respect from the local public and press that she most certainly deserves. It's entirely possible that is by her own design—as she has never seemed completely comfortable in the spotlight. Still, it must be said: there is no singer like Monica Nelson anywhere else on the face of the planet.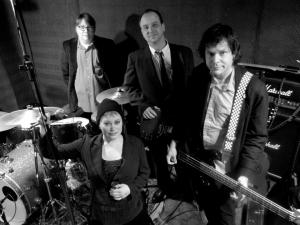 And, in the august days of her career, she has surrounded herself with the perfect supporting cast. John Naylor, Jeff Larson and Joe Sanderson are true professionals. They never go for the easy approach. In every instance among these eight songs there is a profound sense of unity and solidarity among the contributing individuals. It's the sound of four musicians doing their utmost to do the best for their band and muse. And what they do is quite special. Quite special, indeed.
December 2014