Drew Norman is a lofty balsam among the abundant flora in our local music scene— one whose own magnetic roots burrow back the better part of twenty years. We remember him as guitarist of notable shreddery for Porcelain God, and the subsequent mach-two version: the Cow Trippers. There, he occasionally contributed the odd song, typically delivered in a gruff, somewhat salacious manner, perhaps in a community neighboring Tom Waitsville. It was back in 1999 when the Cow Trippers first introduced the strange character Professor Gall to the world, with their album of the same monikker.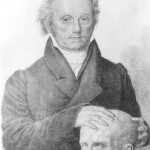 As the Cow Trippers' linked review notes, Professor Franz Josef Gall, born during the enlightened era of the mid-eighteenth century, was a German physiologist, reputed have to have been the Father of Phrenology—which was quite a thing of which to be parent back in the day, one would assume: a footnote of medical quackery devoted to the study of brain functions attributable to the shape of one's skull. And, certainly, who is there among us to dispute such a claim to paternity? Certainly not you, Bulbhead!
Anyway, as these things often go, about eight years ago Drew decided to grab the wheel of his destiny and steer his own ship through the turbulent seas of the regional music business, first with a solo album Safe at Home in 2001. But Professor Gall is now the captain of this odd little craft, one manufactured from some bodgy materials first milled in that Cow Trippers album back in 1999.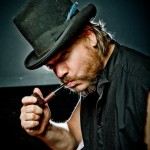 It's not a sailing vessel, mind you, it's a riverboat. There's crazy cajuns wailing Hasidic Dixie niguns in a smoky, pre-flood 4th Ward dive. There's cool jazz cats backing a honky-tonk cowboy aboard a beer bottle prairie schooner. The album's only about half an hour long, which is just as well. You couldn't take much more of this arid voodoo voogum in one sitting anyway. Wear a helmet, Easy Rider, you're likely to fall on your head.
This is the Professor's third voyage up the Nung with Colonel Kurtz to hang out in the Star Wars cantina. In 2006 he took the rig out for her maiden voyage with Intravenous Delusion. Then he followed with The Psychology of Booze & Guilt in 2010. It would seem obvious that the Professor does not view life lightly, but he confers his surly sermons with unique gusto and aplomb, so one is not always aware of the esoteric undercurrent flowing in the murky river beneath the hull. Cerebrate. Cerebrate. Dance to the music.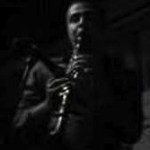 "Nola" is precisely what you'd expect from the title: a big-beat zydeco jazz concoction of Dr. John vaudvillian proportions. Scott Johnston's decorative sax and Andrew Alikhanov's burbling clarinet bob and weave around a lyric that speaks to the soul of a proud city unwilling to surrender to nature or man. "Evidently no desire is too costly/to rebuild the spirit of this sacred place/ where every face is exempt from labels and the rant/where the raves are put into a pole position/and ageless grace is in full motion /and it's through this code of humanity/that breaks the proverbial chain/and the wind never blows strong enough to turn that freedom train."
Dark, prickly banjo pizzacatos bleed against John Stewart's pounding kick drum, before "Somewhere Else" swings into a steamy Nuevo Piazzolla tango, sax and clarinet in lieu of strings and bandoneons, though producing a similar effect. The lyric wanders across existential terrain with the occasional ethereal turn in the road. Tricia Beck warmly embosses the vocals—perhaps expressing the basic duality of Man's nature, singing "I'm a, a a fake/ and you're not a REAL/and we're not a here we are/Somewhere Else." We shall be availing ourselves of this piece again later, in a different form.
With the longest introductory motif heard in a pop song in quite some time, "Nature vs. Narcissism" saunters along pastorally for over a minute and a half before finally kicking it up a few notches. One would be inclined to think the second section as the more Narcissistic between the opposing forces, Nature seemingly far less willing to put much energy into Narcissism—pretty much defining beauty and all.
But that's where we would err in our suppositions, as that paradoxical introduction is fulcrummed by the telling verse: "as we peer into the reflective pools /we fall in love with ourselves /well Freud was in love……….with his MAMA." From there Nature rampages a stampede fueled by the vanity of Humanity— not so much a didactic inquiry as a battle to the death. "So what on earth makes us think we can be one with nature /with what's left of our heavenly place /in a forty foot recreational vehicle /a comfy starless living room on wheels /with a built in DVD /and a remote and a useless shelf /and basic Ode to Self, HA!" Rawhide meets Fiddler on the Roof, fronted by Captain Beefheart grabbing the bull by the Delta klezmer horns. No problem.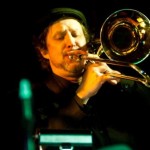 The title track, a bracing instrumental, is a banjo-driven handclap hoedown barndance, augmented by crazy Dixieland horns: Johnston's sax and Monte Skillings' trombone, all propelled by some weird-assed strangled tom, presumably a bongo struck with a drumstick, veering like a drunken wooden-legged cowpoke with a bladder problem. [It would appear that the percussion was generated by Norman on a stombox and a banjo head, which in no way diminishes the quality of its impact, in fact, only enhances it].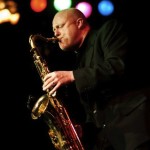 Off in a different direction, Doctor Drew moves into a Byrne-ian/Bowiesque vocal guise, gruffing and chortling rhapsodically over jingly acoustic guitar and a relentless locomotivic two-step rhythm. An XTCish sort of exposition, with an Hasidic nocturne of Steely Dan-style horns punctuating the onslaught. That is, until you reach the troubled prancing waltz of the midsection. At that point in the proceedings who's to say where the hell you are, musically? This is uncharted territory. Every man for himself. "The unsacred cow will lead a miserable life/Devoid of cud and covered in mud/Reaching with his head through that aluminum fence for hay." Sure. Then Johnston launches on an extended squirrely sax solo. Thank you very much.
The Professor revives "Somewhere Else" from earlier in the show, this time to invoke as a bleak, spoken-word incantation that treads turf trod by Tom Waits (oh, say "Chocolate Jesus" for starters) and Jim Morrison in their moments of sheer shamanic poesy. The mood and milieu of the Doors' "You cannot petition the Lord with prayer" from "The Soft Parade" or the entirety of "Horse Lattitudes" from Strange Days, blows a windswept, prairie-wide breeze across the Professor's fervent ghostly lines: "And there is no missing link to rid ourselves of this misdirected God/And there is no upright monkey, with a past address on Mars/Only the stars have infinite dirt."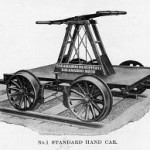 Last, but not finally, "Funky Water" serves as a satisfactory summation of all that has gone before. And there's definitely been something going on here, but I'll be damned if I can figure it out. The setting for the conclusion of our festivities: a Dixieland cabaret, infused with the essences of Raymond Scott and other jazz eccentrics (Carl Stalling comes to mind) who lent cartoons of the '30s and '40s their distinctive whacky soundtracks. Don Henson's jolly rollicking xylophone, reeds, trombone, and Mark Chervin's sassy muted trumpet ride Stewart's energetic trap set like gandy dancers on a railroad handcar.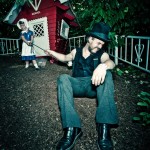 Meanwhile the good Professor goes off like some crazy western yarnspinner character in an off-kilter acid-soaked rendition of Paint Your Wagon. "Well my boots are strapped with leather/but held together with shoe goo/If I had to skin a rat for dinner/I'd surely make the ghosts of Lewis and Clark drool." It only coils off all Pynchon-like from there. The overall effect is stunning. Not quite like anything ever heard before that I know of.
It's a metaphysical Dionysian steampunk gypsy caravan medicine show and I dare to ask, why not? Sure it would be easy to toss this album off as plain peculiar and just let it go at that, except this challenging music was entirely premeditated. It is articulated so precisely and with such gusto, and the lyrics are so mystical, in a genetically mutated, 21st century schizoid sort of sense, that there is no way in hell of explaining this rodeo—only to observe that it was all very carefully planned and executed with incredible proficiency.
It's difficult music, not always pleasingly melodic, in the contemporary sense of the term. But then again Robin Thicke wouldn't entertain the notion of calling his musical cartel Professor Gall, so all is well with the universe. But for those among of us who are tired of the same old thing, this heapin' helpin' of Bayou gefilte gumbo is sure to hit the musical palate in a spot it's never been hit before.