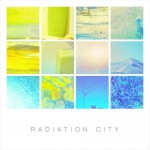 Animals in the Median
Tender Loving Empire
Musical acts with a choral female vocal core have been a mainstay of popular music since the genre was inaugurated early in the 20th century. The Boswell Sisters, in the early '30s, come instantly to mind as purveyors of tight harmonies and blues-inflected jazz phrasing. Later the Andrews Sisters glommed onto those tight harmonies and, later still, it was the Chordettes singing "Mr. Sandman" in 1954 with bright, brassy barbershop harmonies.
The advent of rhythm and blues in the late '50s portended a change toward a new and different sound that came to full flower in the '60s and '70s. Although there are earlier examples (the Shirelles most prominent among them), the precise recording I will be referring to, in going forward, as the headwaters of what rivered down thereafter is "Sally Go 'Round the Roses," released in 1963 by the Jaynetts. That recording features no real lead singer to speak of. It is just a bunch of girls—at least sixteen of them, maybe more—singing mostly in unison, a spinoff of a well-known nursery rhyme.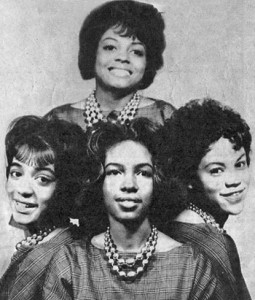 For some reason, there is something very eerie about that muddled, muddy recording. Eerie in a good way. Happily eerie. Like when a warm breeze blows through you and you experience a chill. A chill of warmth, if you will. The Primettes had already become the Supremes by that time, so it's a good bet they and Berry Gordy Jr. were listening to this record too, as it seemed to have a direct effect on their sound. It's the sound of a bunch of girls singing in unison.
Oh, the Supremes improved upon it ("Baby Love." You bet!), of course and Phil Spector built a career out of it. Then the sound became part of the soul and rock vernacular and it spun off in countless fruitful ways. From Laura Nyro to the 5th Dimension, from Sergio Mendez and Brazil '66 to Abba. Mamas and the Papas, the Association. Everywhere—you can hear the sound of unison. Yeah, there's a little harmony at times, but it's that sound of many voices singing the same note, turning that single note into harmonic sludge. Yup. That's it!
Perhaps you are wondering where the hell I'm going with all this. I know I am. Radiation City. And all the above merely serves as reference to a single aspect, out of many that distinguish Radiation City from most any other band. Why?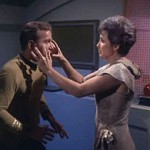 Because Radiation City are able to absorb the essence of other bands like Nancy Crater sucks the salt out of people in the original Star Trek episode "The Man Trap." Only in a good way. For world peace and the benefit of pop music, I guess. I don't know. Radiation City seem to love music, to love playing it together and to have an uncanny knack for producing familiarly new and unique pieces of music that creep into your DNA in precisely the same way that their (grand)parents' music has crept into that of the members of the band.
And if everything I have described up to this point could be considered as cake, then it would be safe to say that they have mastered the recipe. But where Radiation City truly excel is in the art of frosting. Their attention to composition and detail is keenly superb. In fact they are so dedicated to frosting that they tend to frost the first layer of their creations with a second, thicker, even more ornate layer of frosting. It's thick. It's rich. It's Radiation City musical frosting!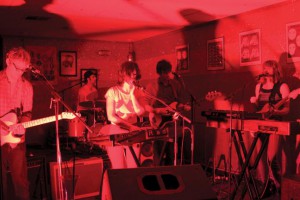 Right from the start, with"Zombies," you get a sense of where these guys are coming from—and where they're going. Over quirky, Beach Boys-ish church organ, burbling percussive effects, Cameron Spies' skittering rhythm guitar, and Matt Rafferty's stacatto bass pumps, vocalist Lizzy Ellison broadcasts a verse with a melody faintly reminiscent of Alan Parson Project's "Eye in the Sky." And while you try to conjure that in your mind's ear, mix in Abba doing "Fernando" when multi-instrumentalist Patti King joins in harmony vocals at the chorus. Consider an air of the Cocteau Twins (and all subsequent related elements) hovering an atmosphere all around. Let the frosted frosting surround you.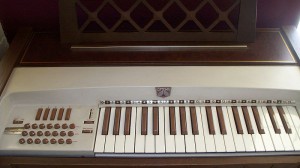 "So Long" sounds as if it's driven by an Optigan or a vintage Lowery organ or something of equal delightful tackiness, along with a squirrely '60s style psychedelic guitar and Randy Bemrose's hard-hitting beat in the clinches. Strange vocals imply a Dodge commercial from 1963, produced by Raymond Scott. Ultimately, this is music for the 21st century Space Age Bachelor Pad where swinging bachelorettes are welcome as well.
The brief "Wash of Noise" creates a mood of angst and discorporation, with clever, intellectually astute lyrics. "I've got a proposition/Why don't we change positions/I'll take your physical prowess/You take this rabbit hat from me." Heart-thump drumbeat and other drain clearing percussive sounds, elastic bass, and swooning melotron-like violin contribute to the stark, desolate ambience. A strange, mildly unnerving piece to be sure.
The fellas articulate the intro section to "Food." But eventually a lilting double-tracked female voice (with harmonies the second time through) comes into the sonic picture to dally the choral seam aforementioned—recalling the timbre of the Brit girl duo, the Caravelles, from '63. This is over a lazy Sergio Mendez-style samba, with spaghetti western guitar theme, mixed in with a feel sailed in from the early '80s, circa the band Berlin (slowed down—without the coke edge). These guys are nothing if not pliable!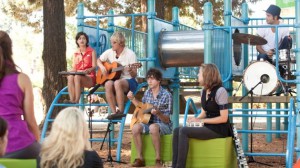 It really isn't until the entry of the burbbly chortling arpeggiating synth and soft, sandy acoustic nylon stringed guitar that float around the launch of "Foreign Bodies," that the complex components to the elaborate confection that is this album begin to congeal into a full-fledged musical cake. Over that is spread a vocal with the consistency of Mary Wells singing a Laura Nyro song (produced by Phil Spector)—which never happened but it should have. When the drums kick in at the turns, the crew steals the echo effect from the Cowsills' "Flower Girl," while adding a '60s elevator element that is peculiarly all their own.
"LA Beach" maintains that laid back feel, well worthy of its sunny, blue-sky title, and maybe reminiscent, production-wise, of something from the Beach Boys' Surf's Up period. The brief "Entropia" extends that vibe. Hauntedly cool male voices somnambulently lead the listener through ghostly sand, sounding all Wilson-y in its ornate nakedness. The melody of "Wary Eyes" bears a direct reference to Joao Gilberto's "Desafinado" (if Astrud Gilberto were ever to have sung it) and maintains a similar restraint—perhaps in a league with early Cocteau Twins.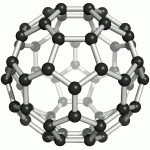 That Cocteau Twins affinity is further realized on the aptly (considering that faint connection) named "Buckminsterfulerene," which even sounds like a Twins title. As we all know, Buckminsterfullerene was named after its resemblance to "Bucky balls," and is the largest object to have been shown to exhibit wave-particle duality (it's a quantum physics thing. Don't worry about it), and, of course, solid and gaseous forms of the molecule have been detected in space. Right?
Anyway, consider this song as a possible out-take from Heaven or Las Vegas (with the addition of an array of electronically generated whizzy zizzy accoutrements) and you approximate the milieu. What would it sound like if Phil Spector produced the Cocteau Twins? Now that's something to think about! You can get some idea by listening to this track.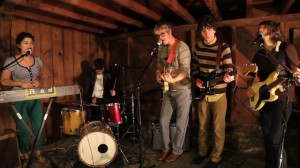 "Summer Rain" maintains a 5th Dimension "Stoned Soul Picnic" antique soul sensibility, paired with uniquely spacey passages of a modest au current grandeur—leading to a piping "Chopsticks" section reminiscent of "Good Vibrations" Beach Boys meeting at Harry Nilsson's Point. This is all pulled off with spectacular élan in the two minutes it takes to get that far into the song.
Then, in the middle section, they break into the sort of jazz-edged synth solo that Steely Dan might recognize, followed by a short symphonic breakdown worthy of Prince, and back to the Stoned Soulish verse. Three minutes flat. Radiation City work fast. And efficiently. As luxurious as the songs can often be, they don't linger beyond the moment before flitting off to some other musical destination. You have to pay attention!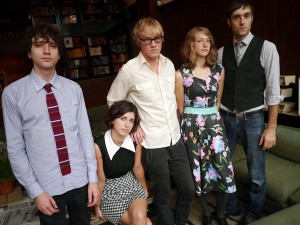 The lazy gaited ballad, "Lark," provides a lush thicket of sound. Brambles of keyboards, with arpeggiating acoustic guitar play against delicately non-descript female and occasional male voices. If there is a criticism to be made of Radiation City it's that on occasion their vocals, male and female, tend to be a bit bland. They are all very pleasant, to be sure—as everything is with this band—but at times these vocals sound as anonymous as one of those sixteen singing "Sally Go 'Round the Roses." Still, after all, the same could be said for Abba. So that's no knock-out punch, by any means.
But fortunately they bounce back with the vivacious final track, "Call Me." With frogs and crickets a-chirpin', Spies' Jobimian Spanish guitar serves as loci, with wiry low-synth set off by puffy nimbus cloud tones purring and whirring in support. Inside of that, the ladies embroider a vocal tapestry that slowly fades into an ephemeral fog, then into a frog.
Radiation City do what all good bands do, they assimilate and recast all that has gone before them. They do that in an unusual way. Their presentation is incredibly idiosyncratic. They fashion their musical pastries with great care and obvious fastidity—to the extent that the arrangements and production values often overcome the songs themselves.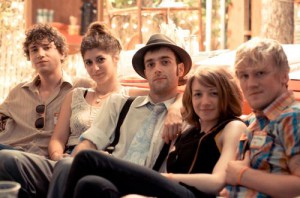 But, upon close inspection, some of the songs themselves seem insubstantial. There's too much frosting and not enough cake. And the cake we get is like angel food: mostly air. There is nothing wrong with angel food cake, until you try to apply two thick layers of frosting to the flimsy gateau. It's too much.
Radiation City are not to that point. They show a great deal of promise in very promising ways. But, in order to create memorable music that stands the test of time, more important than arrangements or clever instrumentation well-executed—more important than the band or its performances, are the actual songs themselves. Without consistently solid, well-crafted songs, with lyrical depth to match a skilled melody, the center will not hold. The cake will collapse. Radiation City are too good at their craft to ever allow that to happen.