It's been six years since Sleater-Kinney went on hiatus. For many music lovers, myself included, June 27, 2006 will forever remain a day of black sadness. Oh, it had been in the air for quite a while. It wasn't exactly a surprise. But still.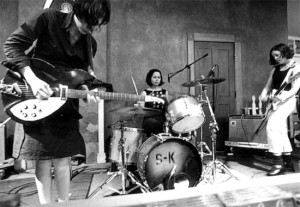 Within the preceding twelve years, Sleater-Kinney had released seven albums, several of them transformative classics. Carrie Brownstein and Corin Tucker founded the band in late 1993. In 1994, on a trip to Australia in celebration of Tucker's graduating from the Evergreen State College in Olympia, Brownstein and Tucker, along with a local Australian drummer, Lora (Laura) Macfarlane, recorded what was to be Sleater-Kinney's eponymously entitled first album.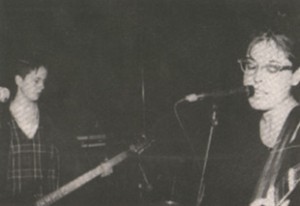 But even before Sleater-Kinney, Brownstein and Tucker had acquired notoriety around Olympia and beyond—Carrie as the chief singer and guitarist in a band called Excuse 17. Tucker acted as lead vocalist and guitarist with her fledgling group Heavens to Betsy and was one of the harbingers of the rowdy "riot grrrl" movement that thrived in Olympia the early '90s. Even at that early date Corin's abilities as songwriter and lead banshee vocalist were already acquiring for her a bit of a reputation in these here parts.
So, then Carrie and Corin formed Sleater-Kinney, a band with a tough, vaguely militant feminist stance, and the brains and talent to get the point across. They released that first album, and recorded and released their follow-up LP, Call the Doctor, in 1996, with Macfarlane (who in the interim had moved to Washington from Australia) drumming. That album garnered for the band increased attention, not only in the Northwest, but nationwide.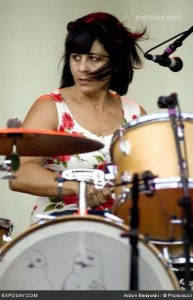 In 1997, rock goddess drummer, Janet Weiss, late of Motorgoat, Quasi and Jr. High joined the firm in time to take the chair for Sleater-Kinney's third release, the seminal Dig Me Out. Propelled by Weiss' incomparably solid percussive fusillade, and Tucker and Brownstein's constant development as musicians and songwriters, that album jettisoned the band into national prominence, which they maintained and expanded upon for the remainder of their run.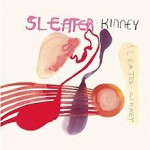 By the dawn of Century 21, S-K had carved for themselves a very secure niche in the national music scene. Renowned music critics Greil Marcus and Rober Christgau championed the band. In 2001, writing for Time magazine, Marcus called Sleater-Kinney "America's Best Rock Band." After taking most of 2001 off, so that Tucker could take care of her newborn baby boy, the band regrouped to continue with their musical onslaught. With the release of One Beat in 2002 (reviewed in Two Louies September, 2002, where you will also find a more detailed bio of the band) their ambitions for world domination began to find real traction.
Sleater-Kinney was at its creative zenith and, going forward, the possibilities seemed endless. After touring North America with Pearl Jam in 2003, the band incorporated elements of their newfound "arena rock" sound into their sonic foundation while preparing to record their next release. But, there was more talk of a longer break. Corin mentioned in several interviews the difficulties she was having in balancing riot grrrldom with motherhood. Carrie was exploring other opportunities outside of music. And Janet Weiss will never have to look for a gig. Ever.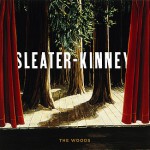 Sleater-Kinney released their final (to date) recording, The Woods, in early 2005 (reviewed for Two Louies May, 2005). A year later they were on hiatus and going their separate ways. Always in high demand, Weiss has gone on to drum for numerous high profile acts, most notably Stephen Malkmus and the Jicks. Not missing a beat, Carrie Brownstein quickly began blogging for NPR in 2007, while conducting several high-profile interviews for the network as well. She then formed Wild Flag in 2010 (with Weiss, Mary Timony from Helium on guitar and the Minders' Rebecca Cole on keys). Their wonderful self-titled debut album hit the streets in September, 2011. And then, of course, there is her star-turn as writer and actor with the cult-hit and Peabody Award-winning television series Portlandia on the Independent Film Channel—now in production for a third season. Put a bird on it.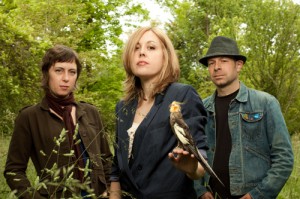 Corin Tucker did indeed become a stay-at-home mom for her son Marshall, and later begat a baby girl, Glory! in 2008. But in 2010 she returned to the fray, recording what she called her "middle-aged mom record." And 1,000 Years was a departure from Corin's work with Sleater-Kinney. Supported by drummer Sara Lund (Unwounds) and guitarist Seth Lorinczi (Golden Bears) whom she had known since the Olympia days, it was a mellow affair, more so than any predecessors. Corin hardly delivered any of her requisite elk-call vocals. While the album met with modest critical praise, longtime fans bemoaned the new more "mature" perspective. Those hoping for the Corin of old were sadly disappointed. The lukewarm response was not dissimilar to that Liz Phair received at the release of her maternally domestic third album, Whitechocolatespaceeg.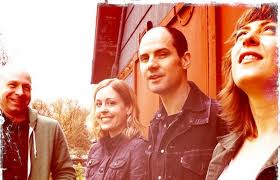 Now, rapidly approaching forty, she has rebooted for her sophomore effort: Corin Tucker 2.0. With Lund and Lorinczi once again in tow, and with the addition of Jick, Mike Clark, here as bassist and keyboard contributor, long-time fans will be happy to know that Corin Tucker is back! All the way back. It is a mature album, she's long departed from her Evergreen days to be sure. But the voice, womanhood's answer to Zach de la Rocha, is here present and accounted for: a satisfying album. A little something for fans from all eras.
It takes about thirty seconds into "Groundhog Day" before you figure out that this album is nothing like the first, and that the former Sleater-Kinney fireball still has gas left in the tank. Prickly guitars front a gentle verse before the chorus explodes full scream. Lyrically, Corin tells the tale of what she's been up to for the past few years. "Hey, que pasa/I've just woken up…I took a rest/ took some time off/Be a mom have some kids." But then, raising her voice, in the second verse she begins to question the passions that she and her generation knew, pioneering the women's movement in the music industry. "Hey, what's up y'all/I thought we had a plan…" The chorus rocks hard and serves to define the musical terrain for what follows.
The intro to the title track, "Kill My Blues," is driven by a familiar-sounding serrated Fender Rhodes sound, a spiffy riff—radiohead-y—playing seven against eight before the song breaks out with muscular droning guitar in the turns and chorus. Corin alternates hot and cool vocals from line to line. A tasty two-string-octave solo skims into a stirring bridge and resumes the solo, which slides into the keyboard intro and out. Well played, CTB, well played.
Energetic, chirping guitars beckon the way to "Neskowin." Corin's lunging vibrato wail flails in all its majesty here. "Darling I know/I don't go/Like the other girls/It's just I enjoy/Other toys/Other faculties." She details what sound like the fairly innocent adventures of a couple of teenage girls on a family vacation. I can't tell lyrically, but somewhere along the line, all kinds of hell broke loose on that vacation. The surf-y middle break moves into a Lene Lovich section, then to an extended chorus where Corin displays a wondrous swooping intensity, ululating like a fluted peacock British police siren.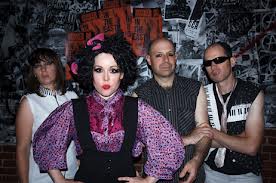 Producer Alicia Rose's video depiction of this song is dedicated to Poly Styrene of X-ray Specs (one of Tucker's big early influences). But vocally, Corin doesn't really sound that much like the late Poly— except that they both shout a lot. Actually, Tucker sounds more like Styrene on "I Don't Wanna Go" where she does some serious bellerin'.
Calling to mind the riff from the Stones' "Paint It Black," the exotic guitar intro of "Constance" dissolves into a beat in the verses of which Phil Spector would heartily approve. A raspy Farfisa adds more '60s flair in the turns, leading to the churning chords of a "Smells Like Teen Spirit" inspired chorus. Then the slippery Farfisa returns for the bridge: a medieval affair with delicate vocal rounds. The Farfisa takes a brief solo and goes all gurgly Philip Glass, before the Nirvana thunder of the chorus kicks in again. This song is what we in the business refer to as a "tour de force."
With the '80s new wavy, "No Bad News Tonight" Lund wheels driving toms and a hard-hitting surf snare. Corin's vocal melody follows the chattering single-string lead guitar figure in a duet. She fires off a groovy guitar solo, which crashes to an ending that sort of fizzles to an abrupt halt.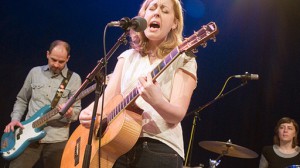 Lund's opening snare salvo on "Summer Jams" gives one the mistaken impression that they are about to hear a slightly speeded up version of Blur's "Song 2," but no. CTB heads in a different direction with tight bass/rhythm guitar interplay, churning against two-crunchy chords. At the turn, the song floats into infectious backing vocal chortles: "woo-oo, woo-oo-oo, woo" calling to mind the Dandy Warhols more than Blur. A sterling instrumental break, a lively African Highlife bass and guitar dance, follows—then into an intricate clockwork section, ticking methodically—which segues to a rock-y finish. Like Throwing Muses or Belly for the 21st century. A very satisfying track.
Church-like organ and dappled piano lend "None Like You" an ecclesiastical feel, buoying a mysterious  lyric. "Come gather children/Gather around/Night of December, our mother found/She lifted us with light touch/She put us down/Candle in each window led us back to her now." It's difficult to say what the song is about, exactly. Themes of motherhood, but something darker, like a fairy tale. Maybe witchcraft?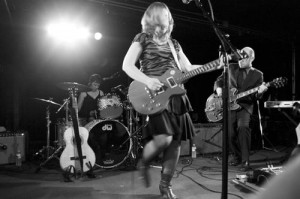 A nervous rotisserie of guitar and subtle electronics slowly begins to spin above the low inferno of the arrangement, amplifying the tension of the ominous lyric. Suddenly, dramatically, Lund sprays Gatling snare shots into the scene and the song gallops off like a frightened steed. The influence of Patti Smith seems to linger in the atmosphere surrounding Corin's vocal on this song. She urgently repeats the lines of the chorus until she is drowned out by onrushing drums and a throaty sluice of overdriven guitar.
"Joey" is not the Concrete Blonde song of the same name, but it may be a reference to Joey Ramone, who was memorialized in an S-K song, way back when. Prickly skip stumblefall intro riffery and smackage resolve into straightahead verses and a lullabye chorus. But at the backend of one of those choruses Corin erupts into an intense "Joey-eeee" yowl. A fine interplay of tortured guitars wrestle an extended solo and back to the chorus, where the guitars gnarl pure elegance behind Corin, baying mournfully. A very well-controlled piece.
Stirring piano accompaniment and filigree guitar figures buffet the torchy "Blood, Bones, and Sand." It's a low-key affair, with a powerful vocal— without being over the top. Nice. The final cut, "Tiptoe" is strung along a jagged guitar line, sort of Zeppish in consistency, backed by thundering Bonham-washed toms.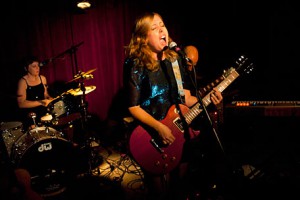 My girlfriend thinks Corin sounds like Geddy Lee. I've conceived of many female vocalists with whom Corin Tucker is in a league, but not a male vocalist—and Geddy Lee never would have occurred to me, though the observation is not inaccurate. I'm more inclined to think of Ann Wilson. Whatever the case…jeez. Corin can kick it as well as just about anybody. Maybe a little more organic than the others. Wheezy organ accents wither and flit between a fiery guitar solo, back briefly to the vocal turn, back to a smoldering second solo and wham. Lights out.
1000 Years, the first Corin Tucker Band album, was pretty much her performing with a backup band, not a lot of interplay. This album is executed by a fully formed unit, running perfectly on all four-cylinders, blowing blue flames out the exhaust pipe. CTB is now a real (and quite formidable) band.
Seth Lorinczi and Mike Clark are simply superlative in everything they contribute to the record: guitars, bass, and keyboards. The instrumentation is varied and very powerful, but cohesive and of a kind—and always in support of a song's arrangement. Always the perfect choice. Sara Lund proves herself to be an absolute monster on drums, expertly bashing through the heavy sections, imparting great sensitivity in the more delicate segments.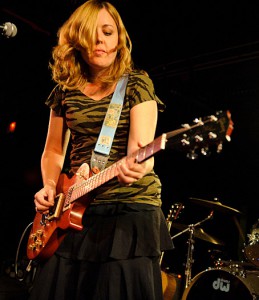 The evolution of what once was Sleater-Kinney is now set fully into motion. All the members are now officially growing as artists on their own—individually moving toward new challenges. All three of them are emerging as stars in their own right. Understandably, Corin Tucker has held back. She took five years off to raise her children, and her first return to music and recording was tentative. Now, two years later, Corin would seem to have completely recovered her confidence as a singer and performer. It's all here in spades. Kill My Blues is a great album.