Pacific Mean Time
Self-Produced
Pacific Mean Time. What does that even mean? Some of us may be familiar with Greenwich Mean Time. Greenwich Mean Time was developed by the British in the 19th century to help the trains run on time. Great Britain being the center of the universe back in those days, it came to pass that all other time became calculated worldwide using Greenwich Mean Time as the absolute reference point. In essence, the given time of any moment on the planet is relative to moment zero in Greenwich, UK. That's where time begins for the rest of us peons.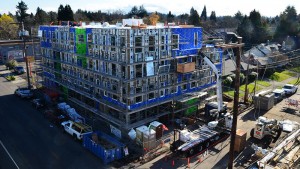 In considering Pacific Mean Time we need recalibrate our clocks. As of today, time begins in Portland, Oregon. Moment zero is here. Now. So, something has changed. Some perspective has shifted. What perspective might that be? Well, certainly Division Street is nearly unrecognizable from maybe five years ago. That's certainly a perceivable change. But those sorts of things are going on daily all over this city. The Portlandia-ization. No, something else changed. Something changed abruptly
That would be Little Beirut.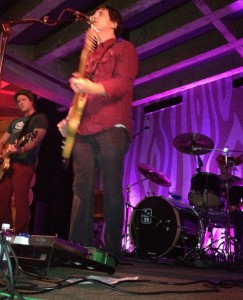 Little Beirut put out three albums between 2004 and 2010. The band was the brain-child of lead vocalist Hamilton Sims and Edwin Paroissien. Before forming Little Beirut, Sims and Paroissien were partnered with fellow Tulane University alums Carlos Marcelin and Eric Flint in Silkenseed, a band that met with some local acclaim in the '90s. Marcelin and Flint went on to co-found Sally Tomato with Ms. Tomato herself in 2001.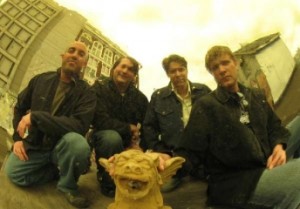 All three Little Beirut albums met with critical praise, especially 2008's High Wire, which found the band at its creative peak. But, as Little Beirut prepared their follow-up to Fear of Heaven (released in 2010), an insurmountable artistic impasse divided the members of the band. Sensing that the band had reached a dead-end, Little Beirut broke up.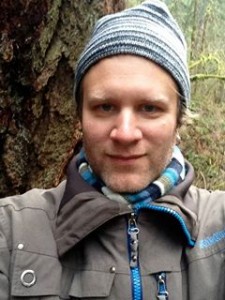 In 2012 guitarist/multi-instrumentalist Paroissien lost his job, which initiated for him an intensive period of soul-searching—a re-evaluation of his life's goals and the part music would play going forward. In lieu of immediately seeking a new job, Edwin set about completely reconfiguring his musical direction.
Little Beirut was a pretty nice wheel in the first place. Their sound didn't exactly compel complete reinvention, but perhaps merely a new design twist here and there. Carbon rims: or the musical equivalent thereof. And that's precisely what Edwin Paroissien brought to the table.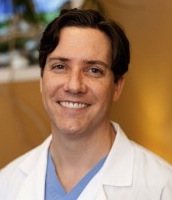 Tinkering with guitar, drum machine and synthesizer, he slowly began to mine a new stylistic vein, amassing a veritable pile of nuggets over the course of several months spent sluicing around. It was about that time that Hamilton Sims was contacted by Matthew Morgan.
Working as a studio engineer at Jackpot Studios a while back, Morgan met Sims and Paroissien when they dropped by one day to lend background vocals to a project being assembled by an Alabama-boyhood friend of Hamilton's. So it was benign kismet that at the time he would be needed most by Little Beirut in their darkest hour, Matthew would happen to check-in to see what was new with the fellas.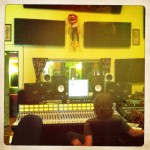 At some length Morgan became an intrinsic member of the new band, not only as a producer and facilitator of unique sound pastiches, but also as a contributing musician himself. He added drums to six of the ten tracks. And that was the final aspect of the band's transition. Little Beirut was no more. They had morphed into Pacific Mean Time.
Anyone who regularly reads my reviews (I can think of seven or eight people off hand) knows that I maintain a "three listens" standard. I make no appraisals of a record until I have listened to it at least three times. Typically it takes that many auditions for me to get a real handle on where the musician's artistic intentions lie—to get inside the arrangement and the message beneath that.
But every once in a great while I hear something that sounds like a "hit" the first time through. The songs are instantly memorable, familiar; the arrangements catchy and unique to the ear on the first pass—not a mere confection, but a full five-course meal. Friends, that's what we have here. It's a damn sonic banquet!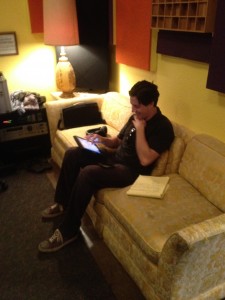 Beginning at the first measure of the first song, "Blindfolds." Through atmospheric clouds, possibly of slide guitar origin (though indistinct at best) floats an indifferent balloon portrayed by a wandering clarinetish toned vehicle—which bounces against a naked drum beat and flitting droplets of acoustic guitar. Into the scene descends the fog of Hamilton's vaporous lead vocal, singing "baby's all still and hard to find/so I keep turning on the lights."
It sounds like Beck singing a National song, especially in the memorable chorus, hauntingly delivered against the punctuation of a little Afropop guitar turnaround. A pretty, flute-like keyboard solo skitters across the frame pointing the way to the thoughtful bridge. "November minds might best be left alone/those shooting starless skies you've always known." A great start.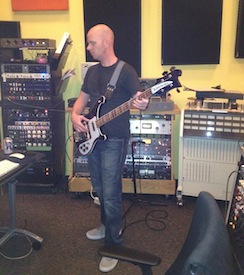 For "Minutes to Midnight," the first single from the album, Morgan's pulsing kick drum fleshes out John Hulcher's sinewy bass lines. Paroissien embroiders delicate filigree capillaries with the unique sounding charango, an instrument which, in this instance, evokes the exotic resonances of hammered dulcimer, mandolin and banjo reverberating across an ever-shifting sonic terrain.
The song sounds like a convergence between Sparklehorse and Snow Patrol, with a vague dusting of Fleet Foxes sprinkled throughout the catchy chorus. There is also an ineffably faint shadow of Blind Pilot hovering here. Morgan's occasional jacked up gated-snare effect will sound just like a blown mid-range to those of you in the audience who listen to music through actual real speakers.
Inside your phones it merely sounds as if part of your skull is collapsing. Its entry against Sims' boyish vocal sometimes gives the impression he is being beaten with a sack of mashed-potatoes. Boosh. Boosh. All the same the song is instantly memorable by the turn of the first chorus. And a well-crafted bridge only further enhances that appeal.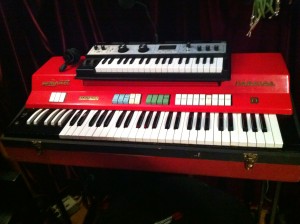 It is within "New Blood" that the true essence of the new Pacific Mean Time begins to coalesce for the listener.  The introduction is comprised of acoustic and electric guitar accompaniment, which graduates in instrumental composition through the verses. The B Section is reminiscent in places of Grandaddy's Jason Lytle, with superlative keyboard latticework—strung between a chortling birdlike keyboard figure and the low-tension suspension wire timbre of deep-voiced synth bass.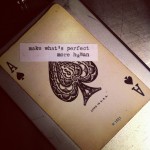 For most bands, those two musical passages alone would suffice in the construction of an outstanding song. But then the lads launch into the real chorus, which elevates the song to even loftier heights—nearing the dramatic grandeur of the ex-Mister Paltrow's Coldplay, with the overpowering hook on "nobody saw where you went/new blood is blowing in/it's all necessary wind."
"A Simple Thing" is driven by a mechanical drumbeat, and synchronized keys and guitar duetting a ghostly riff ala Radiohead's Jonny Greenwood and Ed O'Brien circa In Rainbows. Over that bedding Sims croons dreamy Bryan Ferry. A moody change of pace.
Thick, chunky piano chords block out the parameters of "Bo Derek." It's a familiar pattern until just when you think it should start heading back up again and it goes down one more step. That, ladies and gentlemen, is called a hook—at its purest and simplest.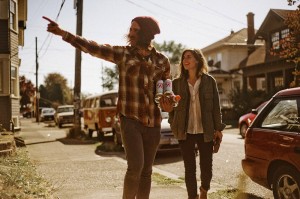 A sad hopefulness, similar to something E (Eels) might express, invests the wistful sentiments of the lyric, "seems like the perfect day/for losing my mind/for falling out of touch/to see what I find." The mood is augmented by bell-like keyboard tones and Catherine O'Dell's plangent cello phrasings.
A brooding pastoral passage, worthy of 10cc in their prime, evolves into a Shinsy anthem in the final movement of the song. Layers of skittering guitars and burbling keys swirl around Sims' worry weary vocal. "There's something in my heart/that's made it this far/and I'm not throwing that away." Uplifting.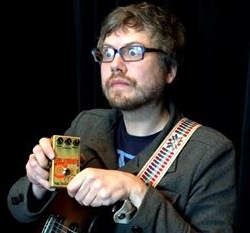 The ballad "Straight Shot Towards the Sun" begins similarly to its predecessor, shaded with big, dark piano chords, plunging into a stream of frozen snare beats to create a brittle crystal setting, wherein Hamilton coolly moons a lonely plaint. A sweeping melotron figure from guest Nathan Jr. and O'Dell's careening cello trails add cinematic drama to the pensive mood afogged of the overcast musical landscape.
Over fractious guitar, erstwhile starling Muse-ish electronic accoutrements swoop and sweep in "Perfect Rose." Again the mix of melotron and cello confuse the reality of a bewildering track.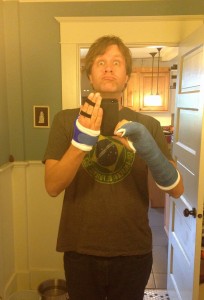 A complete change of pace is "How To Cheat Death," a churning rocker cut whole from Blitzen Trapper cloth. A folky acoustic guitar figure intro explodes into a spirited crush of electric guitar, syrupy bass, and low-vibrating synth riffage. The persistent jangle and crunch march in lockstep to Morgan's jack-booted drums—while, like a 21st Century Mike Love, Sims drolly recites his secret to life: "and I know what I know/and we go wherever we want to go." Westcoast Psych 101. It's a hit!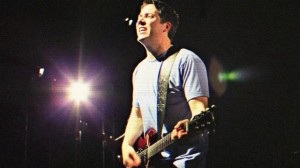 The gentle waltz "White Blackbird" twirls in an elegant melange between warm electric piano, flutey melotron-like frosting, and acoustic guitar, as Hamilton intones a misty verse. "Always loved seeing double/the double life's twice as fun/wrapping my dreams in trouble /even the best ones." This is a very simple, straightforward song, by far the most directly accessible arrangement on the album—a light aperitif to follow the bluster of the previous number.
Appropriately, the last song on the record is entitled "The Last Song on the Record," which allows all involved to fix their location in the grand scheme of things. It sounds like the last song on a record too: sort of a summation of all that has gone before. It's a lush, ethereal musical setting.
A shiver of mudthick sludge samples serve as percussive underpinning, while electric guitars shimmer and flicker against wraith-like otherworldly sounds swirling around Sims' simple vocal statement: "And I don't care how/I need to be there now." And off the guys go singing into the distance.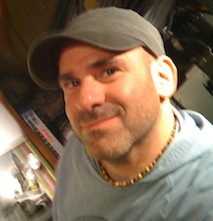 This very complex album is quite an achievement on several levels. As a piece of sound architecture it is spectacular. Matthew Morgan's imprint as engineer and co-producer cannot be minimized. Everywhere there are subtle touches and flourishes. He and Diamond Dave Friedlander's finished mix is texturally ornate without being cluttered or intrusive.
On top of that, there's not a bad cut here. In fact none fall short of being instantly memorable—each song with its own personality, a production unto itself. There are hooks galore. Sometimes clusters of them. The entire record is an endless conveyor of tasty morsels produced by the Pacific Mean Time Ear Candy Company.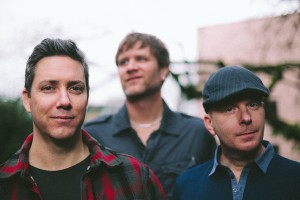 But the heart of the band beats with the blood of Edwin Paroissien and Hamilton Sims—whether one calls them Little Beirut or Pacific Mean Time. John Hulcher's contributions on bass throughout this project cannot be minimized. It's stellar work.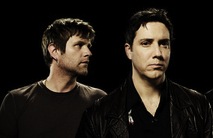 Still, Paroissien and Sims are in their third decade of partnership, and that is not a status often achieved in the ego-riven realm of the rock band. The pair have vaned numerous changes of direction in the pop music winds without compromising their artistic sensibilities in the least, only enhancing and expanding them. And that is no easy achievement.