We last visited with WaveSauce a couple of years ago, when the band bequeathed a couple of tracks (some of the very first recorded for this project) to the PDX A Go-Go surf music compilation. WaveSauce bill their sound as "Surf Pulp Sci-Fi." And that's pretty accurate, as far as it goes. But there are elements of hard rock, blues and experimental styles stirred into the sauce.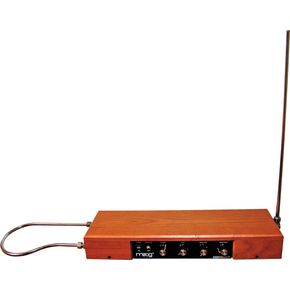 Their most obvious musical distinction of note is the employment of a theremin in their presentation. Front and center. A lead instrument. I wonder how many other rock bands there are out there that use them? There are a few. Mostly Prog acts as the ghostly sound of the instrument lends itself. Jon Spencer made use of one in his Blues Explosion. But the truth is they're unruly little bastards. Not really musical instruments. A theremin is a simple tone generator, the history of which I pretty expertly laid out when we first met with WaveSauce back in January of 2012.
What's true is the theremin is probably the most difficult instrument in all of Western music to play with any precision or efficacy. You've got two ultra-high frequencies beating against each other, to produce a third audible frequency. Rather than lengths of string or frets or keys, the accomplished thereminist is left to haplessly wave her hands in empty air, searching for an elusive pitch that hovers somewhere in space between two indefinite oscillators. It's like trying to accurately solo on an air guitar!
Thus making it a pretty rowdy instrument in the wrong hands. If you run "theremin" into the Youtube search engine, you come up with some pretty sterling examples of how eerily similar to the human voice the contraption sounds. And of course it has been regularly used as an instrument of unparalleled science fiction soundtrack esteem.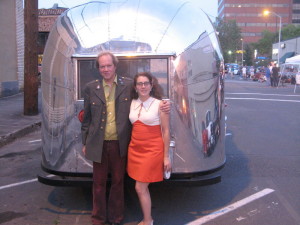 Michele "Cookie" Heile is lead thereminist for WaveSauce. Her partner, Pete Vercellotti, provides expert period-work guitar interjections. Through vintage gear Pete achieves an array of textures and tones familiar to the surf era of the early '60s. But he and Cookie, along with bassist Joel Boutwell and drummer Doug Powers, definitely stretch the boundaries of their particular quirky musical genre. Surf tunes. Car songs. Sci-fi, Spaghetti western themes—soundtracks for David Lynch films, or those of Quentin Tarentino. It's a veritable surf and turf spaghetti feed!
And there's more than that popping up along the way, everything from a harder rock feel in a couple of instances to some weird-ass, experimental moments. Emerson, Lake and Palmer it's not. But just the same, this band has a unique sound in an artistic field littered with imitators and charlatans. No other band sounds like WaveSauce. Of that, there is little doubt.
Cookie warms up with "Coda Intro" running the rabbit ears through their paces—from the sputtering pulses of the very lowest notes up beyond to where only dogs can hear in the span of twenty seconds or so. It's the sonic equivalent of a rocket launch. So fasten your seatbelts.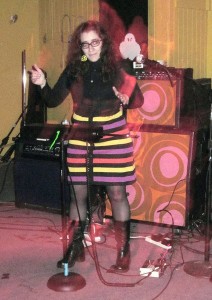 Then the band kicks into one of their two bequests to that PDX A Go-Go project, "Phantom Strut." Pete's chiming guitar sets the stage for Cookie's operatic solo, swooping like a yellow canary over the rocky surf beat. The Ventures nugget "Joker's Wild" rides on Pete's dark, crunchy, Spanish chords, moving from Am to F before turning around on the inevitable E chord. Cookie's solo in the middle calls to mind Duane Allman's slide guitar solo on Derek and the Dominos' "Layla."
"Sonic Who" is an energetic rocker, definitely in the spirit of the Who circa "Pictures of Lily," with Pete's Townshendish suspended barre chords motivating the song across Powers' insistent beat. Cookie's contribution is a credible Yoko Ono-type solo (though more melodic), while Pete subsequently untwines a gnarly ball of rock fury guitar, distantly related to Johnny Rivers' "Secret Agent Man."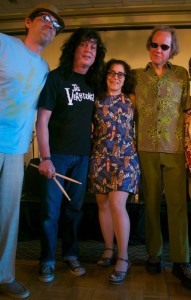 WaveSauce's other entry for the PDX A Go-Go soundtrack, the very brief "Die Laughing," bears a distinct '50s musical sentiment, with Pete leaning hard on the tremolo. Cookie's solo sounds akin to the ghostly female vocal calliope of James Darren's "Goodbye Cruel World," from around 1960. Vercellotti's versatility is on full display with an original take of "Squad Car," written by Paul Johnson of the Bel-Airs. Boutwell's rumbling bass couples with Powers' thumping toms to create a hopped up "Walk Don't Run" surf rhythm that collides head-on with Pete's decidedly reggae-flavored upstroke guitar. The result is something you might have heard in the early 80s from a band such as XTC. Cookie provides the requisite Squad Car siren. Cool track.
The title track is the epic of the bunch. Over a slinky ensemble setting, similar in feel to a jacked up version of "Shakin' All Over" by Johnny Kidd and the Pirates, Pete cranks strings through overdriven amp—one which hums with a singular intensity as if torn right out of the Art Alexakis playbook. Cookie's work is superlative here, as she coaxes epic, Hendrix-like, Electric Ladyland whale herds from her theremin: chortling arpeggiatic yodels that I have never heard produced on that instrument before. Groundbreaking!
Cookie runs through the gears to kick off the minor-key chestnut "Blues Theme," a tune whose central riff seems distantly derived from the memorable lick that opens the Monkees' "Last Train to Clarksville." Powers pounds the toms with authority on the WS version of "Deep Surf," by Jerry Cole and His Spacemen, while Pete prepares to navigate the pipeline. Meanwhile Cookie's tone generator gently waves like a Hawaiian guitar in the Martin Denny moonlight.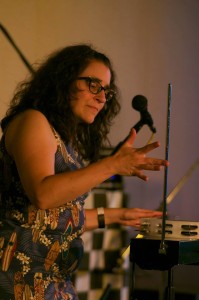 "Lost Semaphore" (the perfect title for a number by a thereminist) serves as a showcase for Cookie's considerable artistry. With skilled finesse she performs gull-like swoops and dives, Van Halenish whiplashes, and melodic passages worthy of the Ondioline soprano on Kai Winding's "More" from 1963. A long time staple in the WaveSauce setlist, "Don't Call Me Flyface" is a faithful rendition of the Reekers' original breakdown, coupled with a distinctive edge indefinably reminiscent of the Clash with a sci-fi undertow.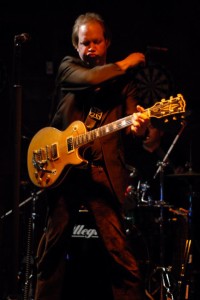 Likewise, their take on "Peter Gunn" get's all sauced up and colors outside the lines Henry Mancini drew so carefully back in '59. Vercellotti and Boutwell set up the riff—at a smokin' pace—while Cookie goes for the heavy vibrato in approximating the lead line. One imagines her waving furiously like a Rose Festival princess on the back of a Cadillac. Pete comes on like Townshend, doing Carl Perkins in the break, with a tone that one can tell is certainly not generated by a foot pedal. Those are real vacuum tubes humming and distorting—entirely faithful to the sound and spirit of the '60s era.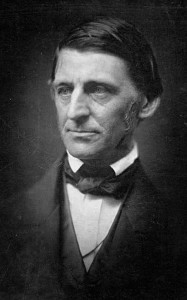 The smoky blues, "Mosquito Serenade" sets the mood, with Cookie whistling in the dark with the theremin. Then she launches into the recitation of a portion of "The Poet," an essay by Ralph Waldo Emerson: "The breadth of the problem is great, for the poet is representative. He stands among partial men for the complete man, and apprises us not of his wealth, but of the common-wealth… For all men live by truth, and stand in need of expression. In love, in art, in avarice, in politics, in labor, in games, we study to utter our painful secret. The man is only half himself, the other half is his expression."
So you have a bluesy soundtrack of "The Thrill is Gone" calibur, with eerie synth hovering over that dusky scene. Then you have a woman reciting Ralph Waldo Emerson in the middle of it all. People, these are very strange times in which we live. Very strange times indeed!
"Super Sonic 2000" is a complete rebuild of Chris Isaaks' "Super Magic 2000" from the floor up, as the band lend their special Sauce to the hard-biting instrumental number. The band rocks a lot harder here, especially, afforded the opportunity to truly let it out, Powers' hard driving drums power the band into the new millennium.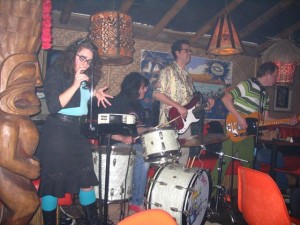 To be sure, WaveSauce are an acquired taste. Not everyone in the audience is going to be capable of making the leap across the chasm that the band create by dint of their very composition. Still, with that being said, there is something groundbreaking and significantly outré about this band. They don't play by anybody's rules! You wanna talk about being on the edge in rock music, it's hard to top the Saucers. They are first and foremost a spaghetti/surf band, a far orbiting satellite of a style—already outsiders to begin with.
Then toss in the theremin. It has been extremely rare in my experience to hear a theremin used in a rock context that wasn't some sort of sci-fi prog noisemaker application. There's no question WaveSauce know how to go there. They can get as arty as you wanna be. But Michele Heile can really play that thing and in ways you've never heard it played before. Ever. So, yeah, just how far out do you want to take it? WaveSauce take it there. And they do it with a straight face. They're serious about it.