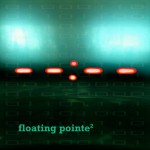 Floating Pointe2
Self Produced
 Once upon a time in a Portland long ago and far away, there was a band called Providence. They didn't play around town that much. They weren't exactly a "bar band."  Actually they were many things the Moody Blues sought to be, and vice versa.
Whereas the Moodies used Mike Pinder's mellotron—in most cases—to achieve an orchestral-like choral string ambience, Providence just went ahead and incorporated a real string trio with Bartholomew Bishop's classically styled keyboards and ethereal, highly polished vocals (further enraptured by ephemeral harmony vocals from the other members).
That allowed the band to sound very much like young Moody Blues in waiting. Bishop had even acquired the breathless breaking cry that made Moody Justin Hayward's vocal presentations so apparently effective, to the extent that it was often possible to mistake the two upon first hearing. Providence certainly weren't the only guys pursuing that slightly proggy, arco rock format. Roy Wood and Jeff Lynne had been cooking up the first Electric Light Orchestra album for a couple of years, leading up to its US release in 1972.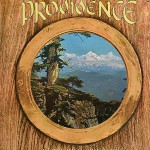 But Providence were the first band signed to the Moody Blues' fledgling Threshold label imprint. Their only release Ever Sense the Dawn (also released in 1972) was one of the better albums the Moody Blues never released, but it went nowhere sales-wise. They disbanded after a couple of years after making no further waves—although the string trio subsequently went on to play with Justin Hayward on a couple of his solo projects in the mid-'70s.
Proggier British bands such as Yes, Genesis, Gentle Giant and Jethro Tull and many others actually preceded all this by a few years. After quickly evolving in the late '60s from a troupe of sylvan blues rock elves, Tull spent many years and albums exploring the rockier side of prog folk rock. But by the late '70s Tull (reflecting the rural passions of leader Ian Anderson) turned decidedly bucolic and were back in the glen for a three albums, beginning in 1977 with Songs From the Wood. Heavy Horses and Stormwatch followed in succeeding years.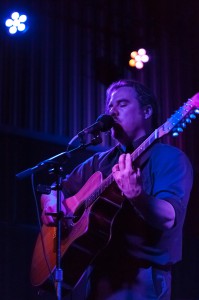 With all this in mind, let us compile for ourselves a current-day composite assimilation that could conform to the elements contained therein. Let us consider Floating Pointe. In reality, the core trio of Floating Pointe has been together for about twenty years. So perhaps we should begin by considering all that.
Singer/songwriter/guitarist Bill James, bassist Mike Draper and drummer/multi-instrumentalist Jason Mockley first met in 1990 while attending Pacific University in Forest Grove. They immediately formed a band, which by 1992 had become Sylvia's Ghost—a sort of Goth-tinged band of dense specific gravity with a flair for the dramatic. In 1998, James moved to Montana to attend grad school, effectively leading Sylvia's Ghost to its demise—though it did not affect the partnership between the three musicians, it merely modified the means of their interaction.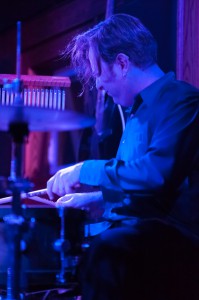 Upon James' return to Portland in 2001 the trio resumed operation as Floating Pointe: the new name chosen to reflect a more electronic bent the music had acquired. They released their first, eponymously titled album in 2006. Between that time and now, the band have supplanted the electronica with organic elements that often approach a chamber music context. This second album reflects those changes quite distinctly and succinctly, while still maintaining a lineage that extends back two decades.
So, anyway, if Floating Pointe were Jethro Tull, this would be their Songs From the Wood. But in reality, Floating Pointe have just as much in common with Providence, so this album would also stack up as their Ever Sense the Dawn as well. Those albums are good starting point(e)s from which to access the work of this band.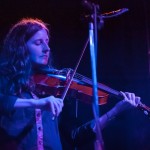 The first song found on Floating Pointe2, "The Sun" is a perfect example of that cross-channeling.  Chiming electric and acoustic guitars and slippery bass provide buoyancy over a strange (only in context) electronic bass tone, creating a bramble of green sound. James' vocals have a trained, diaphragmatic quality, delivered in a manner very similar to Bart Bishop of Providence. His voice soars over the backing instruments like a prevailing wind. Bill's wife, Eve James contributes very subtle, but effective harmony vocals. An anthem of measured optimism.
Furthering the antique ambiance, "Pride" incorporates hand drums, mandolin, Eve James' viola and/or Wendy Berner's cello and accordion-like melodica into the mix, sounding very Tullish. But the chorus, such as it is, is straight out of the Providence playbook—not that any members of Floating Pointe have ever heard of their predecessors necessarily—bearing a striking similarity to Providence's "Smile" (possibly impossible to locate on the internets) with the exception of the short, middle-eastern riff at the turns—which calls to mind Led Zeppelin. All the same, this lofty waterfall of a song is worthy of closer inspection.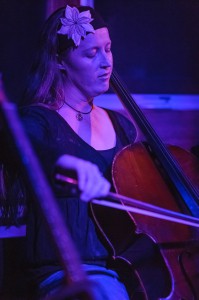 The eastern motif is carried one step further on "Drown," hand drums, Eve James' droning viola, and Bill James' sitar like guitar set the mood—until the song's bursts into a dreamy, '60s inspired bridge, where Bill and Eve intertwine sweet vocal harmonies over a lovely chord progression. "Keyless Entry" is a vaporous arrangement that lifts and lingers with cat-footed hesitancy. Faint mandolin, Berner's cello, organ and flute sounds resonate in the mist.  The '60s vibe continues (in a good way): the song faintly resembling something Love might have created in their heyday, with the vocals calling to mind the Mamas and the Papas. Local bands, such as Loch Lomond and Typhoon exhibit similar musical characteristics. Floating Pointe falls somewhere in the midst of those examples.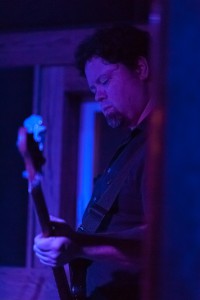 Oud-like guitar decorates "You & Me." Moaning cello and prickly electric guitar lead to a sweet chorus, replete with embroidered vocal harmonies. Another lovely chorus decorates "Lullabies." As Jason Mockley's insistently syncopated hand drums and standard kit waltz in 6/8 time, lilting acoustic guitar and Mike Draper's sinuous basslines lend the song uplifting support. Bill James' tenor vocals sometimes recall early Tim Buckley in the purity of their delivery.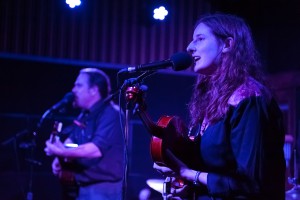 The piano figure from the Left Banke's '60s hit "Pretty Ballerina" is clearly referenced on the intro to "Midnight," a similar wistfully timeless mood achieved, although the Pointe's head off in a different direction, again ethereally pastoral in context, dreamy Flower Power for the 21st Century. Three-part vocal harmonies nicely articulate a gorgeous chorus—which segues into a magical interlude driven by the piano against Draper's bass and a cheery xylophone mirroring a glossy counterpoint. Then, in the middle, at the eye of the storm, swirls a sublime section that sounds like an organic Radiohead, broadcast from a far away transmitter. Beautiful.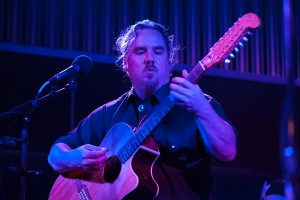 Realistically timing out at about a minute and a half, "Frustration" is way too short. It is musically different from the other tracks. Not so ornate with overdubs, but more direct, as if performed by a band influenced by the Smiths. James' bubbly Marr-ish guitar and the band's more forceful presentation are a welcome boost of energy. More of this please!
James' mother Lindy joins Eve on viola and Wendy on cello for "Yesterday," which while it is not Paul McCartney's song, contains many similar musical elements—notably a classical chamber setting. The subsequent song "Lindy Porter" sounds a part of its predecessor, as if from a song cycle, dove-tailing in feel, while more buoyant in presentation. The restless "Blue Skies" again sounds as if captured from some other ineffable time and place, melodically hearkening back to the dawn of pop: Jay and the Americans' "She Cried."
And herein is an example of the genetic musical absorption to which we all are subject. There are only so many chords and so many melodies available for any western culture "pop" song. It is the liquid beauty of the medium and needs to be accepted—critics of Robin Thicke's "Blurred Lines," especially, are a perfect case in point. Jeez get over it! Prince is the one who should be pissed, not Marvin Gaye. And Leo Sayer oughta be giving the Gaye estate a call, if you want to get serious about these things. Everything is simply a reference point for everything else, especially in rock music.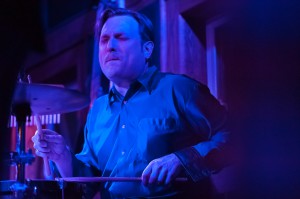 The ballad "Shadows" conjures dark poetic desolation "I sit and watch you there with the shadows on the wall/The large ones, the small ones, the ones that aren't there at all." The instrumentation provides an acoustic gray wind to whirl wearily across the barren lyrical landscape. Intensely forlorn.
"She Waits," the final track, is a live recording that nicely showcases all of the band's strengths: as the four main members generate a lot of sound between them. Mockley's drum work is especially note worthy. The inclusion of a live recording is appropriate for Floating Pointe, who over the past couple of years have managed to become the darlings of the McMenamin's empire, pretty much touring their entire circuit. In September the Pointers will take up a regular Saturday Happy Hour residency for Ringlers at the Crystal Ballroom.
Mockley commented on the gig with candid introspection. "We are flattered that they like the music so much!  It was super cool to get that request after they had tried other acts in that space.  We seem to be a good blend of mellow groove, and rock for them."
It's true that Floating Pointe are mellow. Their music leans far closer to folk than it does to rock. There's only one song on this album that even moves like a rock song. And it's great! All minute and a half of it. And would that the band did more of the same. But it's not likely. Because what they do, they do very well. Their music is anachronistic—which is not to say it is at all out of place within the realm of Portlandia. Hell, Portland is often just an anachronism with a population. Keepin' it weird. Instead Floating Pointe follow closely in the footsteps of Providence, who first trod local stages forty years ago. And they are certainly worthy successors.
Photos by Aaron Ziltener