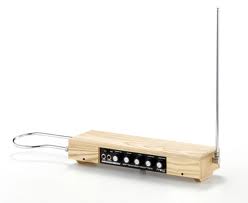 If you're like me, you've probably been asking yourself "Why don't more surf bands use a theremin in their act?" You also may be asking yourself, "What in God's name is a theremin?" And for that you are to be forgiven. It's not a common instrument in rock and roll. It's not a common instrument in much of anything, but it seems to me like country music could possibly be a logical vehicle for such an apparatus. More on that later.
Oh, you know the drill. You've actually heard a theremin before, you just don't know it. In essence, a theremin is a very, very primitive synthesizer. It generates that eerie siren-call you hear in old movies such as The Day The Earth Stood Still, Spellbound, and more recently in Ed Wood. The Beach Boys created a theremin sound for "Good Vibrations," but that wasn't actually a theremin they used. Some guy played a musical saw on a couple Neutral Milk Hotel songs. A musical saw sounds like a theremin, with similar creepy portamento and glissando. But a musical saw and a theremin have about as much in common as a hammer and a radio.
Leon Theremin invented the theremin in 1920 as part of a Russian government program researching proximity sensors. Soon thereafter, Theremin left Russia, touring Europe and the US, demonstrating to captivated crowds his new instrument. He received a US patent for his unusual creation in 1928. Remaining in the United States, he was apparently spirited away by the KGB in 1938 and taken back to Russia. There, he was obliged to work in a laboratory at a prison camp in Siberia for thirty years. He did not return to the US until 1991, two years before his death.
The best-known "thereminist" in the world is the late Clara Rockmore, who was originally a classically trained violinist, before physical problems forced her to abandon the instrument. She learned of the theremin and soon began working with the inventor to improve the sound and response of his device. She also developed the very subtle ballet-like technique of the hands and fingers required to actually play the instrument. You can check out a video of Clara Rockmore rockin' the theremin here.
Michele "Cookie" Heile, a longtime percussionist and vocalist with Jesus Presley, first became interested in the theremin in 2005 after seeing the Leon Theremin documentary An Electronic Odyssey. She says she "became obsessed with the mystery, history, and beauty of the instrument." She acquired one and slowly taught herself how to play.
In 2007, Cookie met Cleveland-transplant Pete Vercellotti, a musician since age thirteen and an avid collector of all things vintage Rock. Cookie and Pete hit it off instantly, personally and professionally. They formed the instrumental band WaveSauce not long after meeting—initially as just a duo. Pete already had in place the foundation of another band called Pale Blue Sky. Still in operation, Pale Blue Sky is a tough, eclectic quartet that plays a gritty combination of original songs and cover songs culled from Pete's extensive LP collection.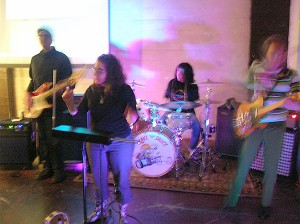 Not long after WaveSauce formed, Pete and Cookie began to work with drummers and bassists. They eventually bonded with drummer Doug Powers. And about two years ago, longtime Pale Blue Sky bassist Joel Boutwell came on board and the quartet was set. They say they've "been influenced by '60s garage, pulp music, and B-rated horror, spy biker and hotrod films (which they refer to as spyfi-pulp). And surf."
That sounds reasonable. When you hear them, the instrumental turf they tread is pretty obvious. Other citations, such as Dick Dale, The Ventures, Devo, Clara Rockmore and Leon Theremin, are totally appropriate in an attempt to capture a description of the nuances of their sound. I guarantee you will never again see those five names linked in a single sentence. It really is a weird musical world in which we dwell. And this is how weird I am, I can actually understand the relationships of those references and I think they define the parameters of this band quite precisely. In other words: Wow!
WaveSauce play a lot of originals. But there is a distinct advantage in playing obscure material that lies genetically embedded in the recesses of all human brains. If you play original stuff that sounds very familiar, it is easy to convince the casual listener (in this instance: me) that it's all cover songs. Mais au contraire.
The addition of theremin to Surf songs is not as unsettling as you might think (but it sure as hell would be for Clara Rockmore, you can bet on that). For some reason it seems to lend itself to the wavy motion of the typical surf tune. It's too bad more (any) B-movies didn't utilize the theremin in their surf-themed flicks or spy (a wailing woman sound) or biker flicks (police siren allusion). It could have worked. It does work. Does anybody still make cheesy biker B-movies like Glory Stompers, Wild Angels, Devil's Angels, or Hell's Angels on Wheels? Maybe Robert Rodriguez?
WaveSauce maneuver through several classics (known and unknown)—such as with Pete's nifty guitar on the thick, chord-heavy "Deep Surf" by Jerry Cole and the Spacemen (of which Leon Russell was a member) from 1964, and Cookie's swirly-whirly take on the Chantays' "Pipeline." They carry off the persistent cheerleading clap and windblown momentum of the Routers' "Let's Go" with spunky aplomb: Boutwell balancing the arrangement on solid fulcrum low-end.
Among their originals, "Phantom Strut" and "Sonic Who," stand out. The cool "Black Cat Strut" is punctuated by Pete's cat-in-heat moan, while his crazy cackle gives "Die Laughing" a certain "Wipe Out" maniacal sensibility. With Powers muscling through the turns and driving the main theme, WaveSauce's rendition of the Reekers' '60s nugget "Don't Call Me Flyface" is actually more appealing than the original. Cookie zooms through the expositional sections like a crazed zephyr—assuming zephyrs can become crazed.
WaveSauce's version of Hank Mancini's "Peter Gunn Theme" is very innovative. Cookie leads the band through the familiar curves with a slippery solo, while Pete vamps out punchy chords behind her. Nice. And their take on the endless sunset of Santo and Johnny's "Sleepwalk" is especially interesting. Those familiar with the song are doubtless keenly aware of the exacting steel guitar precision of the melody line. The theremin does not allow for Cookie to articulate the nuances, but she hits the high spots. When the day comes that she finally masters this piece, she can consider herself a true theremin master.
They also do a pretty sharp version of Stan Jones' "Ghostriders in the Sky," a piece possibly harvested from another of their acts: Panhandle Pete and Cookie. In describing that duo Cookie says "Imagine a long dark highway stretching out through the Southwest desert." Again, with theremin and guitar, they perform "country standards that set the soundtrack for a spaghetti western directed by David Lynch."
My brain's all over the place with this theremin thing. The surf aspect is great. It's an outlet, but certainly limited in scope. The other musical areas that Pete and Cookie are exploring seem like a good idea. I'd love to hear a version of "Apache" either the Shadows or Jorgen Ingmann's (depending upon where your sentiments lie) rendition would be fine. And a retread of "Walk Don't Run" seems like a good idea. I can hear Cookie going off on that.
But I'd also love to hear her take a crack at something like Duane Allman's slide solo in "Layla."  I guess that's technically almost out in spaghetti western territory. Actually the theremin is more than a satisfactory replacement for those banshee soprano voices Ennio Morricone favored, such as for that movie named after this column. And what about country music? The theremin could more than satisfactorily replace a pedal steel guitar, at least in a single note capacity. Which brings us to bluegrass and the musical saw.
It will be fun to see where Pete and Cookie take this thing. There are many possibilities. A theremin is such a strange instrument, and rare to encounter, that it would seem there will always be occasional demand for such a curiosity. With WaveSauce, they have hit upon an unusual and successful delivery system. But they've got a lot of ways they can go, depending on the direction in which the trade winds blow.