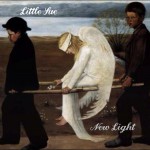 New Light
Self-Released
Susannah "Little Sue" Weaver has been a fixture in the local folk picture for, dare I say it, about twenty years now—since she first burst upon the scene with the lamentedly late, great Crackpots (In Exile). And while we have all aged to greater or lesser degrees over those two decades, there is little question that Little Sue has aged better than most.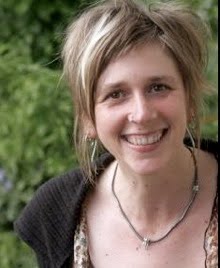 Little Sue produced a spate of recordings in the late '90s and early Aughts [Chimneys & Fishes ('97), Crow ('99), The Long Goodbye ('02), and Shine ('04)] before entering a nearly identical maternal career trajectory as that of Corin Tucker (former Sleater-Kinney flamethrower). She spent the better part of a decade being mother to a child (a boy). Like Tucker, Little Sue released but a single album in the interim: Baby Knows Better in 2008.
She has, however, been involved in numerous side projects over the years, including stints in a duo with Lynn Connover and membership in Casey Neill's Norway Rats, as well as turns with the Minus 5 and From Words to Blows—which seems diverse enough to me as far as hobbies go.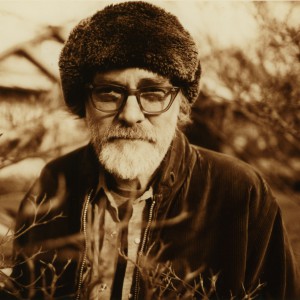 This recording was funded through a Kickstarter campaign. And it's a very smart production—headed by the legendary Mike Coykendall at Blue Room studios. In addition to occasional guitar and bass backing, Coykendall just kicks the shit out of his kit on the rockier tunes. There aren't a lot of those, but they stand out by his presence.
Most of the ten songs presented here maintain a quality of antique burnished wood, like an old hickory branch rocking chair. That note of hickory in the presentation is not artifice in Little Sue, but a reference to her own roots in West Virginia. Her music has always freely referenced Alt. Folk/Alt. Country/Americana genres, though she has often claimed no real affinity for those styles. Apparently they claimed her instead.
Because she's about as good at delivering it as it gets. Though not stylistically, but in some sort of organic way, Sue's music resonates with that of Laura Gibson. But whereas Gibson is all tumbleweed prairie wind and restless, burning sage, Sue comes from something of an Appalaichian perspective, which would seem to be generated more by heritage than by intention.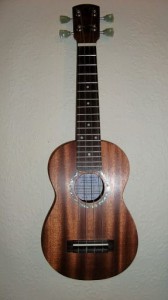 If anything, this album is even quieter than any of her previous work—which has almost always been acoustic in nature, and pretty damn quiet to begin with. In the past, Sue's preferred instrument of choice for accompaniment was acoustic guitar. Here she forgoes that half the time in lieu of the ubiquitous ukelele, which stands with the recorder as perhaps the least threatening musical instrument of all. It is, however, the instrument du jour. I mean, good Gawd, human fawn Zoey Deschanel—with whom Coykendall has worked—plays one (she plays a Fender uke, fer chrissakes!)! That's about as high as the adorability scale goes, am I right? Am I right?
Fortuitously for all involved, Little Sue elects to present the instrument in a uniquely different light. Perhaps it's the Appalaichians or some other mountain thread woven into her musical coat of many colors, but much of her approach to the ukelele calls to mind the sound and texture of a dulcimer. Her songs, by their nature, tend to support that moutainesque country atmosphere, with maybe the occasional nod to the American Standard Songbook. The arrangements here, for the most part are just flat out weird, but distinctive for precisely that reason.
The songs in this package vary in texture, while maintaining a certain artistic adhesion—attributable to Sue's strong musical persona. She bears nearly the specific gravity of a ruby such as Dolly Parton or a sapphire like Emmylou Harris. Beyond that, with only a few exceptions, many songs maintain an arcane parlor-like ambience.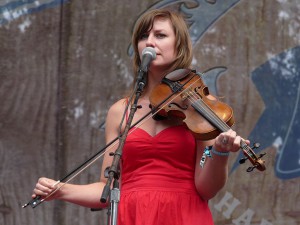 That fretful uke or the occasional acoustic guitar, is sometimes paired with Jill Coykendall's butterflying clarinet interludes, other times Annalisa Tornfelt's (pretty much the current go-to fiddler in town, she plays with Black Prairie, as well as stints with countless others) sonorous violin or yodeling fiddle—matched with Jenny Conlee-Drizos (Calobo, Decemberists, Black Prairie, From Words to Blows, ad infinitum) adding accordion and piano to most songs. Miss Michael Jodell lends vocal support in many places along the way. Wendy Pate and Little Sue's son Vaden Goble make guest appearances as well.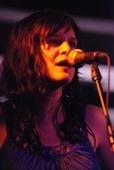 As for example, let's study the first song, "History Mystery." Plaintive ukelele and rhapsodic clarinet mingle mournfully in the intro, leading to a telling first verse. "When ties came to sever/The words that came so clever/I could no longer employ/I no longer could enjoy/Working on a song/It all just came out wrong," a well-place diminished chord emphasizing that poignant last line. In the chorus, which resonates faintly of the Easybeats' "Friday On My Mind," layers of backing harmonies, ostensibly Sue and Miss Jodell, sound like the Boswell Sisters backing Paul McCartney on "When I'm 64." Or, there abouts. Conlee-Drizos joins to duet on accordion with Jill Coykendall on clarinet, Sue contributes a little bass at the end and out. A nice low-key entry into the album.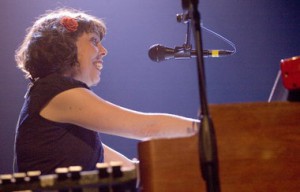 On "Find Yourself" Conlee-Drizos and Jill Coykendall exchange positions with Jenny's honky-tonk piano upfront leading the charge and Jill laying back, while Sue carves out a more insistent rhythm on acoustic guitar over very restrained basic trap set. Like it's predecessor, this song seems to have faint melodic ties to the canon of John Fogarty. Where an echo of "Who'll Stop The Rain" reverberates through the first line of "History Mystery," a hint of "Lookin' Out My Back Door" breezes across the verses of "Find Yourself." Just enough to connote a mood.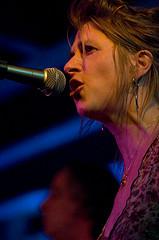 Annalisa Tornfelt joins the fray on the hard-charging "Energy: A Love Song For West Virginia." Over Mike Coykendall's driving beat and bass, she burns a country/bluegrass fiddle, with Sue ukeing a sound similar to a capoed nylon string guitar. Sue slips into a comfortable vocal gear on the verses ala Emmylou Harris—and she and Annalisa duet on the choruses. This cut is a standout, extremely air-worthy.
Jenny and Jill return, with Sue on uke, for "Elephant In The Room," a song which balances on a ball like a circus pachyderm. Sue's brittle voice relates the tale over a series of referential chords, but Jenny soon jumps in with well-turned piano stylings, calling to mind jaunty McCartney circa "Penny Lane"/"Your Mother Should Know." Superficially it's a children's song, but with a second layer of meaning that is clearly adult in context.
The instrumental "Song No Words" balances flitting dulcet uke and piano arpeggios against wafting clarinet and warm violin to create a nice mood piece. While there is no real melody to be found among the instruments, they riffle through the pretty chords with heartfelt aplomb, creating a winsome atmosphere. A familiar descending chromatic figure inaugurates the gospelly "Always Be Mine," where the laid-back downhome quality of Sue's vocal recalls the early days of Dolly Parton. Jodell's vocal harmonies are spot on throughout.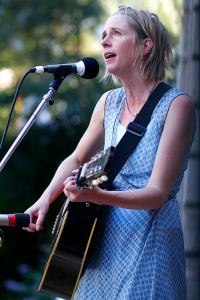 The final verse, nakedly personal and razorblade introspective, reveals Sue's inner struggle. "Here comes the night/And it shines on you/And it sheds a little light on everything you do/Here comes my love/Watch out for me/Throw me a line else I drown in entropy." 'Drowning in entropy' is an image that is hard to focus, but once in place, offers facets of crystal clarity.
"Today" is another Mike Coykendall slammer. He piledrives drums and bass behind Conlee-Drizos' chunky Wurlitzer electric piano and Sue's distant acoustic guitar, punctuated by an attractive array of multi-tracked backing vocals. It rocks! On the wistful ballad "Head Banger" a lone acoustic piano leads the path for Sue's willow reedy voice—doubled, as Annalisa Tornfelt returns with sad, windy violin strains and Jill Coykendall flies a nightingale clarinet solo into the lovely wuther —a desolate moor of a song.
Uke, clarinet and piano unite once more for "The Back Forty." Sounding as if lifted from a '20s/'30s musical, the light-hearted pastiche trundles through rainswept corridors before arriving at the pastoral citadel that is the entitled destination. Again Sue and Miss Michael pair in perfect harmony for delightful backing vocals, which serve to create a mood that harkens to another time, long ago—whenever that was.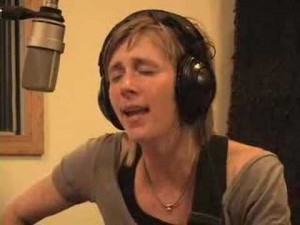 The title track finale is another gospel-tinged go-around, with Conlee-Drizos laying down bold, open chord piano, and Sue sounding the spittin' image of Dolly down to the shushy little eshesh she shumtimes shings in shofter momentsh. It's a touching feature, particularly because it does not sound affected in the least, but genuine, on a very heartfelt song.
It's almost as if this is two separate albums. The one is the traditional Little Sue Weaver who steers a country road as well as any folkie. But the other album is very unusual. The ukelele/clarinet/piano or accordion trinity sounds entirely anachronous, if ever there was a time when those three instruments regularly gathered to jam. Maybe the '20s? But none of that music that I know of sounded anything like this.
And a ukelele can become old pretty quick. Sue does far better than most at making the instrument fit into a variety of musical scenarios—managing to elicit tones reminiscent of dulcimer, mandolin and acoustic guitar besides, of course, ukelele. The point being that the ukelele driven numbers here are the most unique. But the possibility of sustaining a career utilizing a ukelele as one's main ax would seem at or near absolute zero.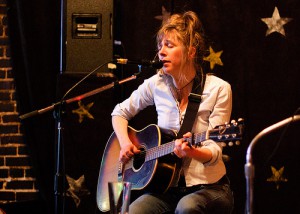 The quality of Sue's songwriting has always been consistently sharp, if somewhat melodically rote in context. Such is the case with this album, although it is noteworthy that, whether it is as a result of the ukelele influence or just the natural progression of these things, many of her songwriting turns drift away from Folk/Country models toward those found in more traditional Popular music. In the long run, learning that vocabulary can serve only to benefit her as an artist.