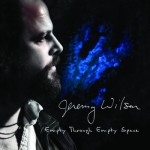 Empty Through Empty Space
Mastan Music
 Jeremy Wilson has been on stage playing music in Willamette Valley bars for over thirty years. That's pretty impressive! Especially when one considers that he is only now in his mid-forties. I have seen it said somewhere that he and his band the Watchmen were rumored to have played the infamous Oregon Museum tavern in Salem, but I don't think that's possible as that "event" took place in 1981 (with Sequel and Jenny Jeans on the bill). But who knows?
And—regardless—just how that youngster and his bandmates were able to get into bars when he was barely in his teens must be a story unto itself. But there it is. Obviously his precociosity preceded him. It's in his genes.
One of my earliest recollections of Jeremy is seeing him in 1986, fronting his high school band Perfect Circle (tellingly named after an REM song) at the Pyramid Club. With a cast on his leg—which he attributes to a "soccer/ballet/skateboarding" injury—he jogged and turvied around the stage like a one-legged Dervish. At seventeen he was already a force with which to be reckoned.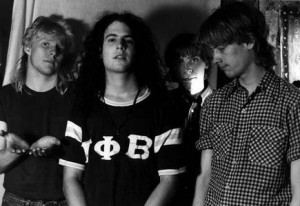 My buddy Lew Jones and I felt an immediate affinity for the lad when we met him. And when the Dharma Bums came to the fore in early '87, Lew and I were among their earliest fans. In those embryonic days, a Dharma Bums show was a transformative experience. Because, amidst the roiling turmoil of the Bums' presentation: Eric Lovre's smoldering guitar, Jim Talstra's volatile bass, and John Moen's incendiary drums, Jeremy would invariably simply detonate upon the stage with impassioned ferocity. Jeremy had been sky diving from monitor side-fills long before Eddie Vedder was even beginning to think about swinging from the stage light rigging with Mookie Blaylock.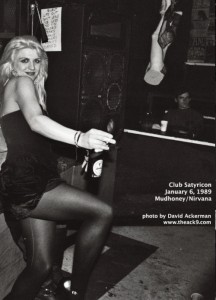 That Seattle connection went deeper. It's well known that a fledgling Nirvana opened for the Bums on a regular basis. Accounts differ as to how and when she met him, but Ms. Cobain herself (not always the most reliable source) is purported to have suggested that she and the mister met at a Bums show at Satyricon. She was well known in the club scene at the time, and is reputed to have frequented Bums shows. So who knows?
Of course, it's a well-known piece of local lore that the Bums were on stage in the middle of "Pumpkinhead" when Bruno and Steven Spyrit stopped the show that fateful spring night in 1990, when Officer Rocky Balada over-reacted to Satyricon owner George Touhouliotis pissing on a wall outside the club, and thus instigated the infamous "riot" in which no one rioted, but stood in the parking lot across the street from the club singing "Goodnight, Irene." Six people, including George, did get beat up. But only the cops rioted.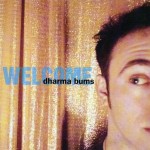 The Dharma Bums were one of the Northwest's favorite acts in the burgeoning "alternative" scene at the turn of the '90s. But just as they hit the crest of the wave in 1991, with the release their third album Welcome on the Tim/Kerr label, their manager Rebecca Gates left her position to form the Spinanes, and the Bums seemed to tailspin rapidly after that, for whatever reason. They broke up the following year. Whether or not those events were at all connected has never been divulged. But it all came down just in time for them to see their opening act, Nirvana, go all grunge on the whole damn world.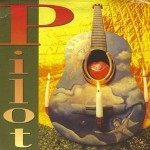 Jeremy promptly took some time off to travel. But never one to wander far from home for very long, he soon went on to form Pilot with a couple former members of Perfect Circle sometime in 1994. They put out an EP that summer, got signed to Elecktra, and recorded an album for them that was never released. Once past that disaster, they managed to release three more full-length records pretty much on their own between 1996 and 1999, before managing to get squashed by the relentless implosion of the "music industry" in the spirit of consolidation and profits uber alles—that last grab for the cash among the dollar-eyed, tone-deaf chieftains of commerce.
The new millennium brought new challenges for Jeremy. After setting up his Mastan Music Studio for recording, while embarking upon other related enterprises—but before he could manage to complete and release a solo project of his own—his well-chronicled lifelong health difficulties began to rear up in earnest in 2006. He was diagnosed with Wolff-Parkinson-White Syndrome, an electrical disorder of the heart, which led him to four surgeries over the course of the next seven years.
As a result of the financial devastation he incurred (one with which I can identify, having gone through similar experiences) from such drastic medical intervention, Jeremy ended up doing what anyone who knows him would expect him to do. He looked outside his own situation and he thought how others might share similar circumstances, and how he might help them. The realization of that goal was the Jeremy Wilson Foundation.
The Foundation launched in 2010 with a very specific mission statement: "A nonprofit musicians' service organization dedicated to providing emergency financial assistance in times of medical crisis and to improving the overall well-being of individual musicians and their families." I know! It's hard to believe there are musicians out there without insurance. Pulling down those exorbitant fees for doing nothing all the lolly dang night. Sure.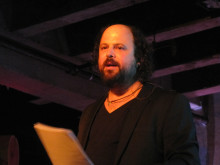 With the advent of the Affordable Care Act, and (hopefully one day) the Cover Oregon program, routine medical insurance should be available and affordable to even the most destitute of musicians—which is most. But any one among us is only a step away, a fainting spell away, a bad check-up away from some catastrophic event that can literally bankrupt us and change our lives irrevocably, beyond even the physical injury we must endure. Jeremy Wilson knows this. He's lived it. And he is dedicating his every effort to make certain that prospect is one that his fellow musicians will never have to endure.
Finally, ten years after he first entertained the notion, Jeremy was able to return to the idea of recording his music. But rather than to continue from the point he left off, he decided to scrap the earlier project and to begin anew. Having recently undergone the dissolution of a relationship, Jeremy used the opportunity of a cross-country trip from Florida to Oregon to realign his focus.
The result of all Jeremy's turmoil is this mature, introspective album—one which finds him wrestling with the plight of the human condition: his own and everyone else's. It's an adult album. Occasionally somber, always uplifting and inspiring—this was an album worth waiting for, worth the time it took to make. Worth the existential effort it takes to listen to it.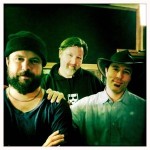 Jeremy's two primary accompanists (thus creating "The Triangle") in the dozen songs presented are singer-guitarist Dylan-Thomas Vance, featured several times in these pages with albums of his own, and Matthew Ratchford, who in addition to his electric bass-work contributes cello-like bowed bass interludes that add dramatic depth to the presentation of several songs.
In addition, several friends drop in to make contributions, including keyboardist Jenny Conlee-Drizos, drummers Ezra Holbrook and Luke Strahota, Sean Flora on guitar and backing vocals, Paul Brainard on trumpet, and Matt Brown on euphonium (a brass instrument), and other brass and reed players. In addition, all the former Bums gather to execute one of the tracks. Former Bums drummer John Moen (also Decemberists and his own aggregation Perhapst) makes frequent appearances elsewhere, as well.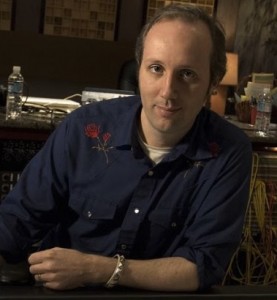 Through the rainswept intro of the title track, Eric Lovre (Bums) and Searn Flora contribute dappled guitar arpeggios, creating the sound of falling precipitation, and countered by the crash of a chiming G5 chord, evocative of the Beatles' "Rain." Vance's slide guitar drips and dribbles in the background, with Moen splashing and thundering in the distance. Ratchford's arco bass lends a mournful moan.
The sound quality is impeccable. There is little here of the usual aural "veil" between purveyor and listener of recorded music. The ensemble sounds as if it is sitting in your living room or head, or… As soon as he vocally enters the scenario, Jeremy's familiar, weary worn voice besings the heartrending biography in his words: "Driving like a madman in search of a human race…Driving on empty through empty space." Fasten your seat belts. This is gonna be a bumpy ride.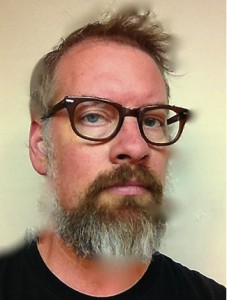 "The Whisper" is a loping waltz in a traditional alt-folk vein. Moen's rumbling tympani thunder toms resound against the low-whining groan of Rotchford's stand-up bass, and the windy, murmuring sighs of Flora's Hammond organ calls. Ghostly.
Jeremy's voice resonates with Westerberg grit, like John Prine singing a Townes Van Zandt tune: "The greatest gift I ever received/came from the hardest bargain." The earnestness of Jeremy's introspections underscore the barren emotional landscape outstretching from the previous song. "Some draws the portraits & some draws the rain/Its easy to get lost in the distance/The hardest line I ever did hear/Came barely as a whisper."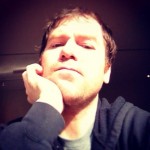 Lyrically, "The Sliver" burrows even deeper beneath the skin of the previously delineated relationship— chalk-outlined on the highway of love. Contributions from Ezra Holbrook on drums and Jenny Conlee-Drizos on organ, and Ratchford's electric bass add a harder edge to the country twang of the proceedings. Jeremy renders the chorus with impassioned gravel: "But you don't want me around/You shoot your bows and arrows/You don't want me around/To pull out the sliver." It's a deep song which confronts the abandonment issues that can often doom a relationship.
As I'm listening, I'm trying to think who it is that Jeremy sounds like. His is a very familiar voice, one that sends my analogy meter way into the red. Yeah, yeah, yeah. Early '90s. Westerberg meets Prine (okay, he's not '90s) meets Stipe, with Cobain bite, Greg Dulli anguish and Dave Pirner serration. It's such a classic rock and roll voice! Distinctive. Who's he sound like? Oh yeah, I know. He sounds like a more mature version of the guy I remember hearing sing on an album called Welcome, by a band called the Dharma Bums. Congratulations, Jeremy. After all this time you've managed to sound exactly like yourself, only a little more world-worn and weary.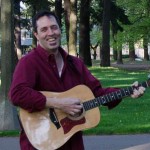 Sprightly handclaps and Holbrook's lumbering floor tom propel "Mary." Ratchford's washtub bass-like thumps accent Vance's slippery slide work, creating a backwoods milieu that Jeremy plays up with a thick drawl. "I was walking wounded thinking one day/I do love her, want her, need her this way/I'm lost in her beauty, real or imaginary somebody save me cuz I'm in love with Mary." The song is upbeat and jovial, and something of a respite from the intensity of the previous three.
"Running Out" is a soulful campfire song, just Jeremy on acoustic guitar, Vance on lap-slide and Ratchford on bass, with echoes resounding in the distance, as Moen tips percussive rocks down the hill, the next valley over.  The older Bob Dylan gets, the more his voice resembles that of John Prine. And on "Hey, Jerry" Jeremy hits the raspy spot between the two.
The essential instrumentation is basically the same as the previous tune, with Jeremy on acoustic guitar again and Thomas-Dylan sliding along upon his lap guitar. The significant difference here is Ratchford's return to the bowed stand-up bass— which creates an ominous cloud of tone that darkens the mood distinctly.
The lyric would seem to be a straight-forward letter from Jeremy's better angel to himself, with a clear perspective: "You got love in your heart and a thousand new parts/So worried, the future done come/You're hungry and numb and you ain't so young/But the verdict, it ain't wrote." This resolves in a lovely, waltzing repeating chorus, "Everything comes and goes/Ebbs and flows." The aforementioned horn section (led by Brainard) and a backing vocal trio join him the second time through the chorus creating an elegant, elegiac mood. A moving, transformative song.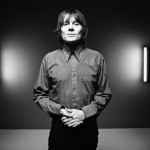 With Moen on the drums and Flora supplying another layer of guitar, "Softer Calling" provides a philosophical perspective similar to its predecessors—catharsis and a completed cycle. Along with the horn section, Strahota and Conlee-Drizos return to add depth and color to "Let a Poor Man Beg," a Dylanesque parable, of a homeward journey seen through the eyes of a wiser self: "Make time stop/And let a poor man beg/In the light of a fare young made." Certainly many among us have made fares in our youth that, perhaps, we later come to regret the cost of the trip.
The arrangement is reminiscent of some of Jackson Browne's more enduring moments. It's a harder sound, with Jeremy strumming electric guitar and Vance's slide crying out Lindley-like against the open space of Conlee-Drizos' far-spreading Hammond.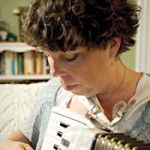 Elizabeth Taylor died three years ago. Apparently "The Day Liz Taylor Died" was written that day under extremely trying circumstances. "Caged in the forest/A mud saloon in the dark/Scribbling on this paper/Like some freak in the park/The day Liz Taylor died." Here, Drizos and Moen join the high-energy fray. It's an upbeat fast paced ballad, with repetitive stanzas and an insistent refrain reminiscent of Dylan circa John Wesley Harding with Paul Westerberg as lead vocalist. Vance's exemplary slide work again stands out.
Julia Cramer's ghostly keyboard tones hover like fog over "Oceans Far and Apart." Thick Fender Rhodes and rumbling acoustic pianos add a hazy atmosphere to Jeremy's lone acoustic guitar accompaniment, a weary, Layne Staley-like whiney growl delivering a soul-searched lyric—from the anguished perspective of a broken heart. This is soul-wrenching stuff.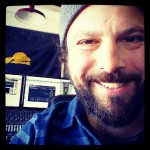 And then he goes deeper. As if the Shakespearian aspects of his love life were not material enough, Jeremy becomes young Hamlet wrestling with the (possible) death of his father with "I Can't Bury You." Echoing Cat Stevens, circa Mona Bone Jakon/ Tea For the Tillerman, the sound is harder here, as it's the Dharma Bums re-formed playing here. And they burn as bright as ever!
Moen slams a primitive beat, a jawbone on a log, as Eric Lovre simmers a smoldering cauldron of fiery guitar. The mood is unlike any other on the album—far darker than the surrounding material—with a rockier edge. 21st century Bums. Jeremy's lyric reflects John Lennon's wrenching "Mother" from his first solo album. "I say Daddy don't you leave this plane/I can't bear you gone/And don't feel no blame/Daddy, please just don't leave/I say Daddy please don't leave/I can't bury you."
"For a Moment" is a woozy send-off (in many ways), with drunken horns wobbling around Jeremy's acoustic guitar. But he emerges from the haze to appear in the most stark of settings—as if right in front of the listener. Eventually a far calling horn filters through the mist. Then an angelic chorus enters to lead the way upon the long and winding road back home. The lyric is a kind sayonara to all that went before here, but it doesn't offer much light of hope or redemption, and only a nod toward resolve. "Coming to peace in my mind is gonna take time."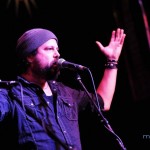 This is a naked piece of work, in almost precisely the same manner that John Lennon's first solo album was in 1970. It's stripped down to essentials. There is no gloss or glitter. No artifice. Primary and secondary colors only. No tints, nor shades. Jeremy Wilson lays his life in front of us and with unblinking honesty says—"Here, have look." The other points of the "Triangle," Vance and Ratchford, provide Jeremy with a musical milieu conducive to the emotions he must express in order to unburden his soul.
Empty Through Empty Space is about as real as it gets in the popular music realm. The songs are presented not as a means for entertainment, but as the tracing of an arc of personal transcendence. The topics are deadly earnest. Unflinchingly forthright. Adult. The music and presentation are top-of-the-line and reverberate with sonic clarity and communal focus. It's a stirring album, probably unlike any you will hear for some time to come.