I had recently returned to Portland after a decade-long stay down in the valley. It was late 1980 and I was doing my best to become familiar with the burgeoning Portland music scene. I ended up at Euphoria one night, to see somebody, but I forget who. Because, I only remember the band I hadn't come to see, and the guy who fronted them. They were the Untouchables.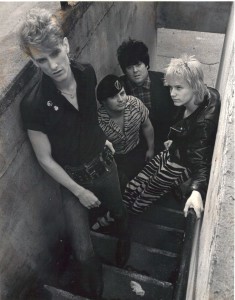 They were a new wave band, part punk and part pop. Bassist Dave Koenig, drummer Chon Carter and rhythm guitarist Mark Nelson lent great support to the big fellow in the middle. Chris Newman. He had an unruly mop of tousled black hair plopped atop his head, wore black slacks and a sharksin suit jacket. His voice was huge—an operatic baritone with a superlative falsetto.
On top of that, the guy could really play guitar. I want to say he was playing a white Strat that night, but I'm probably confusing it with the instrument I saw him play at one or another of the hundreds of his gigs I've attended over the years. He often displayed a Hendrix edge to his playing. He was renowned to use a pink Strat—maybe that's what I saw that first time—the trademark Flying V would enter the picture several years later), but there was a Steve Cropper tone in his style as well. The complete rock guitarist!
Still, beyond even that, beyond his powerful voice and amazing fretwork, were his songs. I still remember several in particular as though I heard them only yesterday—"Walk On Water," "Soylent Green," Fake ID," the apocalyptic "(Let's Go Surfing On a) Lake of Fire," the thoughtful "If Jesus Played Electric Guitar," and my favorite, "My TV." It was an unforgettable set (for me anyway). To that point I had seen none finer, but for Elvis Costello and the Attractions in Eugene at the Lane Country Civic Center in February of 1978 (which was a life-altering event). The two performances had many things in common, not withstanding their (at times) occasionally analogous guitar stylings and similarly impactful vocals. Smart, wry songs.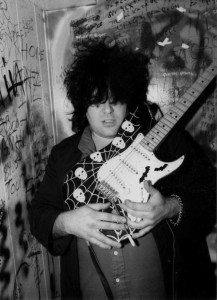 As I filed my way down the tunnel and out the exit at Euphoria, I caught sight of Chris and the boys standing right in the entryway smoking cigarettes and laughing goofily. I stopped as I often did (and still do) to tell Chris that I thought he and his band were gods and blah blah blah. Once and always a fan. Chris guffawed aw gawrsh like he was all stoned, which in retrospect, he probably was. I went on at some length (which I still do) even though I had no credentials to present to the lads at the time, other than my good intentions. They accepted my drivel congenially, thinking (probably accurately) that I was just a typical blithering idiot.
My interaction with Elvis had been quite a bit different. There was a strange vibe in the church-like Lane County Civic center. Talking Heads had been co-billed, but bailed on the gig at the last minute. So it was left to Elvis to carry the show, with only the non sequitur Eugene band the Hotz to serve as openers. The Attractions had been touring the US relentlessly since the previous October (including their infamous Saturday Night Live performance in December of 1977). So I would say they probably knew what to expect.
There was a small "dance floor" in front of the very modest stage, which stood perhaps a foot and a half high. What was really odd is that the only inhabitants on the dance floor were a bunch of guys who were dressed just like Elvis: horn rims, snug suit coat, tight jeans, skinny ties. Except for me, I didn't look anything like Elvis Costello, maybe more like Tom Petty with wire rim glasses, or John Denver. They all stood in a half circle about twelve feet from the stage, with their hands in their pockets, gawking awkwardly up at their role model.
That wasn't my style so I did what I usually did. I walked right up to Mister Costello at the mic, who, given the low stage and his modest stature, stood barely taller than I. He was singing "I Don't Want to Go to Chelsea." I stood right in front of Mister Costello as he sang, attempting to grok his shit. To suss him out. To see what made him tick. What made him special. Elvis put up with me standing well inside his comfort zone, staring at him, for about a minute, before he dodged away from the mic, ran behind drummer Pete Thomas and hid back there for an extended guitar solo. And he didn't come back out until after I vacated the vicinity. I don't know what that was all about. Shy, I guess. Or he didn't want me stealing his secrets. Maybe he didn't like John Denver. I'm not sure.
Hardly a year after my first of many encounters with the Untouchables, they found out that some band had already registered that name. So Chris decided to call the group Napalm Beach. I saw a very early Napalm Beach gig at Accuardi's in Old Town at 2nd and Davis. From the first incredibly loud roarstroke of Chris' anguished guitar, it was evident that the lightness of the Untouchables had been supplanted by dark, grungy sludge.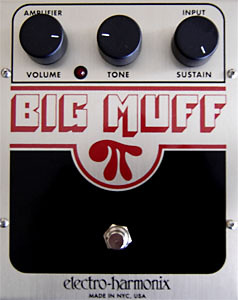 The grungy sludge heard round the world. Chris began using the legendary Big Muff foot pedal around that time and it made a big difference in his guitar tone. In reviews at the time, I referred to Chris as a rock and roll Pavarotti, a 21st century Pagliacci. But I had no idea that within ten years he would launch a thousand ships of sludge from the Northwest, each bearing the grunge flag.
The mantle of grungity is typically bestowed upon Mark Arm (who ostensibly coined the term "grunge" for a new generation in 1981) and his band Mudhoney's EP Superfuzz/Bigmuff released in 1988. But compare Mudhoney's "Sweet Young Thing…" from '88 to Napalm Beach's live takes of "Get the Nerve" or "City of Night" from five years earlier on Live at the Met. Or check out several tracks released in 1983 on the Greg Sage produced Rock 'n' Roll Hell—the track "Pugsley" often cited as a grunge predecessor. The seeds were obviously sewn at the beginning of the decade.
Certainly by the time of the release of the cassettes Teen Dream in 1985 and the eponymous Snowbud and the Flower People and the subsequent Snowbud cassette Vegetable Matter in 1986, Chris had created a punk/metal fusion that sounds a lot like everything that was to come after. All that was ever missing was that Chris seemed to resist screaming over his songs, generally preferring to drawl across the top,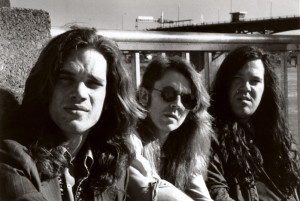 Mark Nelson continued to serve as rhythm guitarist for a couple of years after the transition from Untouchable to Beach-head. In 1982, Sam Henry (of the Wipers and the Rats) became the Beach drummer. The band remained a four-piece until around 1986, when Chris started using the Flying V. At that point the band became a power trio for the rest of its days. But the position of bassist was always in flux. A dozen men tried to fill the post over the course of six or seven years, until Dave Dillinger took the reins in 1989.
Napalm Beach stayed together until 1995, when Chris' life began to take a well-documented,long, slow downturn. They recorded their final studio album In My Tree in 1994. That same year Chris released Volunteer, backed by drummer Lance Paden, which primarily consisted of reworkings of early Napalm Beach songs from some of the very first cassette releases in the mid-'80s. But that was pretty much the last we heard from Chris Newman for ten years, until his tentative return with Tarp Town Years in 2004.
Chris has spent the past decade repairing his legacy, where necessary, while furthering it with a succession of diverse projects—the Divining Rods (with Untouchable Mark Nelson), Lost Acolytes (with Sam Henry on keys and one of the earliest Napalm Beach bass players, Dave Minick), Snow Bud, the Chris Newman Experiment, Boo Frog, and now the Chris Newman Deluxe Combo. Napalm Beach regathered for a few spotlight gigs in the years after1995. But on July 11, 2013, as he celebrated his 60th birthday, Chris declared the band officially defunct.
Frankly, it's nearly impossible to estimate how many recordings he has released in the ten years since his return to form. More than ten. Fifteen? Twenty? All of them bearing the mark of Chris' greatness, whether recorded in a studio, or lo-fi in his basement.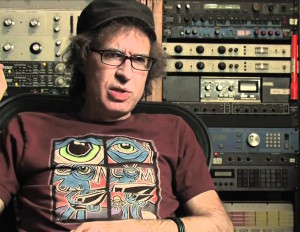 Laid down in just three days, Beachcomber was released in May of last year. The project, engineered and produced by the legendary Jack Endino in his home studio, cleanly captures the work of Chris and drummer Doug Naish with no unnecessary frills. A few vocal and guitar overdubs and we're good to go. The material is pure, classic Chris Newman. Fourteen songs, three of which are interspersed instrumentals. In addition there are short sound collages at the beginning and end of the recording. The eleven songs with lyrics are, each and every one, monumental pieces of work.
After the brief opening tableau, Chris leads off the set with the instrumental, "Hotrod Motorcade," a bit of a spaghetti western piece—the motorcade ostensibly of the funereal variety. It's a dark, foreboding number, heavy on the tremolo solo guitar, but a simple start to the affair. "Broken Glass" crowds an amazing amount of riffage into a two minute space. A familiar '60s inspired chord progression leads into a hard-hitting rocker that hits right in the pocket of Chris' classic voice. You can hear Arthur Lee and Love (circa "7 and 7 Is") in this, for sure. Murky, smudged Chuck Berry-like chord chortles scuttle along this lost highway of a song.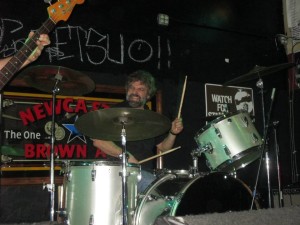 Against a sensibility reminiscent of the Seeds' "Pushin' Too Hard," Chris' penchant for croaky Beefheartish vocals rises to the fore with "Gold Braided Curtain." Funky, Hendrixy fills are delivered with deliberate crunch. "I don't know what I'm doin'/I don't know why I'm here/I am an ancient ruin/I am an unknown queer/If I don't make it baby/Tell 'em how I feel/ If I can't take it/At least that shit was real." Drummer Doug Naish contributes particularly adroit fills in the cool breakdown, before the big finish.
Another breakneck, two-minute special, "Play!" rocks hard on a tough, slashing chord progression—that veers off in very satisfying directions from what might be expected. The second half of the song is filled out with thick piano chords. While the album is guitar-based, Chris contributes bass and piano throughout, as well. His raspy vocal here partners perfectly with the rough-hewn arrangement. Classic stuff.
In a throaty, broken voice reminiscent of Peter Gabriel just after he left Genesis, Chris intones the poignant lyric to "White Sands." It's a stirring Bowie-like ballad, though fans of Interpol will hear antecedents as well. With incredible anguished dejection, Chris renders the desolate lyric. "When the alien boy landed in the sand/He walked a thousand miles across the unknown land/Determination kept him going/And the secrets he was knowing/He brought to life another showing/He didn't need…Approval."
The entire song fulcrums upon that single word "approval," and its repetition—carrying with it so much gravity, expressed with such heart-rending elegance. Not even Richard Butler of Psychedelic Furs has ever sung in such a sadly melodious monotone. Spanish flavored acoustic guitars commingle with a great moaning guitar that cries in the background throughout. It's a mature song, deep and introspective. An epic sense of resolute erudition hangs over the presentation like an inexplicable mushroom cloud. The wisdom of age.
The mood is lifted with "Woman and Man," a buoyant riverboat shuffle, with Hendrix-styled turnarounds and a fiery solo at the end. Chris' vocal calls to mind John Hiatt—a comfortable couch of a voice. The title track is an instrumental that includes subtle keys and xylophone. A lonely nocturne worthy of a David Lynch film. The other instrumental, "Sting Ray," is closely modeled after the rhythm of the Champs' "Tequila" with overtones of Ritchie Valens' "La Bamba," but with a definitive surf twang that distantly recalls "My TV" from all those thirty-five years ago.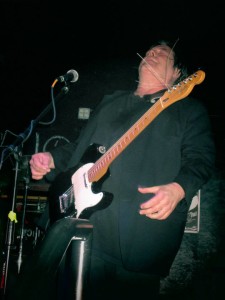 "Life of Circles" is set in a Hendrix-like milieu, somewhere near Electric Lady Land. In a slow, affable dirge, Chris addresses the human condition "Bodies we climb over, trying to stay strong/Fingers we step on, climbing the rungs." When the piano enters in the middle section, the complacent mood of the verses turns dark, desperate, and more intense. "Those who assist you/Those wishing you'd come to an end/They won't even miss you/And your little friend/Supposed to feel grateful/They ever let you in."
Classic vocalists such as Arthur Lee or Eric Burden come to mind on "His Will," a deep, soulful number that intimates Percy Sledge's "When a Man Needs a Woman". Reedy organ and smoldering slide guitar bolster the white-hot coals of this fiery blues-tinged masterpiece. A drone-like Eastern flavor permeates the lengthy intro to "Gods of Yore" before launching into a majestic litany of verses that slowly build in force. "I loved you/You really showed me/How to love too/How to shine through/All the darkness/The lonely darkness/The drugs and women/The lonely women." Raw honesty. Enough to rip your guts out if you should care to play along.
Naish expertly directs the graceful nocturne "Moonlight Dancer" through a series of time changes with deft precision. One might think that Chris would never again find a drummer the caliber of Sam Henry, but in Naish he's discovered someone certainly equal to the task. He's sure-handed at all times, pulling off some great fills and rolls along the line, as for example several found in this instance. Not showy, but solid and punchy. Dependable.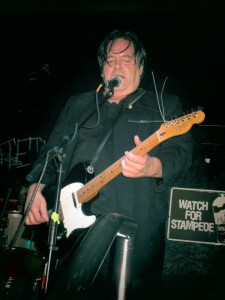 The intro sounds sort of spacey-Doorsy, so maybe it's Jim Morrison, but the body of the song is pure grunge at its finest. So it's more likely Kurt Cobain. Or maybe it's Jesus Christ on smack. Or maybe it's just smack. But "He Come Back" resurrects somebody or something, with a shockwave blast. The quiet build-up only makes the launching of the attack seem that much more ferocious. Chris takes his voice through the stations of rock from sleepy, angelic choirboy to firebreathing dragon, to sandpaper voogum spewer. Over a riff that rocks and rails like an 18-wheeler in a hurricane, Naish provides short, smart drum solos that hold everything together with effortless proficiency. This, ladies and gentlemen, is the true and indisputable Grunge. Capital G. The headwaters.
I never heard it in his work before, or even expected to hear it, but there is a (fine though it may be) thread that extends from the Beatles through Chris' work. George and Paul are vaguely represented at one point or another along the way. On "Life Without Meaning" you can hear Lennon insinuations, with a touch of that heretofore unanticipated John Hiatt aspect as well. In some ways, this song is the coda to "Life of Circles," a soul search on the order of Lennon's "God," with a lyrical twist that is easy to miss: "Life without meaning/Is hard to imagine."
Well, that was the best three days ever spent! From start to finish, this album puts you in a special place—all its own. Jack Endino's imaginative production is perfect. Straight-forward, no frills. There are enough thoughtful overdubs to fill out the sound, this is (an imaginative) duo, after all. But where he could have gone all nuts and overproduced, he kept it simple. Authentic. True. Powerful. Real. Personally, I'm just proud to have even had the opportunity to hear this brilliant album.
By contrast, the just released King Shit sounds more like a demo. Recorded in Newman's basement studio on the same trusty TEAC 2340 four-track machine upon which he captured countless other ventures (including the bulk of the Snow Bud catalog) over the years, the fidelity here is not as translucent, the performances not so crisp. Without question Jack Endino's input on Beachcomber had a lot to do with it. Plus, the team certainly had far more than four-tracks to work with for that project. Chris was incredibly centered for Beachcomber. Given the circumstances surrounding that session he was able to channel all his emotions and frustrations into his work.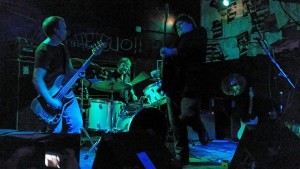 Here, it's obvious that he must concentrate his energies on many different concerns in the recording of King Shit, wearing many different hats in the process. The scattered focus is audible. Chris isn't in his best voice. The playing is on the sloppy side—though there are abundant flashes of brilliance between he and drummer Naish (as well as bassist bassist Nathan Jorg). All that being said, King Shit is even more adventurous, more eclectic, than its predecessor. There are musical places in the thirteen songs presented here where Chris has never gone before. It's as if he has dug down even deeper into his subconscious to uncover a new strata of buried musical influences.
The title track rumbles out of the gate on a wagon of self-effacing sarcasm: "King Shit on Turd Island," through a murky sludge of Stooges-like density. Vocally, Chris occasionally veers into the Beefheart realm, but otherwise gives it a straight reading. "No Redemption" recycles the riff to Cream's "White Room," affording Chris the space to cut loose with a couple of solos to rival the great Clapton himself.
"Gator Canal" is a dark, swampy tale, moving slow as a backwater. The (by necessity) mostly monophonic output on this album, here adds a constrictive claustrophobia to the atmosphere that serves it well. It's hot and sweaty and the humidity is 100%. Chris' moaning harp glints like razor teeth in the half-light. This sounds like a soundtrack well-suited for the True Detective television series. "Everyday is Friday" is another hunk of bayou, this time in the Creedence Clearwater Revival channel of the big green river of rock and roll.
Naish provides the bronto Bonham beat to the heavily Zep flavored "After the Rain," the riff of which has a bit in common with "Misty Mountain Hop." Chris dispenses some tasty slide guitar interludes along the way, while his vocal is straight ahead. The droogy "Blue Dream" is a brooding mood piece. Vocally, Chris drones ala Paul Banks of Interpol. "Something is happening today/It comes in a dream they say."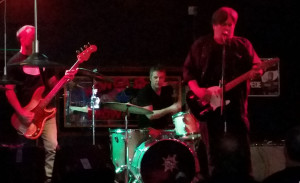 The brawling "Tugboat Jennie" again strikes some Zep veins with Naish's big beat, Newman's bluesy guitar, and his raucous harp playing. Leslie West and Mountain come to mind here as well. This a great rocker, insistent and infectious. After a brief, jazzy intro, "Big Butt Boogie" settles into a groove you might expect from a song with such a title: a musical mindset perfected by early ZZ Top and Captain Beefheart in his "Diddy Wah Diddy" days.
A three-quarter time soul ballad, "Something Else" could be the work of Van Morrison doing Otis Redding, or vice versa. "Explorer" continues the waltz in 12/8 with a bluesy sentiment, wherein Chris calls up a Peter Green moment, with compact, unrushed guitar flourishes throughout the somber elegy. "Nowhere is somewhere/Now that I've been there." We've all been there, man.
"Listen My Friend" is a fitting tribute to Bay Area band Moby Grape and their similarly titled anthem from 1967. Chris' take rocks harder and grittier. But anyone familiar with the former will hear the homage in the latter. Similarly, one might hear faint strands of the Stones' "I Am Waiting" in the solemn ballad "Now Forever," a ghostly finale to a stark, soul baring venture.
No adornments or studio trickery here. King Shit is the straight shit. Chris Newman and cohort cover all the bases, freely baring their influences without sounding the least bit imitative. Chris has been doing this far too long to really sound like anyone else but himself. He wears his numerous influences like a coat of many colors. And it fits him custom made.
With Beachcomber and King Shit Chris Newman reclaims a legacy of more than thirty-five years. In the twenty-nine different pieces of audio information spread out across these two recordings, you hear all the bands that he has subsequently spawned over the decades. Because, stylistically, he's not "reaching" at all here—merely bringing it all back home.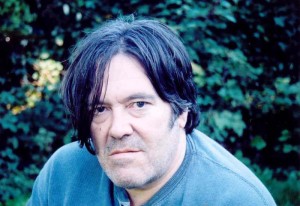 Certainly there are '60s and early '70s influences abounding throughout these affairs, but they only serve as logical launching points from which all of punk, new wave and grunge were derived, extending into the present. Chris Newman represents the perfect assimilation and he always has.
He has his own style. His own acerbically wry and witty point of view. Lyrics lived, not imagined. He has his own story to tell, and he tells it very well, without being the least bit repetitive. His music still sounds vital and new. Authentic. Raw. Real. Wise. Insightful. After the long road he's been down, you wouldn't think the guy would still have it in him. But he does. Chris Newman is an overlooked genius at the peak of his powers and we're lucky to have him in our midst.
February 2015