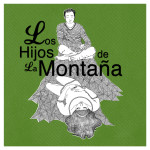 Los Hijos de la Montaña
Cosmica Records
Here's a productive side project that's a real mind blower. This is one of the strangest releases I've ever run across. Strange, not in a musical sense whatsoever, but strange in the genesis of the recording. It's not clear how it came to pass. And once it was finished, it really isn't clear what the subsequent plan was. The label certainly doesn't know.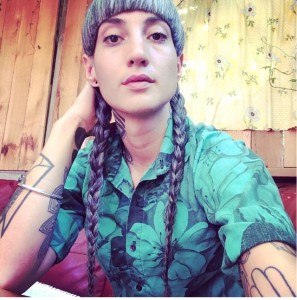 This much we do know. It was Portland's own Steve Berlin (Los Lobos) who first arranged to place local vocal treasure Luz Elena Mendoza (Y La Bamba, Los Tiburones, et al.) with Sergio Mendoza, leader of the Tuscon-based band Orkesta Mendoza—who has also worked with Devotchka and toured as sideman with Calexico.
And while the Mendozas aren't familially related, their dedication to the traditional music of Mexico both folk and popular, unites them for this album (all songs but one are sung in Spanish), which Berlin produced (his influence is subtle, but pervasive); and which was released to little fanfare­—as in almost none. The recording seemed to come as a complete surprise to young Jessica who was handling the phones at Cosmica Records, when I called for information. She didn't know about it. She knew Orkesta Mendoza, because they are distributed by Cosmica Records too. But Los Hijos de la Montaña? Never heard of it. Them.
I asked after a one-sheet, or any information about who played on the record (because there is some really great playing going on in the nine cuts: and brief instrumental). Anything. I got her email address and sent her my email address so she could send me information when she finally got a hold of some. Nada. So far the only information online about the album is the same scant stuff that came out just after it was released at the end of May.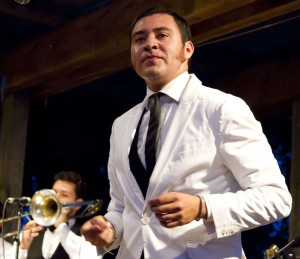 I don't know why the ball was dropped on this project. There are a lot of great songs, which appear to be Mendoza/Mendoza originals—though Luz sounds herself in a musical place not quite like any other in which she has sung before. It's great material, well-produced, wonderfully played and sung. I'm not sure what the hell is the problem. But it kinda seems like no one wants anything to do with this one.
Too bad.
"Amor de Lejos" spins on a dark guitar figure, reminiscent of the Robby Krieger intro to the Doors' "People Are Strange." The arrangement then dissolves into a noir-ish fog, with Luz sounding passionately mysterious, accompanied by the festive thrump of acoustic guitars and classic lowslung spaghetti-western guitar themes. The song itself could pass as the soundtrack to one of those films, windswept and parched.
A sprightly dance rhythm propels the charming "El Tamalito," with jaunty keyboard flourishes backing Luz in her element (this could easily pass for an Y La Bamba tune). The chorus is charmingly bilingual, with the hookline "Ay, si!" sounding very much like "I see." Clever.
The one song sung in English, the moody "One Breath, One Soul," is given one of Luz's rapidfire vocal treatments, so that it is difficult to tell what language she's singing in. But it's not like her choice of languages has ever been an obstacle. She sings with such fluidity and emotional expressivity that language is not a factor.
A burbling synth figure threads against the persistent chuckle of a charango, or a ukulele, or some other small, stringed instrument. Mariachi brass join in the turnarounds, providing a keen, lamentational wail behind Luz's own windy call. Sergio sings a verse of his own, a portentous cloud, jarring when it shows up. But well-placed!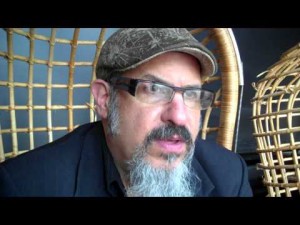 "Compañera" is a song steeped in customary flavors of Mexico—more horns, organic, flamenco-like percussion and wistful acoustic guitars. Luz sings at the very lowest end of her register, like a shadow giving voice to some long unlit emotion, dark and smoldering. The ballad "Mi Sangre es Tu Ventana" (from my elementary Spanish: "My Blood is Your Window"?) is darker still. Heavily wrought. In the tradition.
Breaking up the torchy mood is the romantically edgy "Manos En Las Bolsas," replete with stirring strings, whammy guitars and a hook in the chorus strong enough to hang up a winter coat. Luz's impassioned vocals bespeak a sense of desperation, a hint of danger and intrigue. Again faithful to musical culture, in the ranchera style, while taking it to a new and different place. Great stuff. Very exciting!
"Lengua De Leon" plays with a cumbia disposition, a ska-like limp in the rhythm. And the ballad "Adonde Voy" is a sweet farewell to a place to which there may be no return. The band did release a subsequent track, "El Chumina," which does not appear on this album, but should. Another superlative track.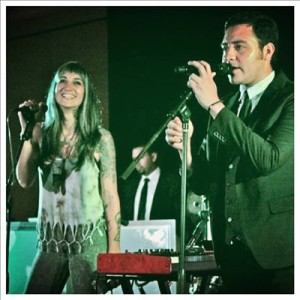 Luz and Sergio Mendoza, guided by Steve Berlin, have taken us to a very special place in popular music, where there are no borders or boundaries—to the common denominator between humanity and music. It's a shame more of the world hasn't heard it.
June 2015