See, this sort of thing has been going on for some time in this town. Incest. Oh, not that kind. Although, it's always been apparent in Oregon that there is a bit of that in the backwater towns. No, I'm talking about the intermarriage of bands. Over the past decade it's only gotten worse. And the aggregation affiliated with the creation of this project (and its various predecessors) is the perfect example of this intermingling.
Lost Lander represents the collaborative efforts of former Menomena (and, recurringly, Ramona Falls) keyboardist and utility-man Brent Knopf, and the equally talented and musically multi-dimensional Matt Sheehy. The music here reflects, especially, Sheehy's work with Gravity and Henry, and Knopf's incisive elaborations as Ramona Falls.
Their tastes and artistic sensibilities are similar enough, that it is often hard to tell who is at the helm at any particular moment within the presentation. Apparently the balance falls to Sheehy, as he is responsible for the basic songs, and the member to lead the live Lost Lander team. Meanwhile Knopf is preparing Prophet, a new Ramona Falls release, which will debut on May Day. It would seem he serves more as producer and side-musician—especially on keyboards, for which he is renowned. There is a characteristic sheen to the musical proceedings that is unmistakably his.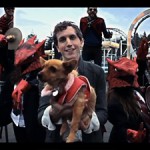 Knopf and Sheehy go back a ways. The first evidence of an alliance between the two seems to have appeared with Sheehy's solo album Tigerphobia, released in 2008, where Knopf performed brilliant re-mixes for two tracks. And, for his part, as a guitarist and vocalist, Sheehy has since performed as a member of the touring ensemble for Ramona Falls, as well as starring in the wonderful 2010 video for the RF song "Russia." One would suppose that a Ramona Falls/Lost Lander tour would make a lot of sense for everyone.
The fruit of their mutual labors here is pretty spectacular. World-class sound for sophisticated well-crafted songs, rendered with measured passion. As Lost Lander, they've already (deservedly) received a lot of comparisons to any number of popular musical artists. There will be more here. Anything you hear on this album is equal or superior to anything or anyone to which it is being equated. Rest assured. This is good stuff.
We begin, somewhat appropriately one would think, with "Cold Feet." Ethereal vocal birds and a trace of tribal chant brindle the introductory phase of the song. Then a chorus of stringy, prickly percussive things enters the sonic scheme, accompanied by some additional heavy shelling from guest drummer Dana Janssen (Akron/Family). A brilliant twist of melodic turn and back to the birds of the intro: intimating the notion of arrival or return. As perhaps of a lander that had been lost but now is found. It would not appear to be too much of a reach to assign such symbolic meaning to the artistic choices made throughout this entire mission, here being the first opportunity. "Gotta turn it off."
A distinct '60s feel imbues the combination of electric and acoustic guitars on "Dig (How It Feels To Lay in the Soft Light)," a sense of Jeff Beck's searing guitar part on the Yardbirds' "Heart Full of Soul," is paired with an attitude reminiscent of the Zombies—one which certainly sounds far more the mood update and instrumental refitting than any sort of tribute. This, of course, could only have been accrued by these lads either by means of genetic bequeath, or an incredibly stellar record collection, or both.
Then into the mix insert some dynamite drum fills (executed by Janssen and Niko Kwiatkowski) to occasionally explode like landmines across the sonic scenery. Yeah, and induce, say, a John Vanderslice doppel to do a vocal over that sort of groovity and let it fly. There you go. Boom. Sophisticated and restrained—as if the arrangements had all the time in the world to unfold: which is absolutely true, up to about four minutes.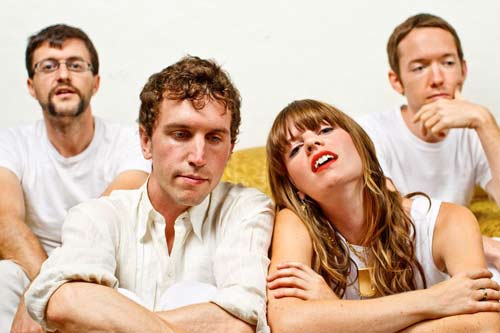 The star brilliant "Afraid of Summer" sounds like a possible distant cousin to the Shins' "Phantom Limb." Over simple nylon string acoustic guitar accompaniment, a hauntingly beautiful song of deep longing upfloats like a single cloud on a sunny summer day. "I'm afraid of Summer, 'cause you know I can't swim/I get lost in the water when the tide pulls me in."
At around the one-minute mark, the second section furls around subtle percussion from Kwiatkowski and Scott Magee (Y La Bamba, Loch Lomond), and an array of spectacular instrumentation—apparently all synthesized. Fairlight-like, Melotronish strings, plucky pizzacato harp or strings (maybe a koto patch), an expansive assortment of keyboards: bass, piano, and elastic, heavily-modded electric piano fashion a fine mist of the '80s (like Duran, Duran meets Tears For Fears) mournfully wafting above. A flash of Eels streaming through. Toward the end of the piece, galloping drums and trudging strings run up Kate Bush's hill with no problems, while the watery piano of Bowie's "Ashes to Ashes" slides down the other side. If the song were to get any more wistful, it would wist itself right out of existence.
This sort of lonely lostboy moonery is nothing new. Paul McCartney and Paul Simon staked out the melancholy manchild landscape long ago, back in the '60s. By example, there is a song by Barclay James Harvest, a '70s British band, called "Galadriel" that is one of the obvious ancestors to "Afraid of Summer." Certainly, production values and recording quality have changed drastically over the past forty years, but the sentiment is unmistakable. You can check that out here. Still, Lost Lander's exploration of the territory is new and their impressions are fresh. And "Afraid of Summer" is simply a magnificent piece of work. A hit.
"Kangaroo," is another keyboard driven number, with cool guitar moments from guest Seth Olinkski (also of Akron/Family)—the chorus powerful and moving. '80s keyboard fills dapple "Belly of the Bird." The vocals call to mind Brandon Flowers of the Killers or Tom Chaplin of Keane. Janssen's skittering toms drive the song, while angular string parts saw against an infectious chorus. From there one is hurtled into the crashwaltzing waves, cymbals splashing, and the grandeuresque piano of an extended coda, sailing to the close.
A seafaring shanty, of sorts, "The Sailor" launches on a familiar folky melody, "All my friends have gone away/They fell in love, oh they fell in love." Janssen and Kwiatkowski provide relentless propulsion, rumbling toms and chattering closed high-hats. As with a few of the cuts on this album, the arrangement here may be bigger than the song it is holding up. But ultimately it's great work, so you'll get no complaints from this side of the monitor screen.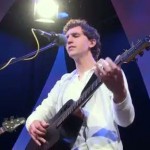 Another heavily folk-informed venture, "Wonderful World" sounds most like something you might have heard on Tigerphobia. Sean Flinn's (The Royal We, Y La Bamba) doleful electric guitar wraiths ephemerally around simple acoustic guitar. As elsewhere, Holly Carmen Atreyah's angelic vocal harmonies decorate the perimeters. Where the verse progresses with a pensive gait, the chorus flourishes prettily, hinging upon a tiny piano figure. Opulently precise.
Actual strings embroider "Through Your Bones" with sinuous sonic tensility. It's a song worthy of Sufjan Stevens—though the ensemble arrangement is not so sloppy—or Elliott Smith, perhaps, but without the bleak black moribundity. Again there are references to time and tide, leading one to speculate as to the possibility of this project being some sort of concept album. There is a recurring nautical theme in many of the songs. A sense of voyage and expedition. If it is a concept album, it must be pointed out that the concept is buried sufficiently deep as to prevent detection on any but a purely subconscious level.
What sound like balalaikas (or dulcimer, maybe) ring out to usher in "Gossamer Wings." It's a gentle waltz, with a peculiar lyric. "Gossamer wings sprang from her shoulders/She said her goodbye and took to the sky/A quick icy grip took hold under the ship/And told all that she wanted to know." Woozy strings and circus drums (Scott Magee) swirl around the middle section, before abruptly abutting into the final verse. Guest Nick Jaina's sputtering bass putters beneath plunking piano, into a finale that ends all at once with no real resolution.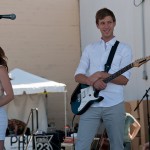 "Dead Moon" contains the only lyric specifically credited to Knopf and the possibility is good that he is the vocalist here as well. Whichever of the pair it is, the breaking falsetto instantly calls to mind Chris Martin, but cleaner here without the horrible Gwyneth Paltrow ambiance palling like car exhaust over the whole affair. It's a quiet song with hardly any accompaniment. Percussion only enters at the extended fade.
The final number "Your Name is a Fire" could almost pass for an actual Coldplay song, except that it's a bit more intricate, with rubbery synth bass; and the rhythmic foundation is more complex. Why, there's even handclaps in the bridge! Handclaps guarantee a hit. That is a well-known fact. It's a great song, if way too short.
In some ways, though they are stellar, the arrangements here are almost too concise. It sort of reminds me of the classical music device of "figured bass." We are given the (highly produced) skeleton of a song, with no excessive augmentation whatsoever. It's all gold. Make your own extended mixes. Maybe extended mixes is what a lot of this is about. Hmm.
Because, it's all just great, really great.  Nearly every song sounds like something ready-made for a film soundtrack. It's about as well put together as an album can be. And every aspect is of the very highest standard: the compositions, the musical choices, the instrumentation, the presentation, and performances. All of it is brilliant. You may or may not appreciate the music that the group here known as Lost Lander create. It might be too poppy for some. Too mainstream. But no one can deny what an amazing piece of work this album is.