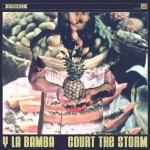 Court The Storm
Tender Loving Empire
It's said that there are no straight lines in nature. If that is in fact the case, then this is the most natural album ever made. There's no "shortest distance between two points" here. Nothing resolves as expected. Just when you think you're moving toward something, you veer. No straight lines. Still, as beautiful as any tree. Songs as lovely as wind and birds.
That's certainly the case with Y La Bamba's new project, Court the Storm. Produced by saxophonist Steve Berlin of Los Lobos (who now lives in Portland), it's as close as you're likely to come to a perfectly recorded album. Nothing is wasted here. Not an instrument, not a part, not a voice, not even the silent spaces. This attention to detail results in a piece of sonic opulence we indie lovers don't often get to hear. It's cut like a diamond, clean and pristine.
Technically, this is Y La Bamba's third release. But Alida St., which came out at the end of 2008, was pretty much a home-recorded solo effort for vocalist Luz Elena Mendoza. And Lupon, YLB's debut for the Tender Loving Empire label, produced by Decemberist Chris Funk, was recorded by a version of the band that no longer existed by the time the album was actually released in September, 2010.
But for this endeavor the players more-or-less remained the same coming out as going in (with the exception of guitarist Sean Flinn, who recently left the band to pursue his own project, the Royal We. He does contribute to two tracks here, however). Still, the music for this production has been cooked down to its essential juices through a year of relentless touring. During that time they performed as opening act for several Neko Case shows, and she in turn makes a guest appearance on the title track.
For his part, Berlin pretty much took the band under his wing, serving not only as producer, but as engineer, side-musician, and co-arranger as well. His contributions are nowhere and everywhere to be found. He is the artificer of this creation. Though all trace of his proximity has gradually been erased from the sonic picture, faint stylistic shadows and trails remain which leave indelible marks upon the finished piece.
His approach to production is addition by subtraction—wherein silence serves as an instrument in the mix. There is not an overbearing note or chord to be found. The album springs with delightful touches, fleeting filigrees, brilliant artistic flourishes. Every instrument seems to be exactly the right choice for any particular musical moment. And, as mentioned, the arrangements never proceed in a straight line, but angle affably or circle and spiral majestically.
It is upon Luz and the band that at all times the spotlight falls. Luz means "light" in Spanish and that is precisely what she what she provides. Hers is an antique golden light, never harsh or glaring. She is an inadvertent bruja, whose shamanistic incantations transcend language altogether, entering into some far more intimate space in the human psyche and soul.
Her vocal presence alone in any song would guarantee a unique performance. But over the past couple of years, Y La Bamba have evolved to match Luz's considerable abilities. This is no support act, but a real, if extremely subtle band. When second percussionist Scott Magee and guitarist Paul Cameron joined the core of the band a couple of years ago, they immediately began to help solidify the presentation. That both were adept singers meant that all six members of the band were available to contribute to the complex vocal harmonies that were already beginning to develop.
In addition, Magee lends occasional clarinet interludes to the mix. But it is Cameron who has proven to be most valuable. He has evolved as a vocalist to the extent that he expertly doubles Luz's voice in places. And his efforts in working with Luz on the writing and arranging of the newer material should not be underestimated. So, all this to say that everything has tightened up and focused for this sophomore release. The results are truly stunning.

We open with the rousing, polymetric "Squawk," a rhythmic foray that explores not only Luz's Mexican mariachi roots, but augments with Afro textures as well. Sean Flinn's syncopated, Afro Highlife-flavored guitar phrasings dance upon what sounds like threes on fives in the intro. This album abounds in unrelenting threes, even over and inside the fours (and fives), so: embrace the feel.
Luscious vocal harmonies blossom beneath the warmth of Luz's sultry intonation in the lead, while subtle instrumentation bubbles beneath. Alternating time signatures create separate moods, colored by subtle vocal shadings. Hypnotic. Exotic.
And if the shifting time of the aforementioned were not impressive enough, check out the intricate interplay of key signatures on "Bendito." Against cleverly complex rhythms of Magee's toms and Mike Kitson's snare, Luz coos away in Spanish (there are alleged to be several songs sung in Spanish on this outing). This is not immediately apparent, however, partly because of the vibrancy of the arrangement, but mostly because her voice is so fascinating. It's similar to the experience of listening to Elizabeth Fraser of Cocteau Twins. Beyond words. Ethereal.
Cameron's impeccable harmonies through the verses are a thing of wonder to behold. Seamless. Perfect. And in the turns, these guys rock out with just the adjunct of Eric Schrepel's wheezy accordion and the hint of something resembling an electric guitar. Midway everything turns all dreamy—windy, angelic vocals. Thick vibes bubble and either a cello, or the accordion, sounding all cello-like, moans forlornly in the background. Kitson breaks in with a full kit for possibly the only time on the entire album, before the song quickly melts back into the first section and succinctly slams to a powerful close.
"Moral Panic" is a pensive ballad that has been in YLB's repertoire for at a couple of years (one of the first Luz and Paul worked on together). Returning to the wistful mood of the middle of "Bendito," vibes, accordion and arpeggiating guitar supplement the gorgeous vocals. Briefly the gait breaks faster before resolving in the same sweetsomber introspection as it started. Spectacular. "It's nice to have a life of tribulation." Indeed.
Cameron's majestic folky finger-picking on acoustic guitar and magical vocal duet with Luz (recorded live in the studio) are the elegant ornaments surrounding the tender "Houghson Boys." More luxurious vocal choirs sing exultantly in another lilting middle-section, displaying characteristic elegance and restraint.
The bouyant polka of "Como Ratones" twirls upon gentle, breezy percussion, the rhapsodic hum of accordion, the dusty romance of soft guitar and the plucked high plaint of what is possibly a charango (my knowledge of traditional Mexican stringed instruments is quite limited), the equivalent of a ukelele. Or it's a ukelele. It's a simple little song that creeps like a mouse. A quaint toy piano tone commingles with the accordion to create a satisfying antique effect in the final turns.
The somber "Idaho's Genius" features bassist Ben Meyercord as lead vocalist. Cameron is responsible for the backing vocals below, with Luz above in the high harmony. As is often the case with YLB, the song does not really bloom to full flower until the middle of the song, with rumbling toms, military snare, and a tambourine providing impetus, vague stringed instruments flitting like hummingbirds and dragonflies at the edges of the mix—a xylophone dripping sunlight upon the swirling pool of wordless tones.
"Viuda Encabronada" retraces themes established with "Squawk," combining burbling Latin exuberance with the clipped angularity of Flinn's AfricanHighlife-style guitar (in conjunction with the accordion, approximating Paul Simon's "Boy In A Bubble"). A jovial trombone enters in at the end of the song creating a street party atmosphere. Here, as everywhere, the vocals are simply superb. Seemingly effortless harmonies embroider a rich sonic fabric.
Fretting toms drive "Ponce Pilato," as Luz and Paul again unite in a sweet duet beneath fluttering acoustic guitar phrasings. Honey-sweet guitars glisten and shimmer in the instrumental interludes as splashing cymbals and plashing tambourine flicker a gentle momentum.

Music gets no more exquisite than the irrepressibly catchy "Michoacan." Luz exuberantly leads the ensemble through an enchanting arabesque, reflecting the rich essences of Mexican popular music. Her spirited delivery is buoyed by an array of instruments, softly floating butterfly flutes and bright mariachi brass, chiming mandolins (?) and even a tingling triangle. Fantastic.
The flamenco-like handclap/footstomp percussion of "Dialect of Faith" is suffused by apparent electric guitar, sinewy ukelele tones, insistent snare, and Schrepel's dramatic accordion fugue. Supple harmonies nest beneath Luz's soaring, gliding vocal flights. For Y La Bamba, drama and emotion are a given. Every song pulls at the heart and wrestles with the soul. Few bands command the sort of gravity that YLB routinely generate.
Of the eleven songs presented on this album, the title track "Court The Storm" is perhaps the only one that doesn't have its feet squarely placed south of the Rio Grande. Neko Case's sweet harmonies sweep along with Luz on the track. Upon a simple acoustic guitar progression, accordion, xylophone (?), banjo (?) pealing charango (or bandurria or…) and soft piano fall like rain around the women's voices.
Here is a good example of the previously mentioned YLB arrangemental veer: About two minutes into the song, the drums build in tension—sounding for all the world as if they will explode. Instead it is as if a match were blown out. Back to the quiet. Poof. But forty seconds later a militant snare enters the mix like it was marching along the whole time. The song builds to a crescendo and then the choir slowly drifts off into the mist and fog. Vaya con dios.
What continually comes to the fore is the remarkable growth as musicians that Y La Bamba display on Court The Storm. Or, perhaps more accurately, it is not growth they display, but a denser sense of esprit de corps. Cameron's presence obviously has much to do with this, as his chameleon-like ability to color himself into the scenery of the musical moment is a true gift, to be sure.
And Steve Berlin's contributions and influence cannot be overstated either, in precisely the same ways. He's so good you don't even know he's there. The result is a recording with nothing out of place. Nothing unnecessary. Not a note wasted. Perfect. There must be a Grammy out there somewhere with this project's name on it. There must be.
But in the end, always, Y La Bamba is Luz. She could sing the repair manual of a 1988 Ford F150 pickup truck and make it sound vital and interesting. She is such a great vocalist it's a marvel just to hear her larynx vibrating in the air. The fact that she writes (or co-writes) deep, thoughtful lyrics becomes almost immaterial.
Her phrasing is equal to that of Billie Holiday. Her tone spans Astrud Gilberto to Joan Baez to, I don't know, Lady Gaga ( or whoever!) with everything in between, historical or contemporary. She's the whole package. And that is just considering American greats. God knows she is probably easily equal to countless great Mexican singers as well. She stands out.
That's the real key. Luz Elena Mendoza is in a class by herself. In the history of popular music, there are and have been a few truly great female vocalists. She is one of them—or can be, if she goes after it. She does not know this yet. Whatever musical form she chooses to explore will be enriched by her choice. She can do whatever she wants. She sings in the language of all humanity and it is only a matter of time before humanity hears her voice. It's inevitable.
You can read SP's review of Y La Bamba's 2010 release, Lupon here