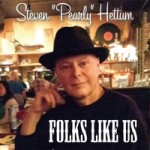 Folks Like Us
Locals Only Records
Steve Hettum died on the evening of February 8th. He succumbed after a long, valiant struggle with cancer. His death was not unexpected. A few of his friends were able to put a life celebration together for him, what he called his "Wake While I'm Awake," at the end of January, and several hundred people were in attendance.
To a lot of people, he was known simply as Pearly—a nickname he acquired in the '80s from a producer in Nashville, who found his voice to have a certain nacreous quality. He was a singer/songwriter from a country/folk tradition, on a trajectory scribing an arc between Garth Brooks and Van Morrison. His own compositions fell along that line somewhere.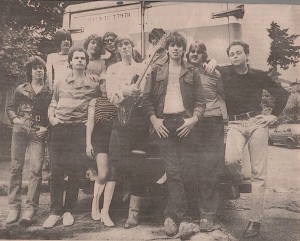 I always saw Steve in a different light. When I first met him, in 1981, he was just a young guy in his early '20s. He had just begun managing a new band in town called Billy Rancher and the Unreal Gods. My friend Lew Jones introduced us one evening over at the Dirty Duck, a tavern that used to be on NW Glisan, at the base of the Steel Bridge. From that time on, my path crossed with Steve's on a regular basis.
After he was unceremoniously dumped from his managerial position with the band in 1983, Steve subsequently made a couple trips to the United Kingdom, on one occasion guiding Portland rockabilly stalwarts, the Razorbacks through an extended tour of the country.
On another occasion he brought the K Khan Band over from Great Britain, and they played many gigs across the Portland area, though probably not to as much acclaim as they deserved. They sort of fell through the stylistic cracks in the Portland music scene of the mid-'80s.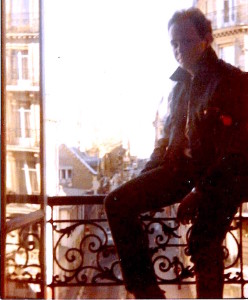 Steve lived in Europe for a while, studying at Oxford. He got married and divorced and married again, father to three kids, while living out of the loop down in southern Oregon. Then he divorced again and moved back to Portland.
I caught back up with him at about that time. It was the early '90s and he had begun performing as a solo act around town. In fact, I remember that Steve and Lew Jones hosted the very first open mics at the newly opened Laurelthirst tavern, when the music was still in the front window, and they were having neighborhood issues with volume, and the usual civic complaints.
Steve released a nice album, Simple Elegance, in 1991, showcasing a knack for crafting catchy country/folk songs, and singing them with a pure, iridescent voice that, except for the faint whine of a craggy twang, was free of all affect.
It was about that time, too, that I began my first preparations to write a book about Billy Rancher. It had been five years since he had passed—and just before his death I promised Billy that I would tell his story. At the time I thought I would be writing a biography. Since Steve had been the manager of Billy Rancher and the Unreal Gods, I started the process of gathering notes for my book by interviewing him first. Doubtless his insights would be different from those of the other members of the band. From my conversations with him, I was able to begin roughing out an outline for the book I had in mind. A sequence of events.
A few years later a fellow published a biography of Billy and the Gods, called Rocky Road—thus my plans for a biography were pretty much shot down. After all, how many biographies does the world need of an unknown musician who died before reaching his full potential? I didn't give up my plans for a book. I kept my interviews with Steve, my outlines and notes and put them away for quite some time.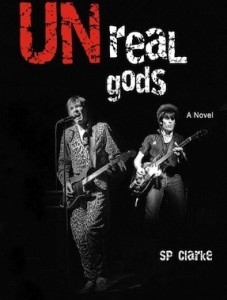 It was Steve's version of events that I held on to. Doubtless I could have chosen someone else in or around the band to interview. And that was most certainly my original plan. But somewhere along the line, since I could no longer write the biography I had in mind, I decided the book might actually work better as a novel: where Billy's story could become archetypal and not simply relegated to a backwater bio.
And while the story I tell in my novel UNreal gods is most certainly Billy's heroic tale, it's also Steve's story—his point of view. And, as in real life, his character is an affable team player, willing to do the unsung dirty work behind the scenes. Not every person is cut out for those duties. It's an unforgiving position, with few rewards. Whatever the case, Steve did his job well.
I lost track of the guy again after that. I know he was managing the kitchen out at the Edgefield for a while. Then he was gone again. It turns out he'd ended up moving back down to Gold Hill to help raise his two kids. That's the kind of dutiful square guy Steve was. He made every effort at all times to do the right thing. He was always very conscientious and fair.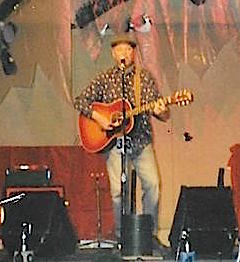 The next time Steve's name came up was in the late 2000s. I'd heard through the grapevine that he was back in town. I saw him play a couple songs when the wall was still up at the old Eugenio's. But it wasn't until 2011 that I really had the chance to catch up with him again. He was the congenial host of the weekly Wednesday open mics at the new, post-wall Eugenio's. By that time, he'd been at the helm for a year or two and he had a real smooth operation going. There was always a huge crowd there.
He ran a tight ship. He'd open the evening by singing a few songs to set the mood, and then he'd introduce each successive act to take the stage. Novice or old pro, Steve always had a kind thing to say in the presentation of each performer. If you think running an open mic would be a fairly easy gig, you're out of your mind!
Think about it. You're dealing with " sensitive artist" types with egos as big as the Great Trumpkin himself, totally unrealistic about their own abilities. Some are pushy. They want their slot at such and such a time. Can my daughter crowd in? The family's here. I was with Steve on many occasions when I was astounded that he didn't go off on somebody for stepping way over the line. I know I would have. Still, Steve always handled every situation with fairness and affability.
But he was having health issues. He'd had something happen with his foot. (He'd broken his back while living in Gold Hill). And he was nursing a hip that he eventually had to have operated on. Then he got cancer of the tongue. They ended up removing a chunk of his tongue and he had a tough time speaking for a while. But through it all, he persevered, rarely missing a Wednesday Open Mic at Eugenio's. Friends took up for him when he was out, keeping the gig going. But he didn't miss that many shows, really. He just played through.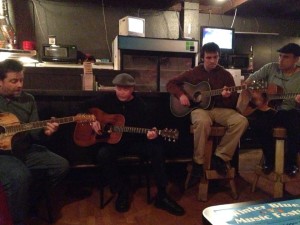 There was a period a few years back, when Eugenio's was forbidden from having music at all—at which point Steve moved the Open Mic operation to the Starday Tavern on Foster. That went on for a month or two before the music was back at Eugenios's and so were Pearly's open mics. And from that point on, the place was packed out on any given Wednesday night.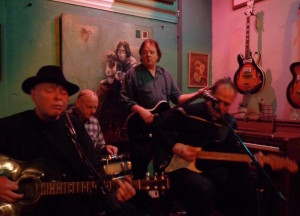 Over time, Steve put together a tasty little combo of backing musicians, local pros who'd accompanied him on one or another or all of his various recordings over the past twenty five years. They were called the Janglers. Steve sang lead and played rhythm acoustic, Houston Bolles on lead guitar, J. Michael Kearsey on bass and Dennis Elmer on just a snare and a ride cymbal. Don't kid yourself, Dennis Elmer can do more with a snare and a ride cymbal than most drummers can pull off with an entire field array of percussive artillery.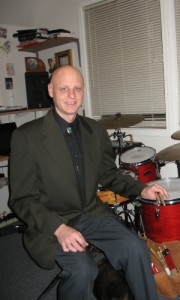 All in all, with comparative ease, that quartet could knock out an evening's worth (more than half of the songs were Steve's originals, the rest: well chosen covers) of top-notch entertainment—at easy listening volumes! Steve's genial charm and his incredible ability to get people's attention always made for a fun affair. Always.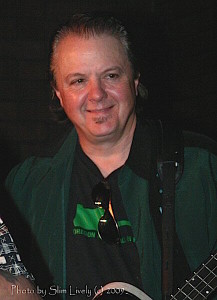 But, as it so often does, Steve's cancer came back. This time in the form of an inoperable tumor in the upper lobe of his left lung, right behind his heart. He had options to go with chemo and radiation treatments, to try to prolong his life for an additional three or six months. But Steve had seen what that process had done to his friend Billy Rancher in his final days and that's not the way he wanted to go. So, he decided to forego further treatment and just ride the process out to the end.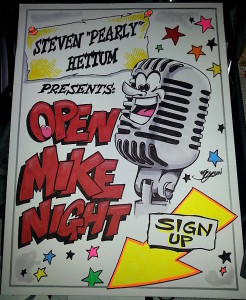 I think it was last September when Steve first started to complain of chest pains and of feeling ill, lacking energy—and it was understood that the decline had begun. But that in no way deterred him from holding court with his regular Wednesday Night Open Mic at Eugenio's and occasionally gigging with the Janglers on the weekend.
Around November, word got out that Eugene Gray was going to have to close Eugenio's some time in December. Unbeknownst to most, the building's owner/landlord, Tim Ellis, who also owned Kung Fu Bakery Recording Studios next door, was forced to sell his interest because he too was suffering from a struggle with cancer. This was one rare instance where Division Street gentrification was not directly responsible for the demise of the enterprise.
By the time the middle of December rolled around and the final days of the club were being celebrated and mourned, it was becoming clear that Steve was in a great deal of pain. Despite that, or just as likely, because of it, Steve played on, hosting his final Eugenio's Wednesday Night Open Mic on December 16th. I can't remember the final total on his weekly open mic events. I think he hosted 306. It was over three hundred, I know that.
The Janglers played their last gig on Friday, the day before the closing of the club, on December 19th. If you didn't know of his condition, you would not have known how sick Steve was, or how much pain he was enduring. On the tiny Eugenio's stage, he was his in his element, being his typical fount of hospitable conviviality. His voice was thin, but still sure as pearl. His guitar playing was still crisp. He went out on a high.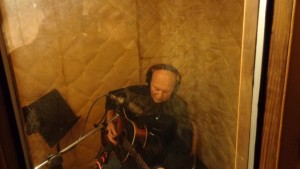 I spoke with Steve by phone frequently and visited him in mid-January. His condition had deteriorated dramatically. It was clear he was dying. He played me cuts of the album he was finishing up—whenever he was up to it—with members of the Janglers and many other friends joining in. He'd been working on it for a while, but when it became apparent that he didn't have a lot more time left, he stepped up his recording schedule, jumping into Jon Lindahl's Fresh Tracks studio whenever he could muster the strength to give it an hour or two.
Towards the end, his trusted friend, Steve Edgren, manned the board, recording a couple of songs in the living room of Steve's apartment. He was weak and frail, but he knew what he wanted. Even in his final days he was directing traffic as he always had, whipping everyone into shape.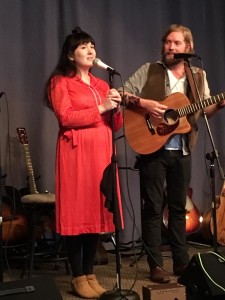 A bunch of Steve's friends organized the event for him on January 24th. We weren't sure Steve would live to attend his "Wake While I'm Awake." But, as through all things, Steve showed rugged determination, and he wasn't about to miss the celebration of his life. He was there, right up front in the place of honor. Many of the performers who made Steve's open mics so successful took the stage to play for him one final time.
Steve sat in his recliner, soaking up every minute of the event, so sick and weak, his voice was just a hoarse croak. He could barely speak to the stream of well-wishers who came up to greet him and say their last goodbyes.
But someone had given him a microphone, so occasionally he would bark out some orders to performers or speakers on stage. And he sang with everyone for the evening's fitting finale, "Party By Myself," with a solo vocal for a verse, which led to an inspired round of choruses to close.
Steve "Pearly" Hettum died two weeks later on Monday, February 8th, at Steve and Esther Edgren's house. Steve and Esther selflessly looked after Steve in his final days, offering him hospice in their home, allowing him to die as he wished: in peace, with friends and family at his side.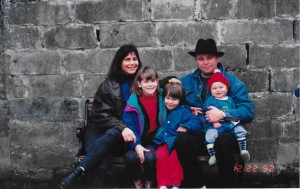 A fitting end for a guy who spent so much of his life looking after the needs of other people—as manager for Billy Rancher and the Unreal Gods, as a husband and father, and as host to an interminable array of insecure musicians with enormous egos at his weekly open mics (I include myself among them)—he always took charge of the situation to put people at ease. When he was at his end, he was at ease and he had put someone else in charge.
Which brings us to Folks Like Us. What started out as the next Steve "Pearly" Hettum album eventually became his send-off, and you can feel that energy among the performers here. One can hear a profound sense of desperate determination among the musicians, motivated by the bleakness of the situation. But through it all, it was Steve who kept flagging spirits high, creating a mood of joy and thankfulness that is palpable from start to finish.
Among the fourteen songs presented, three are well-chosen cover songs, and a couple others are reworkings of self-penned songs he had produced for other recordings. But most of the material is new and original and performed with the sort of urgency you don't hear on every record released these days.
The title track leads off the set, a homey, hillbilly sentiment reminiscent of the '50s, Claude King, Johnny Horton and the Burnette brothers, etc.—all cornbread in the oven, chicken in the skillet and cows out in the barn. Steve always had a knack for making any song he wrote sound autobiographical, so I have no idea if this yarn about his cousins in Oklahoma and family in Missouri, his Granny in Nebraski who smokes a pipe, or his cousin in Kansas, bear any resemblance to the truth. It sounds like "Wolverton Mountain" to me. A fascinating piece of Americana, all the same.
The arrangement is standard Janglers fare, stripped down a bit: with Steve on vocals and acoustic guitar, a little percussion and Jeff Bailey's bass (and accordion)—laidback, but spot on, bustin' along like a spirited pony. Guest Ritchie Raye contributes totally appropriate mood fiddle that lends the scent of hickory to the smoke in Steve's tale.
"Cowboy Song" has been a staple of Steve's repertoire for several years, this rendition culled from his 2008 release, The Jangler. It's a yippy-oh-ki-yay song, to be sure, but there is an element of Van Morrison in the melody and feel. It's an intangible. But when you hear Steve's take on Morrison's "Wild Night" a little later, the connection becomes clearer. There's a vague element of Paul Simon's "Slip Slidin' Away" at the back of the sonic palette too. Jon Lindahl's tasty slide guitar lends the perfect western element, while the piano backing fills out the rhythm section
Steve was regularly accused of being sentimental, in fact one of the songs found here, "Sentimental Bastard" defends that position (Billy Rancher suffered from the criticism that his songs were "corny," which he freely admitted: so the compulsion runs in the family). "Funny Little Girl," a paean to his daughters Caia and Margo, could pass for Ralph McTell or maybe Nick Drake. And because it's about his daughters, he can be forgiven for his references to "licorice drops and peppermint sticks." I'm not sure Drake or McTell would go there.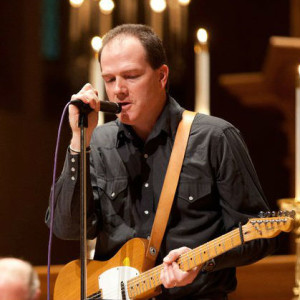 I actually thought Steve's adaptation of "Weep No More" was his own composition. It sounds nearly nothing like Bad Company's version from 1975. And I wasn't familiar with that one in the first place. Steve wisely cut out a lot of superfluous material to get to the heart of the song. A streamlined take, with a bit of a country feel. It's a Janglers arrangement, with Houston Bolles singing the high vocal harmonies, and adding a sweet guitar solo in the middle.
Steve's had "For Pete's Sake" in his catalogue for many years. It's a song dedicated to Pete Jorgusen, who was the drummer for the Malchicks—Billy and Lenny Rancher's band that preceded the Unreal Gods—and with whom Steve had a special friendship. Jorgusen died of cancer early in 2010. It's a philosophical song, perhaps a father addressing his son, with a message about intention and accomplishment.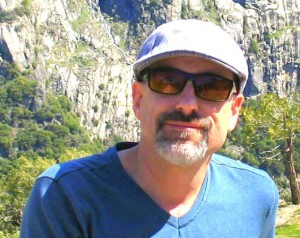 "Luella" is one of the last songs Steve wrote and recorded. With the help of Steve Edgren at the controls, Pearly recorded this in the living room of his apartment—just a solitary vocal and a lone acoustic guitar. Edgren described the occasion like this: "About three weeks before the album was to be mixed, Steve was putting the finishing touches on 'Luella'. I stopped by his apartment one afternoon, and he was having an exceptionally good day.
"He said 'I think I'm done writing "Luella"', and grabbed his guitar and started playing it. I could tell the energy was there and stopped him, grabbed my phone, and started recording. As luck would have it he nailed it. I'm glad we recorded it that day because he never was able to play like that again. We did a lot of overdubs at Steve's."
It's a ghostly lament, the wild, wicked, wraith-like Luella haunting his every waking moment, obviously recorded spontaneously, but with undeniable magic, all the same. About half way through, Edgren contributes additional guitars and the Janglers join him via the magic of studio overdubbing for a stirring finale. Following the performance, Steve briefly recounts the fascinating tale of how the song came to him in a dream.
There are no surprises with "My Old Man" and "Sentimental Bastard." Those bookends are performed solo, just Steve, his guitar, and his memories—shared with candor and honest reflection. One cannot help but be touched by these simple songs. "Sweet Rose Diane" is a moving ballad in 6/8 time, from the folk tradition.
"If I Were a Christian,"also spills from a folk idiom, in the Bob Dylan vein (circa Blood on the Tracks). Steve's observations are tinged with thinly veiled rancor: "I am not an Arab/And I am not a Jew/And I do not sympathize with either of the two/When they draw the line in Palestine/For another holy attack/And then they wonder at the other side—'How come you're shooting back'?" The rest of the commentary hits home with similar explosive impact.
There are many similarities between "Boogie Man" and "Luella." For one thing it was recorded in Pearly's living room studio, the Caruthers Street Corral, again under the oversight and assistance of Steve Edgren (although this track was recorded via a twelve track digital recorder, not a phone). And it's another song of voodoo voogum, here sounding as if Doctor John were chewing through a swampy rendition of Randy Newman's "Mama Told Me Not to Come," with Creedence Clearwater Revival providing the accompaniment. Edgren's lead guitar fills seem steered straight out of "Born on the Bayou."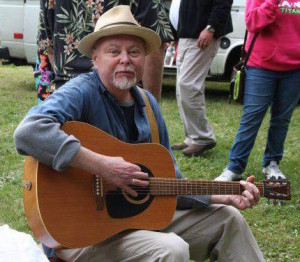 Pearly's warm depiction of John Prine's "Souvenirs" touches all the bases. A home run. As with many covers Steve performed through the years, he found his way inside the song to make it his own. When I first heard it, I wasn't sure if Steve had written it, or what. I thought it sounded like a Danny O'Keefe ("Goodtime Charlie's Got the Blues") song. The cut is also the perfect example of what the Janglers brought to their live shows. Simple. Subtle. Laid-back, not a wasted note, and tasty as all get out.
Conversely, Steve's smart take of the aforementioned "Wild Night" is backed by a hefty contingent of guests—including a manifoldly stacked sax section created by the legendary Dan Schauffler (Nu Shooz, Crazy 8s), steeped in a rich broth cooked up by fabled organist Dover Weinberg. Vocally, Steve could easily pass as Van Morrison's American born cousin, again making the song his own, from the inside out.
The album comes to a dramatic conclusion with the cathartic hymn, "Get On Board." Deeply rooted in American gospel, spiritual soil, fully twenty people preform on the finished track, lending their talents, including the eleven-voice Diversion Street Choir.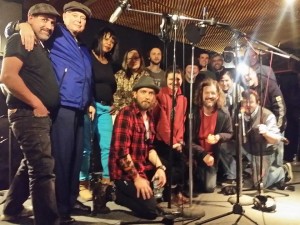 Knowing the end to his story makes the song all the more poignant, as Steve was not playing with the possibility of leaving this life behind. He knew it to be a certainty. With that big, dark cloud hanging over his head, he created a piece of music that shines with immense light. Even to the end, Steve's message remained resolutely clear and strong: "I lost the battle, but I won the war/And I feel the fire within /I'm knockin' on the door/ Please let me in/Forgive my sins/I don't want to go back to where I've been."
And there it is. Few artists are availed of the opportunity to release a fitting close to their careers before the end of their lives. Coincidentally, David Bowie was able to do just such a thing before he died in January. That concurrence was not lost on any of the participants.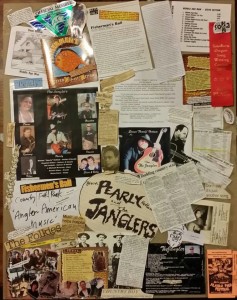 Tribute. Statement. No person could better sum up his own life than Steve Hettum himself. Unabashed schmaltz, whiplash insights. Imaginative expressions of well-worn homilies. Steve was an expert at setting a mood, at making everyone in a room comfortable. This album is no different. It brings joyful warmth to all who hear. Goodbye, Pearly.
The past six months have seen the city lose a number of important longtime contributors: Brian Berg in October, Dane Petersen in November. Jimmy Boyer died on January 21st, Steve died February 8th, Andrew Loomis died March 8th and Tim Ellis died on March 21st. Five of those sixth deaths are attributable to cancer. These were not old men here, people! They were still in their primes. One must ask himself what the hell is going on in this city that cancer is so persistently in our midst?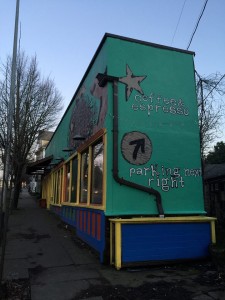 The process has begun and we're only going to lose more of our friends in the days and years to come. For that eventuality we must steel ourselves and appreciate what we have while we have it.
Though Eugenio's closed in December, and Pearly's Wednesday open mics ended at the same time, the Lost Tribe of Eugenio's wandered for forty days and forty nights before longtime participant Larry Harrel, "Latenight Larry," was able to secure a new location for the weekly event. Homebase Coffee and Espresso (and Tavern) at 26th, across Powell from Cleveland High School. In honor of Pearly's spirit, in his memory, the music continues.
The space is small and intimate, in much the same way as Eugenio's was. Late Nite Larry has hosted six Wednesday night open mics in the new venue, and every week the response is greater, and the quality of the musicianship, already of keen order, challenges all participants to perform at a higher level. In just a few visits I have seen several acts, one in particular, that I'm certain I will be writing about in the future. Rest assured that Steven "Pearly" Hettum will be watching over it all.